PRESS RELEASE
Estes AWS Pickup Truck Weapon Locker Video Available
---
The Estes AWS Pickup Truck Weapon Locker was designed with an officer's needs in mind. The locker fits in any pickup truck while allowing for plenty of storage in the pickup bed. What's more, the Pickup Truck Weapon Locker is made of 14-gauge galvannealed steel, making it tamper proof and secure. Watch our video to learn more.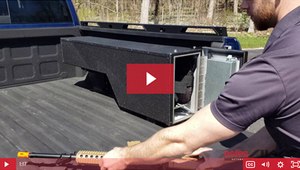 The Pickup Truck Weapon Locker opens automatically by wireless remote for quick access to weapons stored out-of-sight inside the locker. Each pickup locker comes with two rifle cases made of cordura nylon and padded with polyethylene foam. The locker will fit under most covers (if applicable) and is water-, dust-, and wear resistant, ensuring an officer's weapons stay secure and dry.
Estes AWS prides itself in providing customizable products for law enforcement departments.
We protect law enforcement and communities by offering products that secure and organize equipment for officers. Learn more about the features and benefits Estes AWS designs into each unique product.
If you are interested in purchasing any of our products for your department, you can find Estes AWS distributors on our website. You can always contact us to learn more or schedule a demo for your department.
About Estes AWS
Estes AWS formed as a result of the acquisition of Automated Weapon Security by Estes Design and Manufacturing, Inc. Estes AWS helps to protect law enforcement and communities by providing Rapid Access Weapon Lockers that are secure, accessible and rapidly responsive. Estes AWS has weapon lockers available for sedans, SUVs and pickup trucks.

Request more info from Estes AWS
Thank You!