PRESS RELEASE
Estes AWS Weapon Lockers' universal design provides cost savings
---
Estes AWS Rapid Access Weapon Lockers provide many benefits, but one of its most prominent benefits is the universal design. The locker is designed with standard dimensions so that it can be easily transferred between vehicle types and models, which saves a department money when a vehicle is retired. The universal design allows for transfer from:
Sedan to SUV – simply purchase a shroud and the appropriate SUV installation kit.
SUV to sedan – remove the shroud and purchase the appropriate sedan installation kit.
 
Some other benefits of the locker's universal design include:
Ease of installation into vehicles
Secure storage for long guns while leaving space for other things in the trunk or rear cargo area (it doesn't attempt to organize your entire cargo space)
In most vehicles, the weapon locker still leaves access to get to the spare tire
The locker can be mounted outside of a vehicle allowing a department to have secured weapons located at critical locations (i.e. soft targets) throughout their jurisdictions (locations including airports, schools and courthouses)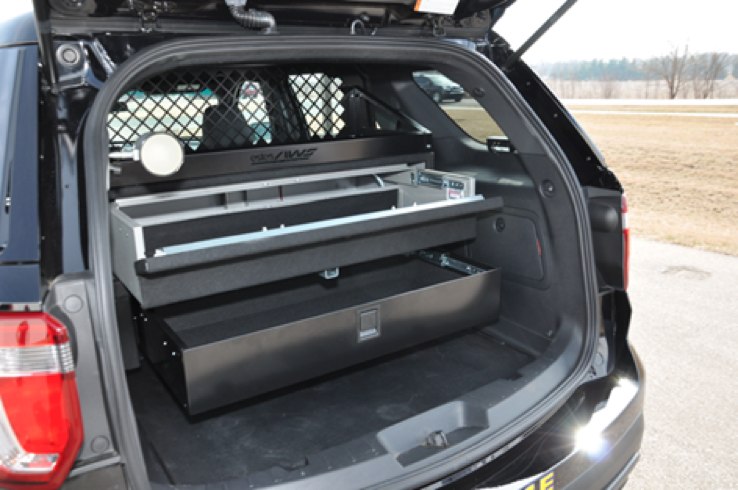 In addition to the benefit of a universally designed weapon locker, the locker itself is manufactured with tamper-proof steel combined with patented automated opening technology via remote. The weapon lockers come in three product lines: SUV, Sedan and Pickup Truck.  Learn more about Estes AWS Rapid Access Weapon Lockers' features and benefits or watch videos of the lockers in action.
About Estes AWS
Estes AWS formed as a result of the acquisition of Automated Weapon Security by Estes Design and Manufacturing, Inc. Estes AWS helps to protect law enforcement and communities by providing Rapid Access Weapon Lockers that are secure, accessible and rapidly responsive. Estes AWS has weapon lockers available for sedans, SUVs and pickup trucks.

Request more info from Estes AWS
Thank You!