PRESS RELEASE
How to prevent police weapons from getting stolen
---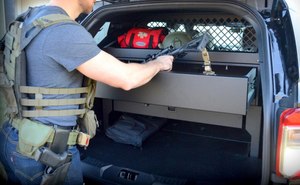 What really differentiates an Estes AWS product from a multitude of other options is how it performs in real life. Estes AWS Weapon Lockers are of the highest quality in every aspect of their construction – from the way they're designed and tested all the way to the finished product, no detail is overlooked. The end result is a weapon locker that is extremely durable, above and beyond its competition, and a product in which you can rest assured, knowing your weapons are safe.
If a weapon is stolen, consequences can be severe for both officers and the community. Highlighted below are a few recent news stories on police weapon and gear theft that could have been prevented with the use of Estes AWS products.
Law Enforcement Vehicle Broken into and Police Gun Stolen
During a crime spree of a young teen, a Cape Coral police officer's vehicle was broken into and the thief managed to steal the officer's gun, three magazines, body armor, a digital camera, and other gear and equipment that could pose a great risk to members of the community while in the hands of a criminal. The criminal was eventually found and arrested, but the stolen gun was never recovered (read full story here).
Multiple Stolen Police Guns Pose Threat to Community
A department's most valuable resource are the officers that serve their communities every day. Since protecting communities is at the forefront of any officer's responsibilities, it makes sense that the officers themselves need to have layers of protection as well. Obviously, this can be accomplished in simple ways such as having any sensitive items such as guns, body armor, tasers, and anything else that could be used against the officer kept in a secure location that is not easily accessed by anyone other than the officer themselves. In the story below, you'll see a case where multiple suspects broke into a patrol vehicle and managed to steal not one or two but several firearms. This is not only a heavy financial loss to a department or officer themselves, but having multiple weapons stolen at once significantly increases the risk that one will later be used to commit a crime (read full story here).
Stolen Police Weapon Has Deadly Consequences
In early March of this year, the city of San Francisco was sued by a woman whose son was shot to death with a gun stolen from the car of a city police officer. The officer left a loaded gun in his vehicle, and unfortunately the gun was left in plain sight and not put in a lock box or the trunk of his car. That night, the officer's car was broken into and his gun was stolen. Three days later, the same gun was used in the murder of a 23-year-old man walking home (read full story here). This particular story serves as a sober reminder that having unsecured weapons in a vehicle can have deadly consequences. While a number of stories about stolen police weapons end positively, with the weapon being recovered and the suspect arrested, unfortunately in this instance the weapon was not recovered before the criminal who stole it was able to commit a crime. Even more devastating is that this crime resulted in the loss of an innocent civilian's life.
How Can Estes AWS Products Prevent Stories Like These?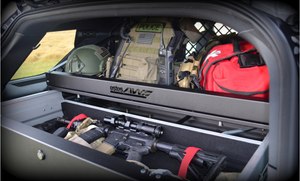 AWS Weapon Lockers are engineered with security in mind, and they are manufactured from steel so they deliver top-notch durability in the event thieves do find them. While a thief with plenty of time and the right tools can eventually break into anything, our locker is designed to thwart "smash and grab" criminals who are looking for a quick score. In order to protect the communities that you serve, it is extremely important to have a system in place for securing weapons and gear that can be used against citizens and businesses if stolen from law enforcement vehicles. In addition to this, Estes AWS Weapon Lockers are installed in the rear of vehicles, strategically installed to keep weapons out of sight and out of mind for criminals. Even with the trunk or back hatch open, weapons are still safely hidden and secure.
In addition to this, protecting the financial investments of the department by securing high dollar weapons and gear is important, and by doing this, you'll also help protect the department's and city's resources from lawsuits that can occur as a result of theft. In fact a Police1 article confirmed that "Secure police firearms storage means a beefy locked container bolted to the vehicle's frame." AWS Weapon Lockers meet both of these criteria.
Without a doubt, the benefits of having secure weapon storage will have an impact on many different areas. Estes AWS is committed to designing secure and rapidly accessible weapon storage solutions that protect law enforcement and communities alike. Contact us today to learn more about how we can help you safely secure your weapons while keeping them accessible at the push of a button!

Request more info from Estes AWS
Thank You!