Police firearms tracking: How to prevent a cop's gun from getting lost or stolen
Anyone who handles an agency firearm must be trained in how to secure it when it isn't on their person
---
"Do you know where your children are?"
This question was used as a public service announcement for parents on American television during the late 1960s, 1970s and 1980s. Based on recent news, an appropriate question for law enforcement command staff might be, "Do you know where your firearms are?"
San Francisco Bay Area, state and federal agencies across California have lost 944 firearms since 2010. And not just pistols. Sure, there are Glock, Sig and Remington pistols, but also missing are sniper and assault rifles – some equipped with grenade launchers.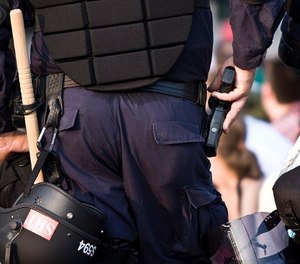 And this problem isn't limited to the left coast. More than 350 firearms have been lost or stolen from DC-area police since 2011. Other jurisdictions are not immune either.
Have you received any equipment from the Defense Logistics Agency 1033 excess gear program? If you lose any of their assets, your agency's participation can be terminated.
And guess what? These guns aren't going into private collectors' hands. According to media reports, they have been found at crime scenes. Could you sleep at night if your own firearm or one from your agency went missing and was used to illegally take a life?
Training for secure police firearms storage
The easiest step to take is to ensure everyone in your agency is trained on how to secure their firearm when it isn't on their person. This applies not just to sworn staff, but armorers and logistics staff; in short, anyone who handles an agency firearm.
The next step is to ensure staff have an appropriate secure storage space for their firearm when it is not strapped to their side. Too many firearms are left in glove boxes, center consoles or, on more than one occasion, in a backpack in plain view in a vehicle parked on the street. We won't even mention the number of firearms left in a public toilet; even on a commercial flight.
Secure police firearms storage means a beefy locked container bolted to the vehicle's frame. This doesn't just apply to agency-owned vehicles, but to personal vehicles if your cops carry off duty and need to stash their weapon if they are planning to go drinking while they are out. Safes that are cabled to part of the car might be a good start for personal vehicles, at least keeping firearms out of the hands of smash-and-grab thieves.
Chain of custody for police firearms
The next step up is to create a chain of custody for your firearms so that if one does go missing, you have a good idea where to start looking for it.
Of course, chain of custody starts with a system with which to track chain of custody.
According to a 2015 survey sponsored by ArmorerLink and done by PoliceOne: 20 percent of agencies use paper forms to track their firearms, 34 percent use spreadsheets, and another quarter use an online records management system. Around 4 percent of agencies surveyed don't track their firearms at all.
We'll talk about management systems in a moment, but training your staff on chain of custody is not that hard. You may need to train third-party or your agency's armorers, but your sworn and logistics staff are well-versed on the topic since you already have policies and procedures for tracking evidence.
When implementing chain of custody, you also need to secure firearms while staff are in the building if policy states that they cannot wear them. Routinely disarming your officers when they are in the station can end in tears as this article or this one shows. But if you need to disarm before you enter an interview room, your firearm should be secured, not just left on your desk or popped into a drawer.
As agency firearms (and those that are personally owned if your armorers service them) move from hand to hand and place to place, the movement needs to be logged. If a firearm goes missing during inventory, your log will show you the last person who handled it and the last place it was known to be.
Police firearms records management systems
I am a big fan of KISS, or keeping things simple. An online firearms records management system (RMS) that scans permanently-affixed barcode or UID stickers (like these) on each firearm or component such as a scope, light, or grenade launcher seems simpler to me than accurately copying one or more serial numbers to a form and remembering to file those forms. It is also harder to alter log entries that are stored in a purpose-built online system.
Some firearms, such as the Sig MK24 and MK25, are already marked with a U.S. mandated UID sticker. Computer-controlled racks powered by a RMS can be used to enforce chain of custody by limited firearms checkout to the single person who requested access. Instead of barcodes, a system based on RFID (like a tap 'n' go credit card) is also an option.
A quick web search using "software firearms rack" brought up dozens of options.
If the software also tracks firearm maintenance, including parts replaced and round counts, that's a bonus for you and can help if your agency is writing grant proposals or is audited by the city council.
SHOT Show 2018
Unfortunately, firearms tracking is not a category on the SHOT Show 2018 exhibitor search this year, but I'll do my best to see if I can convince some of the leading manufacturers of computer-controlled weapons racks to exhibit at SHOT 2019.
If you are going to SHOT Show, please drop by the Police1 booth #6601 to say hello, learn how we've secured over $150 million for departments through our Grant Assistance Program, and pick up some P1 swag.