Green Automotive Co. unveils electric motorcycle
The electric bikes has a top speed of 110 mph, getting an average of 128 miles to the gallon in the city and 58 on the highway
---
By Police1 Staff
The Green Automotive Company's UK-based subsidiary GoinGreen just launched the Brammo Empluse R electric motorcycle.
The motorcycle features a water cooled motor, six-speed gear box, and integrated J1772 for rapid charging using a standard household outlet. It can charge from 20 to 80 percent in two hours.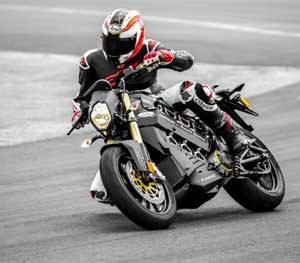 The electric bikes have a top speed of 110 mph, getting an average of 128 miles to the gallon in the city and 58 on the highway. It features a 3kW integrated onboard charger, and is compatible with nearly 7,000 Level 2 public charging stations available in the U.S., according to the company.
The LCD dash is contained in waterproof housing that displays metrics including battery state-of-charge and status, road speed, motor speed, odometer, energy use, gear position, and estimated range.
Tapered aluminum handlebars were custom built for the 2014 Empulse R by Accossato.
SportAttack 2 tires by Continental were built to provide overall quality.
Green Automotive plans to announce the electric bike's retail plans for the U.S. soon.