How to buy specialty vehicles (eBook)
Download this Police1 specialty vehicles buying guide to learn key steps for product selection, purchasing and implementation
---
To download your free copy of "How to buy specialty vehicles (eBook)" Buying Guide from Police1, fill out this form.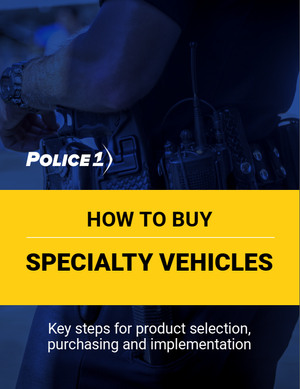 The police cruiser is the staple vehicle within the law enforcement arena. It's used for traffic stops, complaint responses, assistance requests, traffic diversion, small- scale investigations, and a number of other traditional calls for service.
But this isn't where your responsibilities as a police officer, detective, shift supervisor or chief officer stop. There are often situations that require more resources, are a bit more taxing in terms of both operations and logistics, and require a more suitable environment to promote effective communications. There are often times where specialty incidents, long-time-frame events or unique-hazard situations require more cargo space, office-like capabilities, or task-specific functions than what a sedan or compact SUV can offer. They require some form of specialty vehicle.
Specialty vehicles can be sourced large or compact, driven or in-tow, and planning-focused compared to action-focused. As a result, addressing some of the nuances and specific considerations of these specialty needs is necessary to solve the very problems that you're seeking answers to.
This Police1 How to Buy Specialty Vehicles Guide is a starting point for the several months or more long procurement process.
Included in this guide: 
Key considerations before purchasing specialty vehicles
Top implementation considerations
Questions to ask vendors
To download your free copy of the "How to buy specialty vehicles" Buying Guide from Police1 fill out this form.