Okla. state police to hold 'bridge' academy amid 'imminent' trooper shortage
"We're looking at creative ways to recruit for the agency," said Chief Pat Mays
---
By Kelci McKendrick
Enid News & Eagle, Okla.
OKLAHOMA CITY — Oklahoma Highway Patrol is accepting applications for its first-ever "bridge" academy for members of law enforcement.
OHP's 69th Academy is open to current, full-time and Council on Law Enforcement Education and Training-certified law enforcement officers with at least two years of experience, according to an OHP press release. Out-of-state officers may become eligible by obtaining CLEET certification through reciprocity.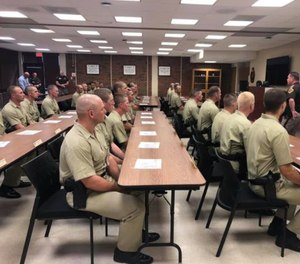 OHP is facing an "imminent shortage" of troopers, partly because a large number of them are retiring, OHP Chief Pat Mays said in the release.
"We're looking at creative ways to recruit for the agency. Hiring men and women who already have law enforcement experience allows us to get them on the roads sooner," Mays said, "and we know there are many current officers and deputies who would make excellent troopers and enjoy the benefits of a career with OHP."
[RELATED: How lateral thinking can help you hire cops]
Lt. Bill Reitz with Troop J — which covers Alfalfa, Blaine, Garfield, Grant, Kingfisher, Major and Woods counties — said that although Troop J currently has 22 troopers, a couple of them will be retiring within the next year, adding that 26 troopers would make Troop J fully staffed.
The "bridge" academy, Reitz said, is a good opportunity for local officers to "bridge" over to OHP, if they're interested.
"I'm hoping that because of that, we'll have some local interest," he said. "We really need people. ... Having a full staff gives us the ability to respond to emergency calls in a timely manner."
The "bridge" academy will begin April 21, 2022, and will be an abbreviated, standard OHP academy with a graduation date of July 8, 2022.
Applications for the 69th Academy will be open through Dec. 20 and can be accessed at https://www.jobapscloud.com/OK/SUP/BulPreview.asp?R1=211029&R2= G53C&R3=02.
Cadets accepted into the "bridge" academy will receive a starting pay equal to a second-year trooper. OHP will be offering residential contracts to cadets in this academy, meaning they will be able to request a particular field troop and county for their first assignment, the release states. OHP does not have any vaccine requirements.
Complete qualifications and information on the "bridge" academy can be found online at https://jointheohp.com.
McKendrick is police and court reporter for the Enid News & Eagle.
[NEXT: 12 important considerations before moving to 'greener pastures']
(c)2021 the Enid News & Eagle (Enid, Okla.)
McClatchy-Tribune News Service