Pa. police chiefs seek answers: What to do about the officer shortage?
"People just don't want to work for the wages that are being offered," said Chief Jason Schaeffer
---
By Renatta Signorini
Tribune-Review, Greensburg, Pa.
GREENSBURG, Pa. — Continued difficulty in hiring police officers is driving conversations among police chiefs and departments across the region in hopes of a solution to their staffing problems.
A roundtable discussion Monday in Latrobe broached using state money for sign-up bonuses and to pay for training and certification courses, Latrobe police Chief John Sleasman said.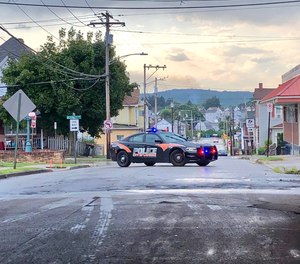 "Oh, it'd be huge," North Huntingdon police Chief Robert Rizzo said.
Attorney General Josh Shapiro convened the gathering, which also included Ligonier Valley police Chief John Berger and acting Rostraver police Chief John Christner.
But the hiring problem is considerably bigger than those departments — and the hurdles are significant.
Leechburg police Chief Jason Schaeffer said law enforcement is experiencing the same issues attracting candidates as private sector companies are facing.
"It's not about a lack of workers, it's because people just don't want to work for the wages that are being offered," he said. "The wages haven't been going up, but inflation is going through the roof."
[RELATED: Could workforce sharing help solve the police recruitment crisis?]
Schaeffer said new police academy graduates often are "holding out for better paying jobs" instead of taking low-paying, part-time positions that require they work for multiple police departments to make a living.
"You spend $10,000 to $15,000 to attend the police academy and then have to buy your own uniforms and other gear so you can get a part-time job," he said. "For some people, it's just not worth doing this job anymore for what they are paying."
The chief said even when the department fills a vacancy, some officers don't stay long because of the low pay.
"We train them for several months, but we aren't able to keep them," he said. "As soon as they are done with training, they leave for higher paying jobs."
He said during one monthlong period, five officers resigned for better pay with other departments.
"We had a full-time officer go to the Allegheny County Police Department after only seven or eight months with us," he said. "I can't blame her. She left to better herself and ended up in a job with a starting pay that is higher than I make as the chief in Leechburg."
Schaeffer said even when his department increased the rate for part-time officers from $15 to $18, it didn't produce results because it still was too low.
[RELATED: What chiefs can do today about impending officer shortages]
"Our council was sure that raising the pay rate would result in at least 100 applicants the next day," he said. "Even after several months, we got zero applications."
After receiving just three candidates for a civil service test earlier this year, Latrobe officials extended the deadline, pushed its advertising campaign on social media and reached out to two local training academies for help recruiting. The effort brought in 16 applications.
Similar departments across the country are facing the same problem, found a 2019 report by the Police Executive Research Forum. About 63% of departments surveyed said the number of applicants had decreased compared to the previous five years.
The report offered several ways to improve recruitment and retention, including building trust with communities, find potential candidates who are comfortable with technology's role in policing and conduct exit interviews with those leaving the force.
Shapiro said he has seen the issue in all types of departments throughout Pennsylvania — urban, rural and suburban. During a recent visit to Lancaster, a police force told him that about 20% of their officers would be up for retirement soon.
"When you don't have enough people ... and you have on top of that retirements, that's a real challenge," he said.
Shapiro, who is a Democratic candidate for governor, in June asked for $28.5 million from the state budget to pay for a study of the shortage and implementation of incentive programs, such as a $6,000 sign-up bonus for new officers and public safety personnel and scholarships of up to $8,500 for municipal police training and certification.
"If we could make that happen, it would be huge in the hiring process," Sleasman said. "If we could get a program where we could do tuition reimbursement, I think that would help with the amount of applicants we get."
(c)2021 Tribune-Review (Greensburg, Pa.)
McClatchy-Tribune News Service