Police trainer Dr. George Thompson dies
He watched officers in real-time crisis situations, finding less violent strategies
---
By Police1 Staff

AUBURN, N.Y. — Dr. George Thompson, the English professor-turned-street-cop who ultimately taught one million professionals the art of verbally redirecting negative behavior, passed away June 7 at his home in Auburn, New York. He was 69.
Here at Police1, Doc Thompson contributed columns for many years, beginning in 2005. He helped our community examine how conscious communication impacts the job. He regularly contributed tactical tips, too, and had us thinking about human interaction as a tool for police.
Dr. Thompson was affectionally called "Doc" by the professionals he trained in his methodology of Verbal Judo. To develop his tactics, he would watch police officers participate in real-time crisis situations and observe strategies for talking down violence.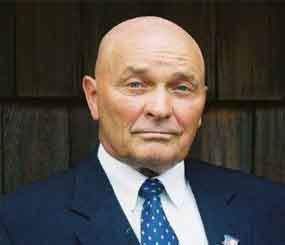 Using what he observed from the "salty old dogs," as he liked to call the LEOs, he assembled a legion of global trainers who brought the lessons to police forces. He trained departments large and small, including the NYPD and LAPD. He also worked with the Federal Bureau of Prisons.
Private enterprises outside of law enforcement have been trained in his methodology, too, in order to protect employees from verbal assault and physical violence. Verbal conflict mitigation can be applied to harassment and bullying in general as well as the issues that are more specific to police.
Dr. Thompson held a B.A. from Colgate University and a Master's and Doctorate in English from the University of Connecticut. He completed post-doctoral work at Princeton University in Rhetoric and Persuasion and went on to author four books, also publishing work that appears in magazines and periodicals. Major networks like 48 Hours and Inside Edition have reported on his training techniques.
Doc often called his communications strategy "martial art of the mind and mouth," and was a fan of martial arts himself. He achieved a 2nd Dan in Judo.
Doc Thompson survived throat cancer for many years, and staunchly committed himself to a busy speaking and training schedule despite his condition, which reduced his ability to speak for extended periods of time.
He had recently received treatment to enhance his breathing, and he passed away unexpectedly. Doc's family includes his wife, Pam, their nine-year-old son Tommy Rhyno Thompson, two adult children, Kelley (Ronald) Monach and Taylor (Valerie) Thompson, and five grandchildren.
For more information about Doc and plans for a mid-summer memorial service, please visit
www.verbaldefenseandinfluence.com/doc.