7 investments worth every penny for defensive tactics instructors
From sandbags to massage balls, there's a lot of gear to improve both performance and safety for DT instructors
---
Over the years, I have enjoyed teaching defensive tactics courses to officers from my own agency and throughout the country. Through these experiences, I have heard many students describe the things they buy to prepare for classes. Over-the-counter pain killers, massage appointments, knee braces and other injury prevention devices are always at the top of their lists. So when I was asked what some of the must-have items for DT instructors are, it was interesting to look at what I keep in my bag of tricks. Several things immediately came to mind, but after some careful deliberation, these seven made my list.
1. Mini first aid kit
When it comes to defensive tactics courses, scratches, cuts and other minor injuries go with the territory. A good instructor minimizes these injuries at all costs, but they are prepared to handle them when they do happen and keep the course moving.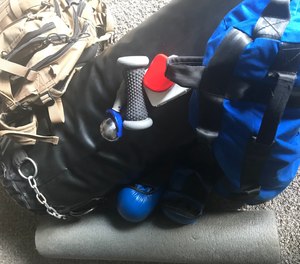 One of the best ways to do that is to carry a mini first aid kit in your backpack. The primary contents of the kit should be several different size Band-Aids. Depending on how often you teach, you might be surprised how frequently you need to restock it!
2. Alcohol gel/sanitation wipes
Along the same lines as the first aid kit, I have come to find the value of throwing alcohol gel bottles and sanitation wipes in my gear bag. Defensive tactics courses generally require close contact, and in the current and post-pandemic world, a little extra alcohol gel on breaks or after drills is not a bad idea. Also, wipes are always good when switching out gear like gloves and helmets.
3. Hand grippers
I would argue that all LEOs require a certain level of physical fitness, but for defensive tactics instructors, it is essential. My next few must-have items are all fitness-related that are useful at home and easy to travel with to out-of-town classes. The first item is one or two sets of hand grippers. There are many brands to choose from and many levels of difficulty, from easy to superhero strength. Working with hand grippers not only improves grip and forearm strength for defensive tactics but is also a tremendous asset in developing a firm recoil-mitigating grip when shooting!
4. Sandbag
If you have not tried working out with a sandbag, it is time to check it out. It is a growing trend among police units like SWAT teams and training divisions for a good reason. Not only are there an almost endless variety of exercises for all muscle groups, but sandbags are pretty easy to take just about anywhere.
Because the sand's weight shifts inside the bag itself, you are forced to adjust and use stabilization muscles that you would not normally engage with free weights. This increases the challenge, giving you the ability to do workout movements that closely resemble real-life skills in dynamic situations. There are several brands of sandbags available, and the cool thing is many companies give law enforcement discounts.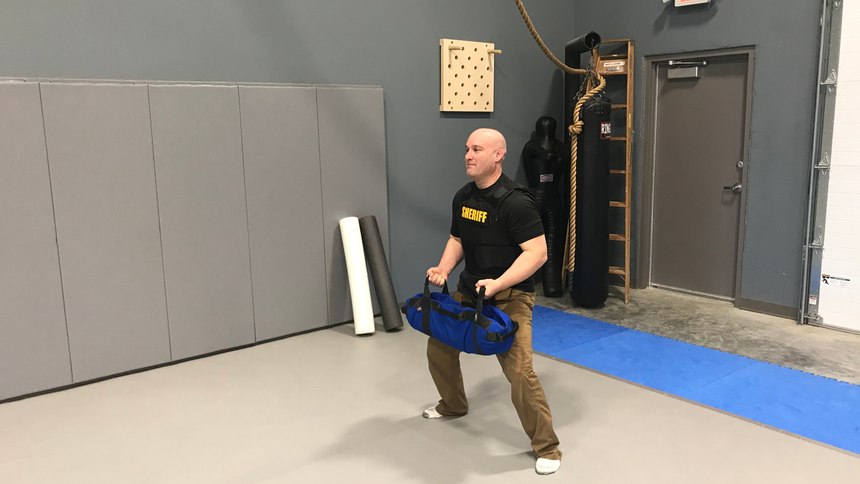 5. Punching bag
For as long as I can remember, I have owned at least one punching bag. There are many sizes, and they are relatively inexpensive. Whether you hang it up and get a few rounds of cardio in while working on your striking skills or put it on the ground and use it as a grappling dummy, punching bags are a great addition to your physical workouts.
6. Mouthpiece
Another piece of equipment that always comes along in my gear bag is a mouthpiece. Sometimes I use it to grapple between sessions or during dynamic scenario training when you never know when you might catch an unexpected elbow to the face. Buying a mouthpiece is well worth the alternative trip to the dentist to deal with a missing tooth.
7. Massage ball/massage gun/foam roller
At the beginning of this article, I mentioned that many students in DT classes plan their trips to the masseuse around training sessions. For my final must-have item, I would have to agree with the sentiment that defensive tactics training can leave you with sore muscles in need of a massage. Over the years, I have tried different massage guns, rollers and other tools. At one point or another, most of them have come in handy. So my final must-have item would be any massage aid you choose.
Would any of these items make your list? Complete the form below to list the investment you think is worth every penny for DT instructors.
Police1 reader suggestions
Fist Gear brand protective suits allow you to use real batons and Escrima sticks.

Century BOB (body opponent bag) dummies with groin area. Great, realistic human size, shaped target for vital point strikes, full force elbows, palm strikes, brachial stuns, impact weapons, LVNR, etc. You can add arms by putting a sweatshirt on it, filling the arms with pool noodles.

I&I Sports large training shields. Great for practicing your "power tools" – elbows, knees, rear elbows, combos, etc. Also, the person holding the pad gets to experience how much power is in these strikes without getting hurt.

16oz-18oz boxing gloves, hand wraps and Ringside headgear and a good mat for grappling/ground game!
WHAT POLICE-RELATED INVESTMENTS ARE WORTH EVERY PENNY FOR DT INSTRUCTORS?