Dr. Paul Taylor on what the research says about officer decision-making under stress
Understanding the causal factors behind officer performance is critical to informing police training
---
Download this week's episode on Apple Podcasts, Amazon Music, Stitcher, Spotify or via RSS feed.
Effective screening of law enforcement candidates is probably the most crucial part of the hiring process. Most departments have a written, oral, physical agility test, a polygraph examination and a psychological profile test. But are we able to effectively screen out people who probably are not suitable for the job? 
In December 2022, news hit that the agency overseeing the training and certification of police officers in Washington State was moving to more aggressively remove recruits from the state law enforcement training academy when they show signs they're psychologically unfit. This change came after an officer who is now the subject of two lawsuits alleging excessive force and a manslaughter charge "overreacted" during a 2018 training session in which his instructor said he lapsed into "mental condition black," shot an unarmed virtual suspect, then shut down and tuned out criticism.
In this episode of Policing Matters, host Jim Dudley speaks with assistant professor Paul Taylor, Ph.D., from the University of Colorado at Denver about "mental condition black," the causal factors behind officer performance under stress, and how to improve police training using evidence-based research. 
Top quotes from this episode
Often we use scenario and simulation-based training as a test when we really should be using it as a way to develop decision-making and better practice." 
The absolute myth out there is that more use of force training increases a propensity for use of force. We would never say that about a surgeon, 'Hey, we don't want you to practice in surgery because we are afraid you will just want to do surgery on everyone.'"
I would argue that if we really want to improve outcomes and officer decision making, we have got to rethink training altogether. Our officers are not getting nearly enough training once they get on the streets. Oftentimes that leads us to do very basic-level reviews of our training during the short training time that we have. That means we are putting officers out there who are not prepared to make decisions during these dynamic encounters. We haven't given them the training to do that and that sets them up for failure."
Training doesn't have to be a full-day event. You can do decision training in short increments during roll call training. You can start to interleave those skill sets and bring them all together."
ADDITIONAL RESOURCES ON THIS TOPIC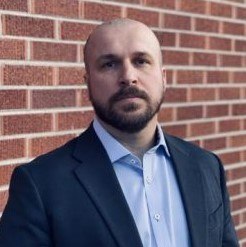 About our guest
Dr. Paul Taylor's research focuses on police decision-making, human factors and system safety in the context of potential use-of-force encounters with an eye toward improving outcomes.
He has over 10 years of practical law enforcement experience, including time as an in-service instructor, field-training officer, patrol sergeant and department training manager. Paul is the founder of the Association of Force Investigators and is actively engaged in police research and training across the country. 
His early research received awards from the American Society of Criminology and the Division of Policing at the American Society of Criminology. Paul works closely with a number of local, state and federal law enforcement agencies in a wide range of consulting and training roles. 
Connect with Dr. Paul Taylor
About our sponsor
This episode of the Policing Matters Podcast is brought to you by Lexipol, the experts in policy, training, wellness support and grants assistance for first responders and government leaders. To learn more, visit lexipol.com.
RATE AND REVIEW THE POLICING MATTERS PODCAST
Enjoying the show? Please take a moment to rate and review us on Apple Podcasts. Contact the Policing Matters team at policingmatters@police1.com to share ideas, suggestions and feedback.