Led by a SRO, Colo. sniper team becomes one of the best in the country
Arapahoe County team trains over 200 hours a year to make critical decisions that save lives
---
By Bill Carey 
Police1  
ARAPAHOE COUNTY, Colo. — The Arapahoe County Sheriff's Office sniper team recently received recognition for being certified by the American Sniper Association (ASA).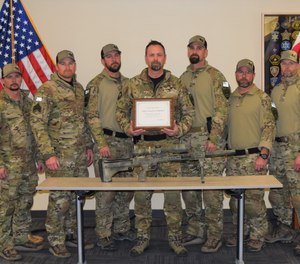 Only 25 teams across the county have received ASA certification and the Arapahoe County team has been working on this achievement for over eight years. The team trains for every possible scenario in all types of weather, KVDR reported. They are led by Sergeant Shane Walker, a school resource officer. 
"Being a sniper, when it comes to tactics, helps me as a school resource officer. It helps me be prepared to handle any active threat situation," Walker said. 
The Arapahoe County team is deployed an average of 80 times a year and their number one goal every time is to save lives. 
"The Arapahoe County sniper team demonstrated a commitment to establishing and maintaining a unit that is both professional and proficient," Derrick Bartlett, ASA president,  told KVDR. "They are doing all of the things necessary to be the sniper team their agency deserves."  
"They provide information. We can then make decisions on scenes and critical calls that we would not otherwise not have access to," said SWAT commander Lt. Adam Burson. 
RELATED: