Readers respond: Strategies to combat the recruitment & retention crisis
With a strong economy and low unemployment, police agencies are struggling to fill their ranks and keep good cops
---

By Police1 Staff
Law enforcement is in the middle of a recruitment and retention crisis. With a strong economy and low unemployment, police agencies are struggling to fill their ranks and keep good cops. We asked our readers for their take on how to meet these challenges, and they gave us their opinions on everything from lowering hiring standards to outreach initiatives. Take a look at our roundup of the best responses and share your thoughts in the comments section.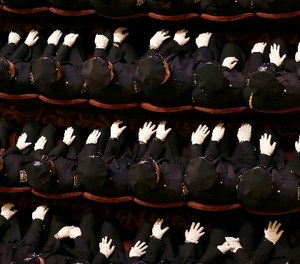 develop a competency framework for officer recruitment, promotion and development
We are leading our HR transformation with 27 initiatives as part of our "people plan" being implemented over the next three years. The foundation of this plan is our new competency framework. This framework outlines the behaviors needed for modernization – from our new hires to our command team. The community and the organization – from all levels – helped build the framework. They are now being used to help us recruit officers, promote leaders and develop all members. The eight competencies are:
We are adaptable, innovative and forward-thinking
We are solution focused
We are collaborative
We are service and community focused
We are emotionally intelligent
We are accountable and deliver results
We lead and inspire
We develop ourselves and others
–Shari MacKay
standardize law enforcement policy 
Take a look at something we're doing in Ohio - the Ohio Collaborative Law Enforcement Accreditation. We have a statewide law enforcement program to standardize law enforcement policy among the roughly 900 agencies in our state. So far we have over 500 agencies involved in our program. Recruiting is a problem for many agencies, so we continue to work on best practices. We have a sample policy available, and use experienced peer resources provided at no cost.  
–Ed Burkhammer
implement a retention plan 
Everyone struggles to recruit and hire enough qualified, diverse applicants these days, especially in larger agencies. There are simply not enough people interested in the career field to produce enough applicants to sustain the amount of attrition taking place. I've talked to recruiters from dozens of agencies, and every agency of decent size struggles with this nationwide.
On the other hand, how many agencies actually have a retention plan? I would guess few to none, with the primary focus on recruitment. Maybe this should become a shift of focus. If the people working for an agency feel content with their situation at the agency, they will recruit for the agency. If they feel valued and supported by the agency they will remain with the agency. Having been a law enforcement recruiter, I would argue that this is where most large agencies are missing the boat. We need to take better care of who we have.
–Brandon Echols
conduct community outreach and develop mentoring programs
I have been doing both the recruiting and selection for the Edmonton Police Service for the past four years. We hire approximately 100 officers a year. These are some of our programs and my observations.
With a declining interest in policing, I asked the applicants what first got them interested in policing. Several told me that it was the influence of the School Resource Officer (SRO) and their presentations.
Our service developed Run with the Recruiters (RWR). We have future applicants work out with us two times a week. We have 80 participants join us for an intensely packed workout that gives them a taste of recruit class. It provides recruiters an opportunity to get to know our potential applicants and mentor them.
We also have the Mentoring Academy: a 12-week long (1 evening/week) program with about 30 hand-selected participants that we see as having potential but just need some assistance in areas.
Spend ample time at post-secondary institutions – many applicants have unrelated degrees.
–Dayna Bulas
understand generational differences 
Reading other comments, it seems the U.S. police service reflects the state of the UK police. I was an officer for 20 years. I am very proud of my service and disappointed the route senior managers have taken to change the force. Retention is not the issue; recruitment is. In my last five years, I was a sergeant in charge of a frontline response team. It opened my eyes to the difference in attitude to the new generation coming into policing. For me, joining the police was a vocation. For them it's. "I will give it a few years and see if I like it."
I can't blame the new probationers. They are paid less with a poor pension scheme and increasing workloads. The numbers are dropping. London has just a little over 30,000 officers. Not all of these are frontline and many, like me, are making the decision to leave. The private sector is welcoming the skills and training officers bring. How do the police services in the U.S. and the UK, although very different in culture, retain their skilled officers? There needs to be a permanent fix; offering a retention salary or short-term benefits, which has been done in the UK, is not the answer.
–Jeff Martin
provide flexible schedules, state-of-the-art equipment and in-service training
Far too often, being able to recruit and retain our best within our respective LE agencies boils down to a few key things:
Flexible schedules, if at all possible. Also, stop denying officers' time off requests consistently when they need to take off for special family events. Of course, not everyone can have Thanksgiving, Christmas and New Year's Eve off. Be fair, and be flexible.
If you cannot pay your officers the top of the pay scale, at least give them the best equipment available. Young people want state-of-the-art equipment.
Leadership. Provide it, or move the hell out of the way for some who can. Too many bosses out there who cannot (and never have) "walked the talk." Proper/adequate supervision (or the lack of it) must be addressed. Every scandal I have ever seen emerge was the direct result of poor supervision and lack of accountability.
In-service training is a must! Also, acknowledge great work when it is done. An 'atta-boy' outlasts indifference every day.
See? It isn't complicated; it's just that too many agencies fail to adhere to these rules.
–John Franklin
bring the testing process into the police academy 
When it comes to recruiting, our agency focus has mainly been on bringing the testing process directly into the academy (our agency requires applicants to be peace officer certified). We work with academy directors to provide a brief orientation after a regularly scheduled class and meet/greet the top students. Another Denver metro agency offers testing on site at the academy on a regularly scheduled day of class – giving them a leg up on the testing process. As for retention strategies, there has been little focus on succession planning or incentives for more senior officers. Our union is pretty strong, so pay and healthcare benefits are the primary advantages to retaining officers.
–Anya Jones
focus on the positive impact police officers have on the community 
It's not surprising some agencies struggle with recruitment with so many negative people in law enforcement telling people not to get into law enforcement. We focus on the added value an officer brings to the community over a career, the opportunity law enforcement provides to serve, the positive impact an officer can have in the lives of people, and the family/team environment within our agency.
We have hired 27 people in three years (turning over 1/3 of our staff) and have been able to hire outstanding people with great values. We don't hire people because of a criminal justice or law enforcement background; rather we focus on a willingness and interest in serving others along with a well-defined set of core values.
As law enforcement leaders, we have to look beyond specific training and seek people who want to serve others and really make a difference in the lives of others. From there, we train, educate and do everything possible to keep them mentally and physically well.
–Benjamin Bliven
tackle the issue of fear 
When I left full-time law enforcement, my biggest reasons were faith, family, finances and freedom. Work prohibited me from regularly attending and serving in church, from being present with my family, from earning a decent wage, and all that resulted in a feeling of being trapped. Add in today another "F" for fear, which has increased exponentially over the past few years, and you've got a recipe for a seemingly insurmountable hill to climb in order to hire and retain decent law enforcement officers.
In addition to that, we've become so legalistic of late, so focused on being law enforcement officers instead of peace officers, that many agencies unknowingly amplify the fear in their communities, and further drive the wedge of divisiveness between police and the people through the use of aggressive practices.
I don't think the answer is financial. Some agencies pay superbly and their officers are still miserable. It's likely not faith; too many officers have lost it through their experiences on the job. It's likely not family either, as many of us sacrifice our families for our careers. Could be freedom, except that exchanging a patrol car for cubicle life often times feels more restrictive.
I think real change comes from tackling the issue of fear. Until we build better relationships with the people we serve, the juice in this lemon will hardly be worth the squeeze. That means more of the "touchy-feely" policing that many officers dislike. Today, we are motivated more by the differences between us than our similarities, and ignorance breeds contempt. Building relationships and trust within the community, and educating each other about each other will inspire the community to aspire to protect the community. It's not us versus them, but we keep saying that. It's us for them, and we have to lead the way.
–Ryan Dunlap
restrain from lowering hiring standards 
I joined the San Francisco Police Department (SFPD) because of its reputation as a big city agency. I certainly didn't do it for the money. My first year salary in 1980 was $20K. This year it is $80K to start and $88K at academy graduation. A good compensation package is a sure incentive, especially in today's 'gig' economy.
I do believe that hiring standards should remain strict, given the power and discretion that comes with the job. Lowering standards to target a larger candidate pool is rife with problems, which we have seen in some cities.
The SFPD has been attractive to new hires, as well as lateral transfers from all over the country because of the City and all that it offers. A large department offers a variety of assignments that are attractive as well.
–Jim Dudley, P1 Contributor