Why accident reporting doesn't have to be such a dangerous roadside task
Crash reporting solutions from LexisNexis help officers work more efficiently, effectively and safely as they gather insights to make better decisions
---
Sponsored by LexisNexis Risk Solutions
By Laura Neitzel for Police1 BrandFocus
No one loves sitting in traffic, so when there's a crash, it is in everybody's interest to get the accident scene cleared and traffic flowing again. If you've ever been a police officer working the scene of an accident at a busy intersection, you've probably endured the honks, the glares and the rubbernecking from impatient motorists. That, you can brush off.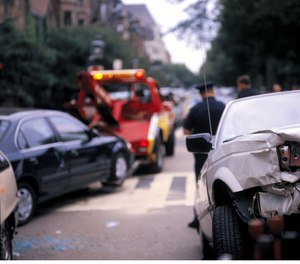 What's not so easy to brush off are the conditions that can make the all-too-frequent task of accident reporting a dangerous one for officers responding to the scene. The inattentiveness of other motorists can lead to secondary accidents that put citizens and officers at risk. Every moment the accident scene remains blocked off means a higher risk of danger.
Add to that the complication of issuing citations and the ensuing work of providing citizens with the accident reports they need to file an insurance claim in a timely manner. Even minor accidents consume valuable hours that could be used for proactive policing and community involvement.
Developed by and specifically for law enforcement, LexisNexis Coplogic Solutions offers a suite of web-based tools to help address these challenges and to help law enforcement agencies do more with less. 
From start to finish, these tools help accelerate the crash reporting process, enabling officers to capture and transmit crash report information directly from the accident scene within minutes, and with more accuracy.
REPLACE PAPER WITH PROFICIENCY
LexisNexis eCrash helps to simplify and streamline the process of writing, managing and distributing accident/crash reports, beginning with the moment the officer arrives at the scene.  
The automated crash reporting solution allows the officer to access investigative data from the Department of Motor Vehicles and the National Crime Information System, and auto-populate forms, including vehicle ownership and year, make and model details. By populating the electronic report directly from the data source, LexisNexis eCrash can help eliminate the need for duplicate data entry and reduce the chance of errors that can disqualify a citation or complicate a citizen's insurance claim.
Drag-and-drop data about involved parties and drop-down menus compliant with state-mandated regulations make it easy to put the right information in the right places and ensure that no critical information is missed. The easy-to-use crash diagramming feature in LexisNexis eCrash helps to create a more detailed representation of the crash, which can in turn eliminate the need to digitize hand-drawn notes.
The system also allows for increased officer safety. In a typical crash scenario – a two-vehicle collision at a busy intersection – a responding officer can more quickly and easily create a crash report electronically, on his or her field laptop or tablet, and clear the scene.
INCREASE SITUATIONAL AWARENESS
In some instances, one or more of the parties involved in a crash may be under the influence or the subject of an outstanding warrant, heightening the risk to officers and innocent bystanders alike.
LexisNexis eCitation helps increase officer safety by alerting officers to potentially dangerous offenders. Voice-prompt technology allows officers to maintain visual contact with the offender and the accident scene as they enter data.
When it's time to issue a citation, the officer submits it electronically to agency and court records management systems, completing the on-scene work.
Once the officer submits the accident report electronically, the administrators can easily view and approve properly completed, legible crash reports, and electronically submit to the appropriate workflow.
IMPROVE CUSTOMER SERVICE WITH ONLINE REPORT ACCESS
Parties involved in the accident – and their insurance companies – are typically anxious to get access to the crash report as soon as possible. LexisNexis Police Reports is an online crash report ordering interface that can help reduce the time it takes to make reports publicly available. Instead of having to physically obtain the accident report at the station or order it by mail, the citizen can visit the authorized LexisNexis online portal to complete their request online and receive a digital copy of the requested report via email, oftentimes as soon as the same day.
LexisNexis Police Reports can help agencies provide more timely and efficient service to the public, reduce foot traffic at busy stations and lessen the need for administrative resources required for manual fulfillment.
SELF-REPORT FENDER BENDERS
Not every crash report warrants a police presence or requires an investigation. For minor incidents and fender-benders, citizens can file their own crash reports using the LexisNexis Desk Officer Reporting System (DORS).
Non-emergency calls from a mobile phone are routed to a quick connect text service that directs the caller to a website where they can file their minor crash report using DORS. At their convenience, the citizen can access their completed report for submission to insurance via the same portal.
Instead of getting tied up responding to every minor incident, officers can respond more quickly to priority calls and focus on higher priority duties like investigations and proactively identifying and responding to crime trends.
MAKE DATA-DRIVEN DECISIONS AND IDENTIFY TRENDS
Certain stretches of road in every community seem to contribute to more frequent crashes, and there are certain times of the day when accidents are more likely to occur. Using the crash mapping and data visualization features of LexisNexis CrashLogic, agency administrators can analyze crash reports within a historical period to see if, for instance, the site of a new two-car crash has seen an unusually high number of accidents during a five-year period.
Armed with hard data instead of speculation, agencies can make informed decisions about when and where to deploy traffic patrols. The data can also be used to support requests for additional personnel or grant applications for traffic safety equipment, like LIDAR or mobile signage, to inform drivers of their speed, weather hazards or other essential information that contributes to road safety.
IMPROVE PUBLIC SAFETY
To help agencies see the bigger picture and better manage crash reporting and resource allocation, LexisNexis Command Center provides a secure, controlled-access hub for all the LexisNexis crash and incident reporting solutions described above. With a single access point and a single login, Command Center streamlines workflows by enabling administrators to manage users across all applications from one place.
As long as there are cars operating on our roadways, there will be a need for effective and efficient crash reporting and roadway safety measures. With the help of integrated crash reporting solutions from LexisNexis Coplogic Solutions, crash reporting doesn't have to be a dangerous or time-consuming task. And with the help of critical insights derived from LexisNexis' crash incident data, law enforcement agencies can better serve the public by identifying and implementing solutions to improve traffic safety and reduce crash-related injuries and fatalities.

Request information from LexisNexis Coplogic Solutions
Thank You!