5 things to know about BORTAC
Members of the Border Patrol's elite tactical team – the Border Patrol Tactical Unit – responded to the shooting at Robb Elementary in Uvalde, Texas, where they found and killed the gunman
---
On Tuesday, an 18-year-old gunman opened fire inside a fourth-grade classroom at Robb Elementary in Uvalde, Texas, killing 19 children and two teachers. Law enforcement officials are still gathering details on the exact timeline of events leading up to the shooting, but they were able to determine that members of the Border Patrol's elite tactical team – the Border Patrol Tactical Unit (BORTAC) – found the gunman hiding behind a barricade and fatally shot him.
A new timeline given by Victor Escalon, a regional director at the Texas Department of Public Safety, said the shooter was inside the school for at least 40 minutes to an hour before BORTAC agents rushed inside the school and killed him, the Associated Press reported. The gunman, according to the Associated Press, entered the school "unobstructed" through an unlocked door. The school, which normally has an armed school safety officer, did not have "an officer readily available and armed" that day, Escalon said.
The BORTAC agents received the call about the shooting while they were investigating stash houses on the border to the west of Uvalde, a Customs and Border Protection (CBP) official told Texas Monthly. The team of BORTAC agents responded immediately, arriving at Robb Elementary just before noon, according to the CBP official.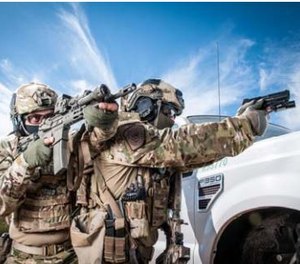 But when news first broke of the shooting, many questioned why Border Patrol agents responded to the school shooting after photos and videos featuring the officers donned in tactical gear started circulating throughout social media and news organization channels.
Here are five things to know about BORTAC, including why they responded to the shooting at Robb Elementary School.
1. The Border Patrol Tactical Unit was first formed in 1984
The U.S. Border Patrol Tactical Unit – or BORTAC – was initially formed to assist with disturbances – particularly riots – happening inside detention centers operated by the Immigration and Naturalization Service, according to the U.S. Customs and Border Protection.
However, members of this elite tactical team no longer respond to these types of incidents. Instead, the U.S. Immigration and Customs Enforcement, Enforcement and Removal Operations and Special Response Teams handle these disturbances.
Now, BORTAC teams, operating for the Department of Homeland Security's Bureau of Customs and Border Protection, provide a global response – assisting in both national and foreign operations, most notably providing support during Operation Iraqi Freedom and Operation Enduring Freedom.
2. BORTAC agents respond to a variety of threats
BORTAC agents are regarded as one of the nation's most highly trained special operators, developing a reputation as a leading law enforcement tactical unit, according to CBP. The teams' mission is simple: to respond to terrorist threats – both nationally and globally – to protect the United States' homeland. In short, they don't just respond to incidents or threats at the U.S. Border. For example, past BORTAC missions include, but are not limited to:
The 1992 Los Angeles riots, where they were sent to help assist local law enforcement in ending the rioting.

The 2015 Clinton Correctional Facility escape, a maximum-security state prison for men in New York, where a team of BORTAC agents shot and killed escaped inmate Richard Matt.
Providing assistance for events like the NFL Super Bowl, to natural disaster deployments and to extinguish civil unrest.
An increased presence and operation in sanctuary cities to boost immigration enforcement.
Overseas deployment to assist and train other countries in areas such as border security techniques and drug enforcement tactics. In total, BORTAC agents have operated in 28 countries.
And, most recently, BORTAC members responded to and ended the shooting threat at Robb Elementary in Uvalde.
3. Becoming a BORTAC agent is no small feat
All Border Patrol Tactical Unit agents must attend BORTAC's Selection and Training Course. The course lasts a month and candidates must pass the following tests:
An initial physical test, including push-ups, sit-ups, pull-ups, 1.5-mile run and pistol qualification.

A timed, 6-mile ruck march with a weighted pack.
Swimming, treading water and drown-proofing testing.
Then, candidates participate in these training activities:
Small unit tactics
Operational planning
Advanced weapon skills
Defensive tactics
Airmobile operations
Lastly, candidates must prove they can work in a team environment, and under stress and sleep deprivation circumstances.
4. It's not unusual for BORTAC and Border Patrol agents to have a presence in Uvalde
Uvalde, Texas has a checkpoint about five miles outside of the city. According to CBP, the Uvalde Station is "responsible for approximately 3,000 square miles of South Texas. The station operates a permanent traffic checkpoint and conducts freight train check operations."
Uvalde CISD, the city's school district, has its own police department, made up of four officers, a police chief, detective and security guard, according to the district's website. The Uvalde Police Department has a nine-member SWAT team, according to a Facebook post by the department. In total, the department has 39 police officers, according to the department's website.
In contrast, a total of 140 Border Patrol officers are assigned to Uvalde. "We're ingrained in these communities and, quite often, we're from these communities," Border Patrol Chief Raul Ortiz told the Associated Press.
And that rings true for those who live and work in Uvalde. The CBP is a major employer in the city of 15,000, where many residents have at least one family member or friend at the agency. In fact, between 80 to 100 on-duty, off-duty and in-training agents responded to the Robb Elementary School shooting, Ortiz said.
Yesterday, Uvalde County Sheriff's Office Deputy Felix Rubio, who responded to the shooting, confirmed that his 10-year-old daughter, Alexandria "Lexi" Rubio, was among the 19 children killed in the attack. Another victim of the shooting is being mourned by a local police officer. Uvalde School District Officer Ruben Ruiz confirmed his wife, Eva Mireles, a 44-year-old special education teacher at Robb Elementary for 17 years, was also killed.
5. While BORTAC agents took out the gunman, on-duty, off-duty and in-training Border Patrol agents saved children and teachers trapped inside the school
According to Ortiz, BORTAC agents "moved rapidly to enter the building," noting they "wanted to make sure to act quickly, act swiftly, and that's exactly what those agents did," he told FOX News. Three BORTAC agents and one search-and-rescue team member entered the classroom and fatally shot the gunman, according to Ortiz.
While this was happening, other Border Patrol agents and local officers – including on-duty, off-duty and in-training officers – responded to help save children and teachers trapped inside the school.
One officer – Border Patrol agent Jacob Albarado – was off-duty at the time of the shooting. Albarado was in the middle of getting a haircut when he received a startling text from his wife – a fourth-grade teacher at Robb Elementary. His daughter, a second-grader, also attends the school.
"There's an active shooter," his wife texted. "Help. I love you."
Albarado asked to borrow his barber's shotgun and rushed over to the school. When Albarado arrived on scene, his mission was to evacuate as many children and teachers as possible. He started by clearing all the second-grade classes, telling the New York Times that "they were just all hysterical." Albarado, along with four other officers, evacuated dozens of teachers and kids, including his daughter, but he didn't stop there. He went back into the building, helping children and teachers still hiding.
Learn more about Border Control agents, active shooter response and how responders can support their mental health after child death calls