How the southern border crisis impacts law enforcement nationwide
Communities far from the border are confronting complex criminal issues spawned by the unbridled flood of illegal migrants
---
By Paul Goldenberg and Michael Gips
In Sheriff Kieran Donahue's County, fentanyl, methamphetamine and heroin from Mexico flow freely. Overdoses are spiking. Families are fracturing. Human trafficking is taking its toll. Follow-on crime is affecting an already fragile economy.
Sheriff Donahue isn't in McAllen, Texas, Las Cruces, New Mexico, Bisbee, Arizona, or anywhere else along the 1,954 miles that the U.S. and Mexico share as a border. In fact, he's about as far away as you can get – Canyon County, Idaho, which sits just west of Boise.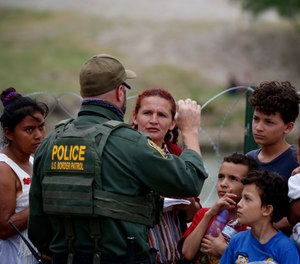 He's not an outlier.
Like Sheriff Donahue, law enforcement officials in communities far from the border are confronting complex criminal issues spawned by the unbridled flood of illegal migrants, many of whom are victims of human trafficking and smuggling operations run by the cartels. County sheriffs and police departments facing budget cuts and rising crime, by no choice of their own, now find themselves assuming law enforcement national security duties for which they are ill-prepared and inadequately equipped. Every conceivable record related to migrant crossings, rescues and deaths is reaching historical heights for 2022. [1, 2]
In March alone, an estimated 62,000-plus border-crossers from Mexico eluded authorities; referred to as "gotaways." Comparatively, FY2021 saw an estimated 400,000 "gotaways" compared to 300,000 in the first six months of FY2022. [3, 4] And it's likely to get worse when the current administration lifts Title 42, a statute that prevents border crossings and authorizes removals to stop the spread of COVID-19.
Cartels broadening their sphere of influence
An unprecedented increase in deadly drugs like fentanyl, gang activity and human trafficking across all 50 states reflect expanding interests as the cartels seek to broaden their sphere of influence. They are now offering wads of cash to American teenagers to use their or their parents' vehicles to travel south to load migrants and then transport them to preset destinations throughout the country. [5] The young drivers are coming from suburbs, cities and rural areas across America.
The recruitment of these so-called "loaders" is occurring where parents aren't looking; multiplayer online video games and youth-oriented apps such as TikTok, Instagram and Snapchat. First-person shooter games are particularly ripe targets because the audience is overwhelmingly male, fascinated with weapons and perhaps intoxicated by the prospect of real-life action. Tragic accidents are mounting. Thirteen migrants recently died in a crash in Imperial Valley, California, in a vehicle believed to be operated by a teenaged loader.
Cartels have mastered social media for recruitment, a page taken out of the playbooks of ISIS and other radical Islamic and white supremacist organizations and openly recruiting adolescents to do their bidding. This is not an idle comparison: I (author Paul Goldenberg) previously led DHS's Foreign Fighter Task Force and can directly attest that the similarities for recruitment used by traditional extremist groups and the cartels are striking. Within a matter of months, ISIS achieved inordinate success in building a caliphate by leveraging social media as their primary recruiting tool, with glamour and excitement as partial rewards. Just as ISIS recruited from the Arab world and beyond – pulling many youths from Western backgrounds – the cartels are succeeding in luring loaders from as far away as Los Angeles, Chicago, and my home state of New Jersey.
Cartels have cleverly calculated – and correctly so – that federal authorities will not devote resources to investigating or charging U.S. minors leaving local police, many of whom have little experience managing border-related criminality, left to handle the chaotic and deadly aftermath. Social media platforms contacted by concerned law enforcement officials have either been nonresponsive or indifferent.  
Nonetheless, the loaders themselves are just the leading edge of the crisis. Their excursions correspond with the surge in human trafficking and illegal importation of fentanyl. In fact, in a recent report, the U.S. Commission on Combating Synthetic Opioid Trafficking stated bluntly: "One fact is clear: The availability of illegally manufactured synthetic opioids supplied to meet the country's appetite for narcotics is a national crisis. These drugs are destroying lives and harming communities at historic levels." [6] And they are coming from Mexico in droves. Fentanyl is killing people in places as distant as Spokane, Washington, and Bangor, Maine. Police, sheriffs, emergency workers and healthcare workers in midwestern and northeastern hamlets are dealing with addiction and overdose problems in their communities.
The impact on border communities
These days, in addition to fulfilling routine calls for service, dedicated law enforcement officials such as Cochise County Sheriff Mark Dannels and his valiant deputies, particularly those assigned to the Sabre Team now find themselves the de facto defenders of the American frontier. They work their regular crime-fighting shifts safeguarding the citizens of the county, then, when the sun sets over the desert terrain, they travel to the border region, in many instances the frontier may lie just a few hundred feet from the patios of their own homes. Deputies advised us that their families routinely witness illegal migrants traversing their lands, some in military camouflage.
We've noted conversations with rugged ranchers, whose only desire is to work the land and make a living for their families, dismally describe the onslaught of migrants crossing their properties, leaving behind a sea of crumpled plastic bottles, feces, old diapers, chicken bones, slaughtered cattle, food containers and in some cases corpses. Some locals are considering leaving the lands their families have labored for generations. Nevertheless, never once did I hear from either the Sheriff, deputies and ranchers that they were not sympathetic to the human tragedies taking place, the trafficking, death, and sustained harm that both citizens and migrants alike have suffered.  
Many facets to the crisis
There are many facets to this crisis. It's about the toll on migrants, loaders, communities and local law enforcement officers risking their lives each day. It's about toddlers dumped at the feet of officers, or worse, in desolate regions of the desert, to divert CBP attention so adults can slip across the border elsewhere. It's about fentanyl and the mounting death toll. It's about police, sheriffs, emergency workers and healthcare workers dealing with addiction and overdose in faraway communities. It's about the national guardsman who died in his attempt to save three migrants and the federal officers and others who have succumbed to suicide due to stress and depression. [7, 8] It's about the dedicated and intrepid members of CPB, HSI and others working in DHS growing frustrated and despondent due to political posturing by leadership. And it's about so much more.
Alongside the war in Ukraine, the border crisis has become one of the greatest disasters in modern American history. Law enforcement leaders hundreds of miles from the border must realize the crisis will likely reach their jurisdictions.
What non-border jurisdictions can do
Exactly, how, then, can local law enforcement hundreds of miles away from the border become part of the solution?
Sheriff Dannels, current chair of the National Sheriff Association's Southern Border Security Committee, shared several key recommendations for law enforcement agencies throughout the United States to consider.
Educating citizens about the See Something, Say Something campaign related to human trafficking and drugs is critical. Cartels have an extensive reach, so it's paramount that we inform officers about the complexities of the opioid crisis and its potential nexus to cartels.
The RAND Corporation report "Law Enforcement Efforts to Fight the Opioid Crisis" provides detailed recommendations agencies can implement. [9] Examples include increasing the frequency and scope of drug screens in death investigations to identify novel opioids and their effects and applying data from rapid analysis of seized materials to inform public health and law enforcement interventions.
The International Association of Chiefs of Police offers another resource, a recently released toolkit of Enhanced Collaborative Model (ECM) protocol development checklists that provides a list of items human trafficking task forces should consider when developing their own protocols. Lastly, law enforcement agencies small and large need to train select officers in recognizing and interpreting emerging threats radiating from social media platforms. Organizations such as the Network Contagion Research Institute (NCRI) provide training, expertise and technology to address trends and provide comprehensive forecasting capabilities. 
We don't escape border issues by not being near the border. Sheriff Donahue's words ring true for many and are a harbinger for the rest of us:
Border issues are driving the criminality in our streets and rural areas as well as unprecedented numbers of overdoses, including overdose incidents and even deaths inside our jails," he explains. "My jurisdiction is not unique in the threats we are facing. This border crisis will continue to get worse, and it is affecting every single city, county, and borough in the United States, whether we are talking about drug, human and or sex trafficking"
If your jurisdiction has been fortunate enough to have been spared, now is the time to prepare. The border is coming to your door.
References
1. U.S. Customs and Border Protection. CBP Releases March 2022 Monthly Operational Update.
2. Barr L, Guerilus S. Migrant arrives at southern border soared to 22-year high in March. ABC News, April 16, 2022.
3.  Melugin B, Shaw A. 62,000+ illegal immigrants got past Border Patrol agents in March: sources. Fox News, April 1, 2022.
---
About the authors
Paul Goldenberg is president of Cardinal Point Strategies and was a longstanding member of the United States Department of Homeland Security's Advisory Council (HSAC) where he served as chair of both the DHS National Cyber Security Task Force and DHS Foreign Fighter Task Force, and advisor to the DHS Countering Foreign Influence Subcommittee. His public career includes more than two decades as a former senior official of the New Jersey State Attorney General's Office, Director of the nation's 6th largest county social service and juvenile justice system, and as a police officer, long-term undercover agent and law enforcement official who headed investigation efforts for significant cases of domestic terrorism, political corruption, and organized crime.
Michael Gips is a Maryland-based security professional, attorney and writer.