Book review: 'PTSDragon – Post Threat Survival Dragon'
Can a children's book help prepare a family for the consequences of trauma-focused career fields?
---
As a third-generation police officer and military veteran, I have seen the wide-reaching effects these professions can have on family life.
Growing up, I remember sitting 10 feet away from my dad as he was watching television. I would start to engage him in conversation, only to realize that he could not hear me. Although he was physically present in the room, mentally he was somewhere else probably reliving a call for service or thinking about an exceptionally gruesome scene. I do not remember my dad being moody, but definitely mentally absent at times.
Fast forward 15 years, I was the first responder. The stressors of the job, not properly dealt with, resulted in a post-traumatic stress injury. I cringe thinking back at my reactions to otherwise normal family situations. As anxiety built up, I would lash out in irrational anger and shouting. Looking back, I wish I would have understood sooner what was taking place within me. I wish I could have explained to my daughters that I was trying to tame the dragon in my mind.
More recently courageous veterans, first responders and medical personnel have told their stories of battling post-traumatic stress. Most of the conversations have focused on the individual – how to reduce the stigma of asking for help and the process of healing. However, what about our families? How can we increase awareness and mitigate the negative effects of dragon taming?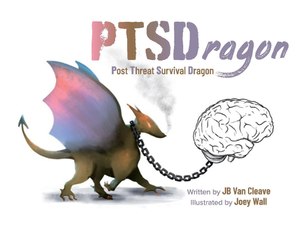 I just completed a preview of the book "PTSDragon – Post Threat Survival Dragon" by JB Van Cleave. I have to admit, I was a bit skeptical at first. This is a tough subject for me. I have struggled with forgiving myself for not being a better father and husband. Could any book really prepare a family for the consequences of trauma-focused career fields? I have to say, I was pleasantly surprised.
Author JB Van Cleave, an Operation Iraqi Freedom veteran, teamed up with illustrator Joey Wall to create a short read that disarms the stigma of PTSD and makes it understandable to both a 5-year-old and their first responder parent.
Van Cleave starts by acknowledging the remarkable power of our human brain. He points out that trauma-focused professionals have to engage in brave, but scary situations. Next, he introduces the mythical dragon that is summoned in times of crisis to equip us to work, lead others and save lives. Then he transitions into the fact that once the dragon helps the brain overcome crisis, the dragon likes to stick around for a while. The descriptions of the dragon's actions are sure to resonate with first responders and their families.  
Finally, he gets to the really good stuff, acknowledging that the brain and PTSDragons can get help. Van Cleave writes:
Yes, a PTSDragon can be a real PROBLEM. The good news is, our magical brains are made to solve problems! A brain and its PTSDragon can even get outside help when needed. There are two groups of people whose careers are about helping to solve PTSDragon problems – Wizards and Dragon Trainers."
In just four minutes, the big, scary, shame-filled subject of post-traumatic stress disorders is simplified so a child can understand it. It is no longer big and scary. There is nothing to feel ashamed about. PTSDragons are a really good thing in the middle of violence and trauma. And there are a lot of people – both Wizards and Dragon Trainers – who are waiting to help moms and dads and their amazing children work through the process of healing.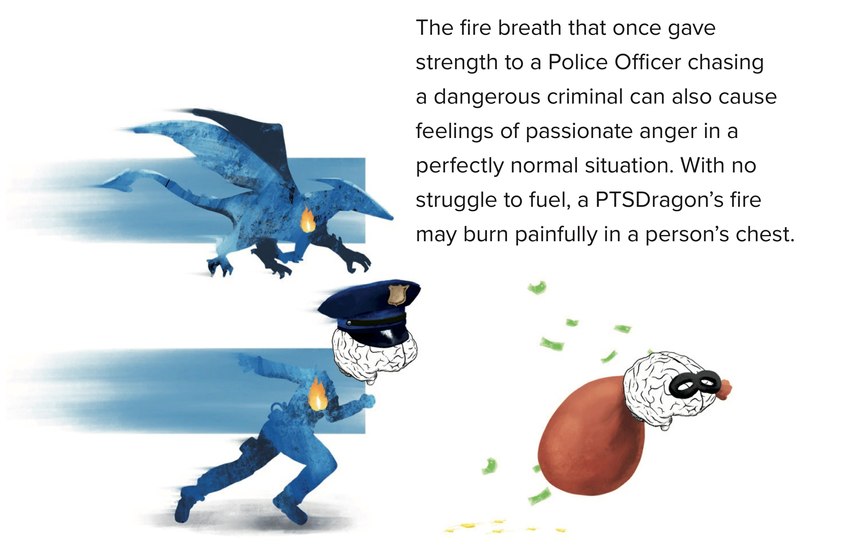 Claim your copy of "PTSDragon: Post Threat Survival Dragon" today on Amazon. It will be a great resource for you and your family or an amazing gift for the first responders who you lead.
NEXT: Managing police stress to strengthen relationships at home