Capitol Police briefs leaders on Sept. 18 rally prep
Senate Majority Leader Chuck Schumer said that the Capitol Police "seemed very, very well prepared"
---
By Chris Marquette
CQ-Roll Call
WASHINGTON — A fence surrounding the Capitol building will go up Friday, ahead of the Justice for J6 rally to support imprisoned pro-Trump rioters who stormed the Capitol on Jan. 6, House Sergeant-at-Arms William Walker said after a briefing Monday with congressional leaders and Capitol Police Chief J. Thomas Manger.
"I'm reasonably concerned," Walker said about Saturday's rally.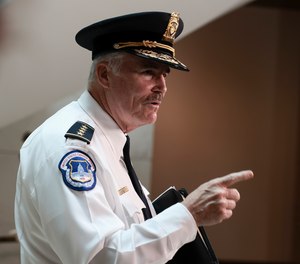 The briefing, which included Speaker Nancy Pelosi, D-Calif., House Minority Leader Kevin McCarthy, R-Calif., Senate Majority Leader Charles E. Schumer, D-N.Y., and Senate Minority Leader Mitch McConnell, R-Ky., was "outstanding" and all participants were attentive, Walker said.
Schumer said he came out of the briefing feeling that the Capitol Police department is prepared for Sept. 18. "They seemed very, very well prepared. Much better prepared than before Jan. 6, and I think they're ready for whatever might happen," Schumer told reporters.
Capitol Police intelligence shows violent rhetoric is ramping up online ahead of the Sept. 18 rally. Matt Braynard, a former Trump campaign employee and executive director of Look Ahead America, is orchestrating the event.
[RELATED: Critical planning for high-profile events]
The briefing came just hours after the Capitol Police arrested a California man early Monday morning who had multiple knives, including a bayonet and machete, in his truck outside the Democratic National Committee headquarters.
Donald Craighead, 44, of Oceanside, California, was arrested for possession of prohibited weapons, the Capitol Police said in a statement. Craighead's Dodge Dakota pickup truck had swastikas and other hate symbols aligned with white supremacy on it.
Craighead told police he was "on patrol" and talked about white supremacy. The department said it was unclear if the incident was connected with any upcoming protest.
"At this time, it is not clear if he was planning to attend any upcoming demonstrations or if he has ties to any previous cases in the area," the Capitol Police said.
There will be subsequent briefings with leaders this week. Manger said they spoke about the intelligence information the department is aware of and the operational plan the Capitol Police have set for Saturday.
Manger told reporters the fence would go up "a day or two before."
The chief said the fence is expected to be taken down "very soon after" if "everything goes well."
Although Manger was less specific about the time frame than Walker, he said that was just dependent on timing and logistics for when the architect of the Capitol and his team gets things in place. "The only reason it would stay up is if something happens that changes things. Right now, the plan is put it up a day or two ahead. Take it down the day or two after."
The department will hold a press briefing later this week.
©2021 CQ-Roll Call, Inc., All Rights Reserved. Visit cqrollcall.com. Distributed by Tribune Content Agency, LLC.
McClatchy-Tribune News Service