Report: Police did not have 'reasonable suspicion' sufficient to stop Elijah McClain
McClain died after being placed in a carotid hold by police and sedated with ketamine by paramedics on Aug. 24, 2019
---
Julia Cardi
The Gazette
COLORADO SPRINGS, Colo. — An independent investigation of the 2019 death of Elijah McClain found that Aurora Police Department officers who stopped McClain did not have reasonable suspicion of criminal activity and characterized McClain's behavior in ways that conflicted with video and audio evidence of the encounter, a report released Monday showed.
Paramedics from Aurora Fire and Rescue also did not examine or question McClain before they injected him with ketamine. And there was not a clear transition of care or command authority from police to fire, the report found.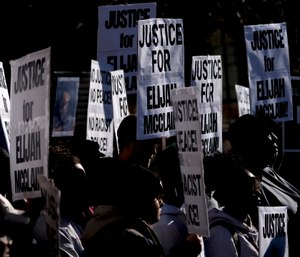 McClain, a 23-year-old Black man, died after being placed in a carotid hold by police and sedated with ketamine by paramedics on Aug. 24, 2019.
McClain was initially stopped by Officer Nathan Woodyard, who was then joined by Officers Jason Rosenblatt and Randy Roedema.
After McClain refused officers' orders during what the report said should have been a consensual encounter, police put McClain in a now-banned choke hold and knelt on his body until he vomited and lost consciousness.
When Aurora Fire Rescue personnel arrived, paramedics diagnosed McClain with excited delirium and gave him 500 milligrams of ketamine, a sedative, reports have found.
When he was put in the ambulance, he was not breathing and had no pulse.
McClain was pronounced brain dead Aug. 27 and taken off life support Aug. 30.
The Aurora City Council ordered the external investigation of McClain's death in July.
The 17th Judicial District Attorney's Office declined to prosecute the officers. However, Aurora Police Chief Vanessa Wilson fired several officers, including Rosenblatt, who mocked McClain's death in a selfie.
The investigation relied on body camera footage, statements by the officers, their follow-up reports and handwritten notes from responders on the scene, audio of the 911 call, dispatch records, police and fire department policies and training materials, patient care reports and the autopsy report for McClain.
The officers and firefighters declined the panel's interview requests, the report said.
An officer must have reasonable suspicion of criminal activity to justify an investigatory stop, and the stop has to use the least intrusive means reasonably available to verify or alleviate the officer's suspicion, investigators found.
The report found none of the reasons given by the officers or reported by the caller — McClain acting "suspicious," wearing a mask and waving his arms, and being in an area with a high crime rate — met those standards.
"Upon review of the evidence available to the Panel, Officer Woodyard's decision to turn what may have been a consensual encounter with Mr. McClain into an investigatory stop — in fewer than 10 seconds — did not appear to be supported by any officer's reasonable suspicion that Mr. McClain was engaged in criminal activity," states the report. "This decision had ramifications for the rest of the encounter."
The panel found the officers lacked evidence that McClain was armed and dangerous to justify frisking him.
Woodyard made conflicting statements about whether he believed McClain was armed, the investigation found, with the report including statements that he "felt safe making an approach, he didn't have any weapons or anything I could see in his hand" but he "didn't want to contact somebody who I thought had weapons by myself."
Aurora Police Department's major detectives didin't ask Woodyard to explain the contradiction in his statements.
The report reiterates said 911 dispatcher didn't tell police McClain may have been armed.
After the officers subdued McClain, they described his behavior as "violent" and "fighting" and repeatedly referenced his "incredible strength."
However, according to the report, audio of the incident — by this time the officers' body cameras had stopped recording or fallen off their uniforms — records cries of pain, apologies, vomiting and sometimes incoherent sounds from McClain.
"His words were apologetic and confused, not angry or threatening. He became increasingly plaintive and desperate as he struggled to breathe," the report found.
Police investigation of McClain's death "revealed significant weaknesses" in the department's accountability systems, the report said. Detectives didn't ask basic questions about the justification for use of force against McClain "necessary" for any prosecutor to make a decision about whether the use of force was legal, the report found.
Questions instead seemed designed to elicit answers containing specific, exonerating language found in court rulings, investigators found. The incident was not referred to the department's internal affairs investigators.
"Major Crime's report was presented to the District Attorney for Colorado's 17th Judicial District and relied on by the Force Review Board, but it failed to present a neutral, objective version of the facts and seemingly ignored contrary evidence," the report found.
Aurora policies that require the chief of police to approve opening an inquiry limited the independence of the department's internal review and put the chief in a difficult position, the report found.
The 500-milligram dose of ketamine given to McClain was based on the determination — the decision to administer ketamine was made by Paramedic Jeremy Cooper — that McClain's behavior had signs of "excited delirium," a syndrome characterized by increasing excitement and wild, agitated and violent behavior, the report said. Paramedics accepted the APD officers' belief that McClain had excited delirium without doing their own meaningful observations or examination of McClain, the report found.
By the time paramedics injected McClain with the dose of ketamine, he hadn't moved or made sounds for about a minute.
While Aurora Fire policies at the time allowed the use of ketamine on a person with excited delirium deemed dangerous, "As stated above, during the time that Aurora Fire was on the scene, Mr. McClain's behavior in the presence of EMS should have raised questions for EMS personnel as to whether excited delirium was the appropriate diagnosis," says the report.
The report also refers to the ketamine dosage as based on a "grossly inaccurate," 50-pound overestimation of McClain's weight.
"Higher doses can carry a higher risk of sedation complications, for which this team was not clearly prepared," says the report.
The Aurora City Council was to hear a presentation on the report's findings Monday evening. A news conference is planned for Tuesday.
In January, Attorney General Phil Weiser announced he would open a criminal investigation by a grand jury into McClain's death.
McClain's family has also sued the city of Aurora for his death. A federal court has allowed that investigation to continue amid the grand jury investigation.
NEXT: What cops need to know about ketamine
©#YR Colorado Springs Gazette. Visit at gazette.com. Distributed by Tribune Content Agency, LLC.
McClatchy-Tribune News Service