6 companies offering great concealed carry options for women
Here are some great options from six innovative companies making products for women who want to carry concealed guns
---
This article was updated on May 1, 2017
A 2014 study by the National Shooting Sports Foundation showed that most women gun owners have semiautomatic pistols and almost half have concealed carry permits. 
When those women go out to research or shop for options on how best to carry their guns concealed, they will find numerous choices for both on- and off-body carry depending on their individual preferences for concealability, comfort, and security.
Whether women want to wear the gun under their clothing or prefer a handbag or iPad case, there are many choices for off-duty law enforcement officers, moms, runners, and office professionals. Here are some great options from six innovative companies making products for women who want to carry their guns concealed.
1. Ridge: The Packin' Tee
Brand: Ridge 
Item type: Concealed Carry Tee Shirt
Price: $42 - $60
Ridge makes a cotton undershirt for concealed carry designed especially for women.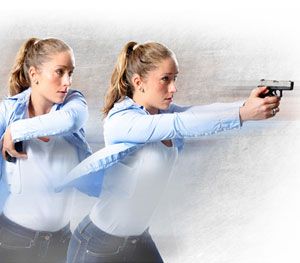 (Photo/Ridge)
Packin' Tees offer wearers the ability to have the holster on the left or the right. The women's tee comes in a white scoop neck and has three pouches: a holster for small to medium framed guns, an accessory pouch (for money, ID, badge, cell phone), and an extra magazine pouch.
The shirts are made from reinforced preshrunk cotton, and according to sales manager Ted Bickish, the cotton holds its shape better than synthetic fabrics.
2. Pistol Wear: PT-2 Concealment Holster
Brand: Pistol Wear
Item type: Holster
Price: $47.95 (PT-2) and $44.95 (Trump Card Mini & Subcompact)
Pistol Wear makes concealed carry holsters for wear in a pouch that stays against the wearer's body.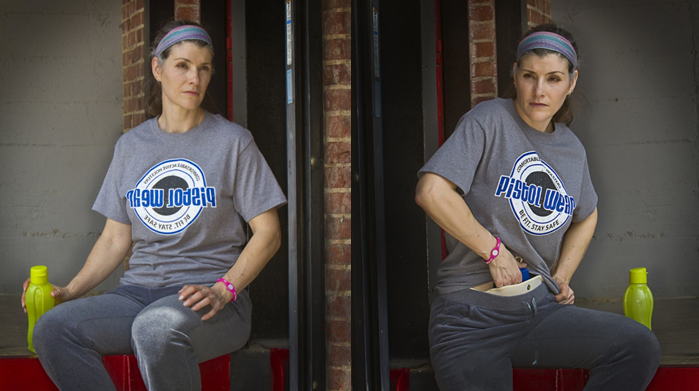 (Photo/Pistol Wear)
The Tulsa, Okla. company has focused its efforts on making holsters that can be worn under athletic clothing like running gear. 
The gun is carried — without touching the skin — in cushioning material that conforms to the body but with a stiff outer wall to prevent imprinting. Pistol Wear's Amie Tuggle said that the PT-2 is ideal for women who want to wear their guns while running. It features a no-bounce design with a pouch that sits around the hips or lower abdomen and can conceal small revolvers and small semiautomatics. 
Other designs that fit women well are the Sub-Compact and the Mini Trump Card. 
3. 5.11: Holster Shirt
Brand: 5.11 Tactical
Item type: Concealed Carry Tee Shirt
Price: $69.99
5.11 Tactical has a new women's option for on-body concealment called the Holster Shirt.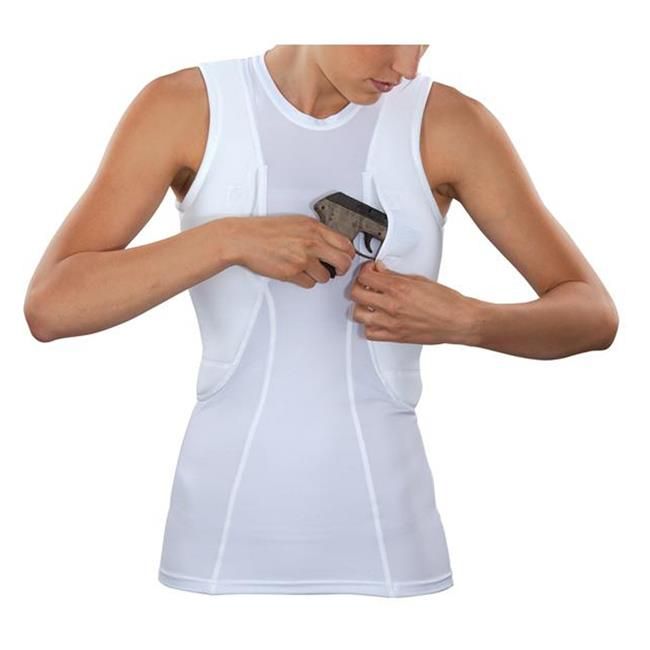 (Photo/ 5.11 Tactical)
This T-shirt is sleeveless and made of a polyester and spandex blend that wicks moisture while evenly distributing the weight of the gun. A mesh outer layer prevents imprinting. 
Public relations specialist Lyndsey Grove said the shirt was not just a smaller version of a man's shirt but was designed specifically to fit a woman's shape. The wearer can carry the gun on either the left or the right. 
The Holster Shirt comes in black or white in sizes small to extra-large.
4. Lethal Lace: Universal Holsters
Brand: Lethal Lace
Item type: Universal Holster
Price: $51.99
Lethal Lace offers a one-size-fits-all universal holster designed for wear on any area of the body — ankle, calf, chest, thigh, or waist — under any type of clothing.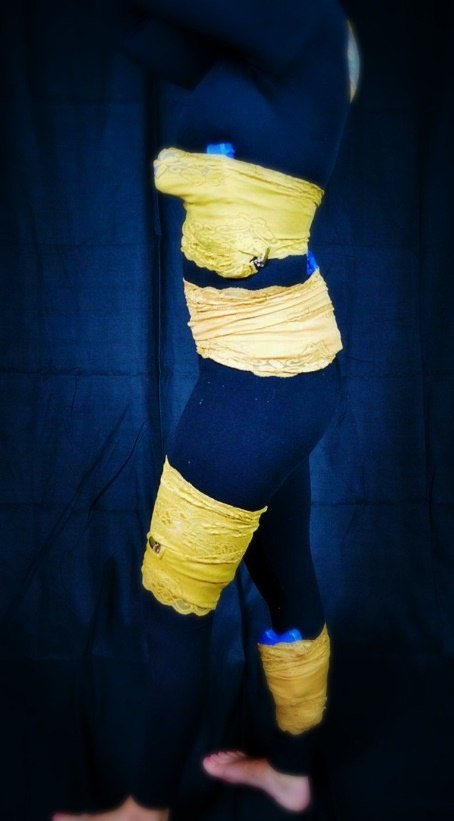 (Photo/ Lethal Lace)
Its inventor, Tessa Renaud (who demonstrated her product at SHOT 2015), wanted a product that worked well for women and was feminine and pretty. The Lethal Lace holster is a simple self-anchoring band of lace, seven inches wide by 85 inches long. The lace band has pockets in which a gun and other items (keys, cell phone, spare magazine) may be concealed. The grip of the gun may be wrapped or left uncovered. Once placed, the stretch lace is wrapped and fastened with suspender clips for a secure fit. 
The Lethal Lace website has an instructional video on how to use the holster, which comes in four colors.
5. Galco: CarrySafe System
Brand: Galco
Item type: Holster
Price: $49.95
Galco — known for its high-quality gun leather holsters, bags, and accessories — has an innovative product called the CarrySafe system (Gen 2).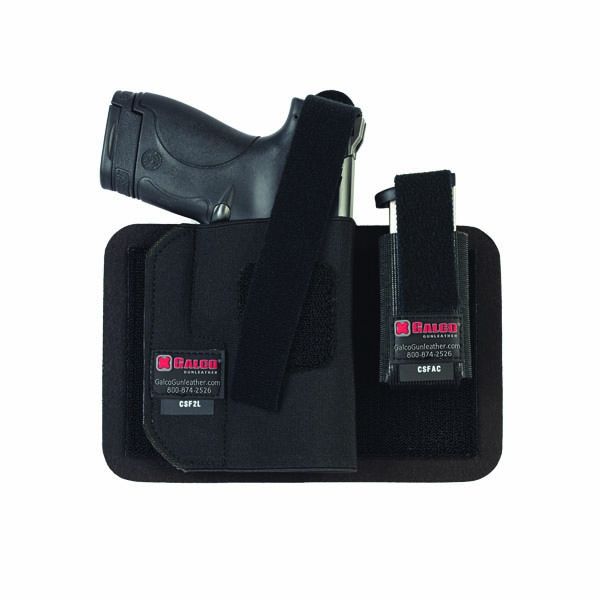 (Photo/ Galco)
Instead of buying a new bag or purse with a hidden carry or zipper compartment built in, a woman can select the CarrySafe to use in bags she already owns. 
This holster is designed for carrying in any purse, briefcase, or handbag. The CarrySafe system is made up of a nylon holster that attaches to a stiff leather backing plate with Velcro. A metal clip adjusts the plate for proper ride height, and the angle of the holster is adjustable. 
The CarrySafe comes in three holster sizes to fit most carry guns.
6. Gun Tote'n Mamas: assorted off-body options
Brand: Gun Tote'n Mamas
Item type: Concealed carry off-body accessories
Price: $74.95 (Smartphone pouch)

$169.95 (Brief/portfolio case) 
$174.95 (Bison leather CCW iPad case) 
$119.95 (Assorted leather iPad CCW cases) 
$100.95 (Handbags)
Gun Tote'n Mamas — a division of Kingport Industries and a certified women-owned business —offers a wide variety of products for women who prefer the option of off-body carry.

   
(Photo/Gun Tote'n Mamas)
Kingport Industries has been in the luggage and travel products industry for more than 30 years and has made concealed carry bags since 2009. 
New Gun Tote'n Mamas offerings include a smartphone pouch, a brief/portfolio case, and a made-in-the-USA bison leather CCW iPad case.
Other assorted leather iPad CCW are available. Handbags include the popular concealed carry basic hobo handbag that comes in four colors.