After-action review: Route 91 Harvest Music Festival mass shooting
Law enforcement agencies that respond to large-sized events must recalibrate their approach to security
---
The "1 October After Action Review" assessing law enforcement response to the Route 91 Harvest Music Festival mass shooting has been released. All critiques and recommendations here are a synopsis from the report, not a personal critique.
Overview
On October 1, 2017, singer Jason Aldean was closing out a three-day country music festival when at 10:05 p.m., Stephen Paddock fired over 1,000 rounds at the crowd using a variety of weapons from his room on the 32nd floor of the Mandalay Bay Resort and Casino. When the 22,000 people attending the festival realized they were being shot at, they ducked, hid and fled in all directions in an attempt to dodge the hail of bullets, which lasted for 10 minutes. Some forced their way through fences while others fled through exits as concertgoers all around them fell in the fusillade.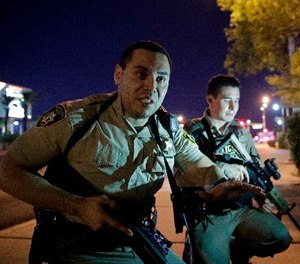 Paddock killed 58 and injured over 850 people; 422 of those injuries were gunshot wounds. Two police officers were wounded and one officer who was off duty attending the event was killed assisting others.
At the inception of the shooting, a security officer named Jesus Campos happened to be on the 32nd floor of Mandalay Bay making his rounds and was detected by Paddock. Campos was hit by fragments from a bullet fired at him. Campos called in the shooting, as well as the location of the shooter. However, this report was received along with others reporting the shooter to be at ground level. Two Las Vegas Metropolitan Police Department (LVMPD) officers, who happened to be in the hotel finishing reports headed toward the 32nd floor.
At ground level, there was chaos with thousands fleeing out of exits and others knocking down fences to escape where there were no exits. Even though overwhelmed and surrounded by unimaginable chaos, officers who had all trained in Multi-Assault Counter-Terrorism Action Capabilities (MACTAC), directed concertgoers toward safety, rendered aid to the wounded, and immediately began forming strike teams to locate and address the threat.
At one point a sniper on board a helicopter tried to get into position to take a shot, but that proved undoable.
At 10:17 p.m., the two previously mentioned LVMPD officers reached the stairwell between the 31st and 32nd floors. By this time, unbeknown to them, the shooter had already killed himself. Eventually, a mixed strike team of patrol officers, plainclothes officers and a K-9 officer arrived. A SWAT breacher pried open a door leading to the hallway of the 32nd floor, which had been barred with an "L" bracket. This team was further delayed when they spotted a food cart with a camera mounted on it. Wires running from the cart to room 32-135, where they believed the shooter to be, caused them to be wary of an improvised explosive device.
At 11:20 p.m., after overcoming this concern, a SWAT breacher used an explosive breach to open the door of room 32-135. This room was cleared, and a second explosive breach was performed to the door of room 32-134. Paddock, the shooter, was found to have killed himself. Weapons and ammunition were spread around the room in great quantity. During the entry there was an unintentional discharge by one officer, causing minor damage to furniture.
The rest of the hotel was cleared, and the grounds were cleared and secured. The massive task of rescuing, locating and identifying victims went into full motion.
Recommendations
Here is an overview of some of the recommendations listed in the report. They have been combined and abbreviated.
Train security in safety threat assessment
In spite of a heavy security presence in Las Vegas, Paddock was able to transport many weapons and a great deal of ammunition from his vehicle to his room without anyone's curiosity being aroused to take some kind of proactive steps to prevent this tragedy. This event demonstrates a need to educate hotel personnel on "see something, say something."
Train community partners in Multi-Assault Counter-Terrorism Action Capabilities (MACTAC)
MACTAC training, which is given to all LVMPD officers at entry-level and re-enforced every year, proved invaluable. It saved many lives during this event. There are advantages to giving this training to law enforcement partners.
Establish secure locations close to officers' assignment areas for special equipment storage
Many of the officers had to run hundreds of yards to their squads to retrieve their protective equipment and rifles after shooting started.
Change policy to allow officers the discretion to take off reflective vests
Officers felt their protective vests turned them into "sitting ducks," so they abandoned their mandated reflective vests during the shooting.
Develop policy requiring lettering on outer protective clothing
Much of the protective clothing of officers did not clearly identify them as law enforcement.
Ensure all commanders and officers receive Incident Command System training
There was an Incident Command Post already set up and operational on scene for the event itself; however, the lieutenant in command, who was supervising the five sergeants, 44 sworn officers and one civilian employee had left the command post just before the shooting started to take a walk around. This lieutenant had not transferred command to someone in his absence contrary to incident command protocol. When the shooting started, the commander was under fire and there was no one in charge at the command post.
For many officers, MACTAC training kicked in as they waded into the fleeing crowd to look for the shooter at ground level. Others aided concertgoers in their flight giving quick lessons in the use of cover and directing them toward safety while still others aided the wounded. To his credit, the original incident commander, who was under fire, did identify an alternate location for an incident command center out of the line of fire. Strike teams immediately began forming to locate and stop the threat.
The attack triggered an "overconvergence" of personnel. Many of these responding officers were commanders, who later confided that upon arriving they did not know what was expected of them. One captain responding recognized that the command post had no commander, so he named himself the incident commander.
Create a large incident communication plan
When the shooting started, the dispatch center, which was already short-staffed as a dispatcher had called in sick, received 62 calls to 9-1-1 simultaneously. Six hundred calls were received in the first hour. The call volume slowed the computer-aided dispatch system and, at times, froze it. To better handle the volume, the civilian supervisor in communications directed that officers switch their radios from the designated channel they were given to convention center area command, which proved difficult for officers under fire to do.
Train officers in radio discipline
There were 638 radio transmissions during the first hour of the event; 151 of those transmissions were officers depressing the red emergency button. This locked the radio open for 10 seconds disallowing all other transmissions. Each one of these incidents required a dispatcher to clear and reset each incident.
Purchase a high-power repeater to support a mobile platform for better radio communication at mass gathering events
Radio communications were made difficult because some officers were utilizing walkie talkie-like radios that required "line of sight" for communications. This hampered critical communications significantly.
Develop a mass casualty protocol and provide a large supply of tourniquets and medical kits for large events
The number of casualties in this incident made rescue, treatment and transport an overwhelming task. The prior issuing of tourniquets and aid kits to officers and the training that accompanied this proved timely. With so many gunshot wounds, officers quickly used their issued equipment, but because of their training, officers were able to improvise, using belts and articles of clothing to arrest bleeding and save many lives.
Incorporate transitioning to SWAT into MACTAC training given to patrol officers so they can transition from active shooter tactics to barricaded gunman tactics 
MACTAC is training specifically for patrol officers to form strike teams and address an active shooter threat, however, this gunman was heavily armed and in a barricaded position of advantage. It became necessary to transition from active shooter tactics to barricaded gunman tactics.
Train officers in room and area clearing, as well as how to mark off areas that have been cleared
Some officers were clearing rooms and areas without ever having been sufficiently trained. Some areas were cleared repeatedly because the officers did not think to mark an area clear and secured.
Enhance relationships through tabletop exercises with the federal agencies so important in the aftermath of this event
The FBI was a full partner in the follow-up investigation of this horrific event. The Bureau of Alcohol Tobacco and Firearms stepped in to assist as well. They were able to provide a complete trace of all firearms in the shooter's room by October 2.
Research and develop capabilities for massive storage of information and make it accessible to all investigators
The information gathered was so voluminous the decision was made to store it all with the FBI because of their storage capabilities. ORION was used for this purpose.
Understand the diversity of technology challenges
Humans were not the only ones overwhelmed by this unprecedented attack. The technology in place could not keep up either. Because of the volume of radio traffic, calls, victims, evidence, personal property and follow-up investigation information gathering there was a need for better technology. This ranged from having computer-aided dispatch technology capable of keeping up with hundreds of calls coming in at once to departmental computers whose storage could manage large amounts of data (like ORION). Laptops are needed, which can be immediately set up in an improvised command post, and be instantly operational.  
Provide post-incident review policy
The only way to improve performance is to learn from each critical event through a critical incident review.
Review award procedures
An incredible amount of individual heroism was on display during this event. This exceptional performance should not go on unnoticed once the smoke clears. There were 156 employees honored in September 2018 for their actions on October 1, 2017.
Add an additional position for officers working privately paid security positions
This event demonstrated to the private sector, which hires sworn officers through the department to work security, that they need to add an additional layer of protection. Requests are now made for "special-purpose riflemen" to work events.
Change policy to enable officers to deliver out-of-agency presentations
This incident was so unique that there were many agencies around the country hungry for presentations from officers who were there and are willing to share their hard-earned insights.
Improve knowledge and capability in the area of family assistance and develop a system to use people from the community to serve as force multipliers when a major event requires more emotional support personnel
The number of people inside and outside the agency suddenly needing help coping with grief and trauma was incalculable.
"When dealing with trauma, people don't always need advice," said Police Employee Assistance Program Director Annette Mullin. "Sometimes it is just having someone to walk with you in your pain, matching your steps with an ear to listen and a heart willing to understand. The journey to healing begins when those that are hurting find it safe to talk."
Conclusion
In reading between the lines of this report, one has to conclude that if your agency responds to, works, or attends large-sized events, you must recalibrate your thinking on security. Think about that and prepare.
Click here to read the report. 
AAR Final by Ed Praetorian on Scribd