'Shots fired, officers down' and the barricaded gunman
We can learn a lot from the magnificent combination of tactics and courage shown by the Philly officers who brought a dynamic sudden assault to a successful conclusion
---
Picture yourself approaching a door with your partner when suddenly you hear, "Bam! Bam! Bam! Bam!" A voice cackles over the radio, "Shots fired, officer down!" You realize it is your voice.
As someone who has been there and done that, I would like to take this opportunity while the Philly shootout is fresh in your mind to mentally prepare you for the moment when you find yourself saying, "Shots fired, officer down!"
Step One?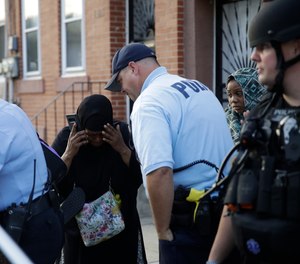 Step one is to remember that there is no step one. You will need to prepare through training to do many things at once instinctively to ensure the survival of yourself, your partner, the other officers on scene and those responding.
Stop the Threat or Contain the Threat
Returning fire to stop the threat is justified, however, in many barricaded gunmen cases, you may find yourself unable to identify, acquire and isolate the target to stop the threat.
You must decide whether to engage the shooter from your current location, advance on your attacker to engage, move to cover to engage, or disengage. If you dawdle, you die!
Return fire if you can, get off the proverbial X and move to a position of cover and advantage. From here you will be able to continue to return fire, as you orchestrate the safe arrival and placement of responding officers to facilitate the containment of the suspect and start the SWAT callout protocol if they are not already on scene. Breathe.
The Officer Down
If you are the officer down and you can get yourself to a safe place on your own power, do so! Remember to tell yourself, "The fight is not over. I'm still in this fight! I must finish the fight, because this fight will not finish me!!" Breathe.
With that said, many who are shot, including my partner, have, wounds that make it impossible for them to move. I thank God I had been prepared in advance for that moment because I had:
My partner had also prepared for the moment by maintaining his mental and physical strength and fitness level (He was not overweight, which may have made him impossible for me to move him alone.) He also was wearing his vest.
If an officer goes down next to you, it will undoubtedly be safer for you to relocate to save yourself and plan an organized rescue. However, when it happens, you may discover, as I did, that it is not in your nature to abandon a friend. If you go into the rescue mode instinctively, as I did, it will help you to have:
Pre-shots-fired knowledge of the closest available cover;
Prior training in proper rescue drags/carries;
A pre-incident knowledge of the fact that you will be pumped up with an adrenaline surge like no other, allowing you to accomplish great deeds.
Therefore, you may discover as I did that you are able to move your wounded partner to the closest available cover almost as quickly as you can move myself.
I am not advising you to do this. I am advising you that you may do this no matter what anyone says you should do, so prepare yourself for this reaction.
Call SWAT, Establish an Inner Perimeter
Once the "shots fired, officer down!" call goes out officers will be rushing to the scene like a stampede in an episode of "Rawhide."
(Note: For stampeding officers responding to a "shots fired, officer down!" call, remind yourself of something your academy EVOC instructor said as you hit the gas pedal for the first time after this transmission. "You're no good to anyone unless you arrive alive." Drive with due care! Breathe.)
Back at the scene, as you tend to your wounded partner, picture in your mind a safe route to the scene and a spot for officers to stage. Choose the route and staging area quickly and radio it in along with your partner's condition, the shooter's identification, his/her position, weapons and any other pertinent information. Breathe.
Your next visualization should be where the first arriving officers need to deploy to ensure they will have cover and mobility while containing the suspect. Facilitate the immediate securing of the inner perimeter as the officers arrive. (The inner perimeter is a sterile area established by you to contain the problem, which is the barricaded gunman and the solution, the police.) Officers on the inner perimeter should all be armed with long guns. Breathe.
The staging area will also be the place to direct the ambulance for your partner, and other ambulances to stand by for any other casualties. Non-law enforcement rescue personnel in most jurisdictions will not enter an area they call "a hot zone," so attend to your fellow officer's bleeding and get him to an ambulance quickly. Seconds matter.
Establish an Outer Perimeter and Command Post
The outer perimeter surrounds the inner perimeter and locks down the area around the inner perimeter to prevent people from wandering into the kill zone. It also allows for safe movement of officers who are evacuating innocents and deploying as assigned. It protects not only the staging area, but also the command post. (Oh yeah, identify and establish a command post.)
Remember that the big difference between a lone barricaded gunman and an active shooter is that time is on your side with the lone barricaded gunman so, breathe.
Communication
The incident should have its own radio channel(s) to operate on.
It behooves you to begin communications as soon as possible. If you have a trained negotiator great, but If you don't, it still behooves you to begin communication as soon as possible. When you are talking, you are not shooting and talking gives your tactical team time to get into position and plan.
Establish phone contact as soon as possible, because yelling back and forth does not have a calming effect.
Never conduct any negotiation with an armed suspect face to face!
SWAT
Every department should have SWAT capabilities available in-house or through mutual aid.
Here are some things that the Philadelphia Police Department's first responding officers and SWAT pulled off during this event:
First responding officers survived the initial violent assault.
The suspect was contained by officers within an inner and outer perimeter quickly.
The wounded were evacuated quickly.
SWAT was called.
Communication was sought after with the suspect, who resisted these efforts, until they were eventually established.
Rescue plans were made and carried out for cut-off officers and civilians.
Technology was used to keep the community aware of the dangers, while advising some to shelter in place.
Great efforts were made during communications, including getting someone the suspect trusted to aid with negotiations.
Officers weathered taunts of some community members while the event was in progress.
Professional press briefings were given.
When the time was right, chemical munitions were effectively introduced.
Safe arrest tactics were employed to take the suspect into custody.
Medical care was provided to the suspect before turning him over to jail personnel.
All Philadelphia cops went home after this long shift. Bravo!
SWAT teams train for these situations constantly and have available some or all of these resources that street officers may not have or train with:
Trained tactical operators;
Trained tactical commanders;
Trained negotiators;
Trained grenadiers;
Trained snipers and observers;
Explosives experts;
Investigators gathering information and working on necessary warrants;
A Deserved Critique of Politicians
This is not a political commentary, but a critique of politicians is in order. It has been hard to watch political "leaders" show compassion for lawbreakers, while continually voicing a disdain for American law enforcement. Their words at best have inspired open disrespect toward police officers and, at worst, have given tacit permission for attacks on police.
A Deserved Critique of the National Media
The national media has not done their job in identifying this unjustified and relentless war of words against police officers by elected officials, which has had deadly consequences across the nation. It has also led to open disrespect of officers, which showed itself in the taunting of officers in Philadelphia during this deadly event.
Additionally, the media has been asked repeatedly to not reveal police tactics, movements and positions, while these incidents are in progress. During the Philadelphia shootout, they not only showed positions and movements of officers during what was an in-progress incident, but they also had "experts" speculate on what tactics might be deployed next. It was as if they were saying, "Hey, cop killer, heads up! Here they come!"
Shout Out to The Philadelphia Police Department
During this incident, members of the Philadelphia Police Department attempted to conduct a drug investigation/arrest. They were suddenly attacked by a heavily armed career criminal. They reacted, returned fire, rallied, rescued and prevailed. Philly officers took to the world stage during this event and shined like the stars in the sky.
This dynamic sudden assault was brought to a successful conclusion without a single loss of life by a magnificent combination of tactics, equipment and courage. To all members of the Philadelphia Police Department who survived this withering fire, thank you for your example. You are our heroes.
For the rest of you out there, prepare!