What are crisis actors?
Crisis actors do exist – just not the ones popularized by conspiracy Twitter
---
Mass casualty incidents ranging from Sandy Hook to 9/11 have been the subject of "false flag" conspiracy theories on the internet. The prevailing narrative is that paid actors work these "staged" events that are designed to achieve goals ranging from the justification of war to tightening gun control laws. The deadly Parkland school shooting and the killing of George Floyd are some of the latest targets of the "crisis actors" conspiracy movement. As any police officer who's ever been involved in an active shooter exercise or other type of mass casualty training event knows, crisis actors do exist – just not the ones popularized by conspiracy Twitter. Here's what you need to know about crisis actors.
What is a crisis actor?
Crisis actors are used in active shooter exercises and other types of mass casualty training, ranging from small-scale local drills to larger exercises like Urban Shield. Crisis actors play hostages, witnesses or patients, as well as terrorists and other criminal elements.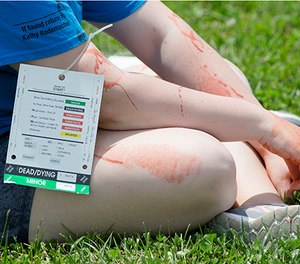 Crisis actors bring a human element to MCI training
Getting first responders out of the classroom and into training using real-world scenarios increases participant attention and retention because they are engaging by nature. But this type of active shooter and MCI training is only as effective as its realism, and one of the key elements to realistic disaster response training is the use of people. Makeup and molds are applied to actors to realistically depict injuries (known as moulage), and crisis actors usually undergo training sessions before an exercise to ensure they are believable and able to put first responders to the test.
FEMA, for example, has their actors study human emotional responses in a variety of crisis situations, and watch more seasoned role-players in action before they participate in their first exercise.
"RPAs (role player/actors) bring the real world to training. It is more realistic when the responder students are working with a living person and all their emotion, as opposed to dealing with a mannequin or piece of cardboard," Craig Burt, an role player controller at FEMA, said.
Crisis actors bring unpredictability
Another key aspect of realism is bringing chaos to the scene. Humans are unpredictable, and the use of crisis actors in training can provide police officers with examples of how people will act in a crisis situation, helping to develop the leadership and decision-making skills needed to to respond to such unpredictability. 
For example, during an active shooter school training exercise held in Monroe County, Florida, civilian participants were taught run, hide, fight and then given only one instruction: to survive. Among the lessons learned in an after-action report: Officers found many students who hid in barricaded rooms wouldn't come out even after the LEOs announced their presence, fearing the shooter was attempting to trick them.
Hiring and managing crisis actors
While doctors, nurses, paramedics, EMTs, police officers and members of the military can play these roles, most crisis actors are civilian volunteers. They can be culled from Community Emergency Response Teams (CERT), local government agencies, community partners (schools, hospitals, volunteer organizations), or via casting calls. Some companies offer paid actors specifically trained in disaster and crisis management as part of their large-scale disaster and response training packages and practice sites.
One casualty simulation service, Magnum Services, even uses former military members who have actually experienced trauma.
FEMA's Center for Domestic Preparedness keeps a pool of actors on hand. The agency has employed them since 2006 for use in a number of disaster and emergency management scenarios; they usually work around 30-40 hours a month and range in age from 19 to over 70 years old.
In a presentation on best practices for planning and conducting realistic MCI training, the University of Georgia Office of Emergency Preparedness outlined some key considerations for using crisis actors. Among them:
Volunteer actors should be primarily used as victims, with the role of bad guys being reserved for experienced law enforcement officials;
Provide volunteers with specific instructions prior to the exercise and make sure they are clear on them (go over goals, safety procedures and rules);
Volunteers should be given advanced notice to wear old, heavy clothes they don't mind getting dirty;
Volunteers should be scheduled and rotated; provide them time slots instead of calling them in as needed;
Food and break rooms should be provided on site.
According to the Homeland Security Exercise and Evaluation Program, actors should receive the following prior to the exercise:
Waiver forms for signature, clearing liability for exercise planners and participants;
Actor instructions including information on when to arrive, where to report, and other logistical details; and
Symptomatology cards containing the signs and symptoms the actor will portray, as well as information for medical providers.
A number of organizations can help your agency develop a mass casualty incident exercise, including TEEX, FEMA and the FBI.
Learn more about planning for MCIs
For more information on training for active shooters and mass casualty incidents, check out the following collection of articles by our experts. If you'd like to expand your knowledge even further, visit the Police1 Academy, which features multiple online courses on these topics. You can schedule a free P1A demo here.  
7 common active shooter training mistakes
Why we need to throw out the script in large-scale incident training
Mistaken assumptions and lessons learned during rescue task force training
Why police agencies need to embrace the Incident Command System
How to get a rescue task force off the ground
5 tips to form and train a rescue task force for active shooter incidents
Active shooters in schools: An options-based active-shooter policy for schools
Why public safety needs an integrated response plan for acts of mass violence
How a 'bleed-safe' community can help during an active violence event
This article, originally published on May 2, 2018, has been updated with new information.