Ga. man admits to shooting police aircraft flying over his house
Terry Kielisch faces life in prison for firing at the helicopter he "didn't like" flying near his home
---
Becky Purser
The Macon Telegraph
ATLANTA — A Blythe, Georgia, man faces up to life in prison after he opened fire and struck a Georgia State Patrol helicopter during a law enforcement operation last year because he didn't like it flying near his home.
Terry Kielisch, 56, recently pleaded guilty in federal court in Augusta to two counts of assaulting a person assisting an officer of the U.S. and one count of use of a firearm during and in relation to a crime of violence, according a news release from the U.S. Attorney's Office for the Southern District of Georgia.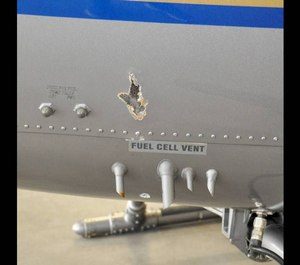 On March 12, 2019, Kielisch fired at least two shots from a .308 caliber rifle at the helicopter, striking it near the fuel lines based on court documents and testimony, the release said.
The helicopter was being used in Operation Gunsmoke, a roundup of people accused of drug trafficking and illegal firearms possession in Georgia and South Carolina. The operation was headed by the Bureau of Alcohol, Tobacco, Firearms and Explosives.
Kielisch, who was not among those targeted in the drug sweep, "told investigators he fired at the helicopter because he didn't like it flying near his home," the release said.
The pilot, a Georgia State Patrol trooper, and the sole passenger, a Richmond County sheriff's investigator, were not hurt. The pilot landed the helicopter safely.
"This defendant's dangerous actions callously threatened the lives of two law-enforcement officers, damaged public property and threatened the safety of all residents near the scene of this incident," said U.S. Attorney Bobby L. Christine. "We are fortunate that no one was injured in this senseless attack."
Damage to the helicopter was estimated at $60,000.
McClatchy-Tribune News Service