Philly cops targeted in shooting rampage improving
As a result of Friday night's shooting, Police Commissioner Richard Ross ordered that all officers resume patrolling in pairs
---
Stephanie Farr and Michaela Winberg
The Philadelphia Inquirer
PHILADELPHIA — One of two police officers wounded during Friday's shooting rampage in West Philadelphia was discharged from the hospital Sunday, and family members of the other officer said they were hopeful she would be released soon.
"They are both very lucky," said John McNesby, president of the Fraternal Order of Police Lodge No. 5. "I just can't understand the reckless disregard or disrespect for law enforcement. I've never seen it at such a level as it is today."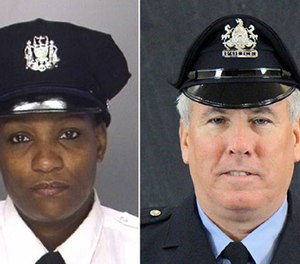 Eddie Miller, a University of Pennsylvania officer who is retired from the Philadelphia Police Department, was treated for gunshot wounds to his hip and ankle and was released Sunday from Penn Presbyterian Medical Center, McNesby said.
Philadelphia Police Sgt. Sylvia Young, who was shot six times in her shoulder, arm, and chest by the same gunman, remains in stable condition at Penn Presbyterian.
Young's sister, JoAnne Eggleston, said seeing her sister smile since the shooting has been "huge," and she's hoping Young will be released from the hospital in the next few days.
Eggleston said she got the call that her sister had been shot only an hour after the chaotic shooting spree.
"It's always the one call I never want to get," she said. "I know she's a police officer, so there's a certain amount of danger that comes with that."
Young, 46, was on assignment - alone in her patrol car at 52nd and Sansom Streets - when 25-year-old Nicholas Glenn walked up to her car and shot at her 18 times through the window, police said. Six of the shots hit Young, who was wearing a bulletproof vest, and two hit her police-issued firearm, making it inoperable.
"Sgt. Young must have had not just one guardian angel, but a whole army of guardian angels watching over her," McNesby said. "God bless her."
Miller, 56, was shot when he and two Philadelphia police officers confronted Glenn in an alley off Sansom Street near 48th. Glenn was then shot to death by other officers.
In between shooting the officers, Glenn shot four more people, including 25-year-old Sara Salih and her 36-year-old male companion as they sat in a car near her home on the 4800 block of Sansom Street, police said. Salih died from her injuries. The man in the car with her, whose identity was not disclosed, remains in critical condition but is expected to survive.
Police said Glenn also shot a female bartender and a male security guard at the Maximum Level Lounge on the 5100 block of Sansom Street. Both of those victims were listed in stable condition; their identities also were not released.
When police searched Glenn's body, they found a note in an envelope with the words "DOOMED PEOPLE" written across the front, authorities said. In the letter, Glenn wrote of his hatred for police and probation officers. He also wrote that he believed that the world and people - including himself - were doomed, police said.
But those who survived his rampage - and the officers who ran to answer their calls for help - are proof that this world is far from doomed, McNesby said.
"When you see what happened this weekend, I think it's a reminder of how we do our jobs and how everybody comes together to contribute, no matter how we're treated anywhere," McNesby said.
Miller has two young children and is married to a Philadelphia police officer, McNesby said. He and Miller formed a friendship while working several years together in the Philadelphia Police Department's Narcotics Unit and the two still vacation together every year.
"He's a family man to the extreme," McNesby said of Miller. "He doesn't do anything without the OK of everybody but Congress. That's him in a nutshell."
Miller logged 33 years with Philadelphia Police before retiring two years ago as a sergeant from the department's Marine Unit.
"He never had an incident [as a Philadelphia police officer] and then he retires and bang, this happens," McNesby said.
Young, a 19-year veteran of the force, has two daughters in their 20s, her sister said.
Even though her own daughters are grown, Young throws an Easter egg hunt every year for all her siblings, nephews, and nieces.
"She's the one sister who is always willing to give her last for someone, especially for our family. She always goes above and beyond," Eggleston said. "She wanted to make sure that they were having every experience."
It's been a tough year for the Young family - out of 10 siblings, two sisters died within a few weeks of each other in May. Young's older sister, Francine, died of congestive heart failure, and her younger sister, Stacey, of a sudden heart attack.
"For this to happen, it's been a stressful time for the entire family," Eggleston said. "It's a large family, but we're all very close."
Eggleston is optimistic about the recovery of her sister, who she said is "very strong."
"She has the biggest heart, but she's a tough cop," Eggleston said. "A tough cop with a heart of gold."
Visitors have been coming to see Young in droves, including her fellow officers, Eggleston said.
"It's not just 9 to 5," she said of her sister's job. "Cops are her extended family. You can tell it's genuine because on birthdays, holidays, they're always looking out for her."
On Saturday, several Eagles players visited both Young and Miller at the hospital.
Eggleston said her sister is "a diehard Eagles fan" and men who dated her were always surprised by how much she knew about football.
"It sends a nice message that they came out and did that," McNesby said of the Eagles players. "It sends a shot of morale into their arms."
The FOP is planning to donate the proceeds from its fourth-annual Monday Night Football Tailgate party to Young and Miller, McNesby said. The 7:30 p.m. Monday event, which is open to the public outside the FOP lodge, usually draws a crowd of about 1,500.
As a result of Friday night's shooting, Police Commissioner Richard Ross ordered that all officers resume patrolling in pairs. Ross gave the same order following the ambush shooting of Philadelphia Police Officer Jesse Hartnett in West Philadelphia in January and following the July shooting of 12 officers in Dallas.
McNesby said that while he is a fan of two-man patrol cars - because "when you call for backup, it's sitting three feet away instead of three minutes away" - he also understands that it means fewer patrol cars on the streets.
Young and Miller were the third and fourth police officers shot in Philadelphia this year - all four were shot in West Philadelphia and three - Hartnett, Young, and Miller - were shot while they were in the 18th District. The fourth officer was shot in the 19th District.
Hartnett, 34, was ambushed by alleged shooter Edward Archer, 31, on Jan. 7 while in his patrol car. Investigators said that when they questioned Archer, he told them: "I follow Allah. I pledge my allegiance to the Islamic State, and that's why I did what I did." Hartnett, who survived, was able to return fire and wound Archer, who now awaits trial on attempted murder charges.
In April, Philadelphia Police Officer James McCullough, 24, was shot in the thigh by 23-year-old Scott Griffin when the officer intervened in a carjacking, police said. McCullough survived his wounds and Griffin is now awaiting trial for attempted murder.
Copyright 2016 The Philadelphia Inquirer
McClatchy-Tribune News Service