Girlfriend of Miami cop posed as detective, shook down family
Maria Cabrera Gonzalez is no cop, but her girlfriend is
---
By David Ovalle
Miami Herald
MIAMI — Maria Cabrera Gonzalez is no cop. But her girlfriend is.
Prosecutors say Cabrera — without authorization and posing as a plainclothes detective — was riding along with that girlfriend, Miami Police Officer Sheila Belfort, when the two pulled over a motorist in June 2014. But the misconduct didn't stop there.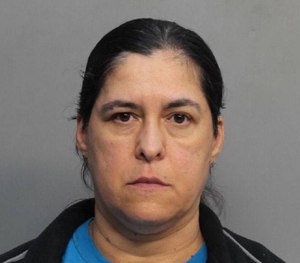 After the motorist, an undocumented immigrant, was jailed, Cabrera shook down his family for $2,400, promising that the cash would free him from jail and help with "immigration concerns."
The motorist later complained to Miami police's internal affairs unit. On Friday, Cabrera, 50, pleaded guilty to impersonating a police officer and grand theft.
The victim, Moises Escoto, was nevertheless deported to his native Honduras. Miami-Dade Circuit Judge Stephen Millan said during Friday's court hearing that he was "offended how this gentleman was treated."
"Any society is known by how they treat their most vulnerable members," Millan said. "They still have their God-given dignity."
Belfort has not been charged. She remains under investigation for her role in the episode, according to a police spokesman. She is not on duty after being involved in an unrelated car accident several weeks ago.
Escoto is now planning a possible lawsuit against Belfort and the police department. His lawyer said Belfort got immigration authorities to get Escoto deported, even though his arrest was for a misdemeanor charge of driving without a license.
"Clearly, Sheila Belfort should continue to be investigated," said lawyer John de Leon. "She showed a complete abuse of power against a defenseless immigrant."
According to an arrest warrant, Moises Escoto was pulled over in Little Havana for a driving infraction and then cited for driving without a license. Belfort was in uniform, while Cabrera sported a badge hanging around her neck. The two rode in a marked patrol car.
As Escoto was being arrested, she repeatedly identified herself as "Officer Rosa."
Not long after the arrest, Cabrera called Escoto's mother, Emma Rojas, on her cellphone. The sham cop initially asked for the cash to "assist" with Escoto's being released from jail and staving off possible deportation, the warrant said.
Cabrera ordered the family to meet her at a nearby restaurant to exchange the money, which they scrounged up and paid. The money did not go to bonding him out of jail. Escoto's girlfriend wound up putting up the bail money.
Escoto was rearrested at his arraignment by a federal agent, then eventually removed from the country.
"My world caved in after the incident," Escoto told the judge Friday, speaking by phone from Honduras.
Investigators from the FBI and Miami's internal affairs unit corroborated the story through surveillance footage and cellphone records.
When confronted, Belfort admitted she allowed her live-in girlfriend, who has never been a city employee, to ride along in her patrol unit "to assist her with translations," the warrant said.
But the cop insisted she did not know of the shakedown of Escoto's family. She also said Cabrera had a "bad gambling problem."
Authorities arrested Cabrera last month. She pleaded guilty Friday after her arraignment.
Cabrera will not go to jail. Instead, she accepted one year of house arrest, plus four years of probation and restitution.
Her lawyer, Orlando Rodriguez, said Cabrera — who is unable to post bond — is accepting the deal to avoid sitting in jail. "We're happy with the resolution in this case," he said.
Copyright 2016 Miami Herald
McClatchy-Tribune News Service