Police: Woman resisting arrest bit a patrol car, kicked officers
The woman is suspected of driving under the influence
---
By Paul Feely
The New Hampshire Union Leader, Manchester
HOOKSETT, N.H. — A Manchester woman is facing charges of assault and driving under the influence, after Hooksett police say she hit a utility pole and drove her car into a drainage ditch, before kicking an officer and biting a police cruiser.
According to Hooksett police Sgt. Joseph Ducharme, about 2:11 p.m. Sunday officers responded to a motor vehicle complaint involving a blue Toyota Matrix. A caller reported a Toyota Matrix backed into a utility pole and some parking stakes outside Smokers Haven at 1176 Hooksett Road.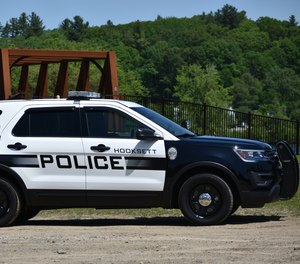 At 2:18 p.m., police received a second call reporting a rollover crash at the intersection of Mammoth Road and Zapora Drive.
Upon arrival, officers reported a blue Toyota Matrix — believed to be the same vehicle involved in the earlier incident — was now down a drainage ditch on its roof about halfway submerged in water.
Hooksett police were able to extricate the driver, identified as Kaylee Thibeault, 28, of Manchester, and reported observing signs of impairment.
According to Sgt. Ducharme, when Hooksett fire personnel arrived, Thibeault became "uncooperative, combative and resisted arrest and detention."
"She also kicked and kneed officers, before she kicked and bit the police cruiser," Ducharme said in a statement.
Thibeault was arrested for DUI, conduct after an accident, resisting arrest and simple assault.
Thibeault was transported to Elliot Hospital by police as she was "uncooperative" with Hooksett fire personnel, police said.
According to Ducharme, Thibeault was asked to submit to a blood test but refused any testing. She was issued a summons on all four charges and released to the care of the hospital staff.
Thibeault is scheduled to be arraigned Jan. 28 at Hooksett District Court.
(c)2020 The New Hampshire Union Leader (Manchester, N.H.)
McClatchy-Tribune News Service