How to get the right body camera policy in place
Body cameras are pervasive and so are the policies on how to use them. Use these tips to make sure your policy is on the right track.
---
The following is paid content sponsored by COBAN Technologies
By Sean Curtis for Police1 BrandFocus
We have reached a new era in policing—the era of the body camera. It seems less a matter of whether your agency will adopt the technology as when.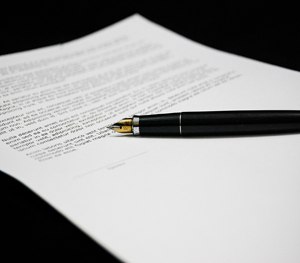 Law enforcement officers and chiefs must lay a solid foundation for a successful body camera program. After all, a new piece of police equipment is no better than the policies that dictate its use.
Here are five tips for getting a cohesive and effective body-camera policy in place.
1. Seek out policies from other departments.
Start with a boilerplate or borrow a policy from an agency that has one in place.
Associations like the International Association of Chief of Police (IACP) offer advice or whole policies that can be copied. In fact, many departments do this to get started.
For example, I spoke with Chief Gary Barbour of the Frederick (Colo.) Police Department who said they used an existing IACP body-camera policy five years ago as an outline.
A base policy is a good starting point but it needs to be crafted to reflect the needs of the agency it serves. Barbour said his team of administrators modified the IACP policy to fit their needs and match their officers' and the department's experience.
2. Address the big issues.
There are many core items the policy will need to address.
Some of these issues include when to turn on the body camera, how to manage video storage and when to disclose the video.
Privacy is also a major consideration and should be carefully addressed. Medical circumstances or other situations where private information (not evidentiary in nature) is discovered may warrant exclusion from otherwise normal recordings.
Municipal, county or other attorneys can be a valuable resource in vetting these issues, Barbour said. Officers should set up meetings with these attorneys to determine how to address the aforementioned issues in a body-camera policy.
3. Determine training parameters.
Training should be covered thoroughly in the body camera policy.
Barbour said one of the greatest challenges he faced when implementing body cameras at his agency was reminding officers to turn the cameras on. Training solved that problem.
Policy can dictate that body-camera usage is addressed during a field training officer (FTO) program. He said activation of body cameras during various types of calls can become an item an FTO might check for when dailies are completed to reinforce the activity and build it into an officer's normal response.
4. Secure the chain of evidence.
Another issue law enforcement administrators must take into account is the flow of evidence to the prosecuting attorney.
In-depth communication is the key to establishing a policy wherein the district attorney has the ability to use the media created by police. That's why as part of the policy development chiefs or officers should meet with attorneys to discuss issues like file format and method of delivery.
Prosecutors also may offer guidance as far as what video should be kept, how long the video should be stored and more.
5. Let officers view videos when writing reports.
Some of the benefits of police wearing body cameras can be nourished via policy, too, such as writing more accurate reports.
Barbour said his officers review their videos while writing reports—thus greatly increasing their accuracy. A policy can enforce this practice and, if properly crafted, ensure officers give accurate testimony in the courtroom as well. Reading reports refreshes the memory but viewing the video of the event is arguably a more visceral experience.
Keeping these five tips in mind, officers can get a cohesive, evidence-ready body camera policy in place that will hold officers and the agency accountable while improving performance.
For more information about body cameras, visit COBAN Technologies. 

Request information from Safe Fleet Law Enforcement
Thank You!