Cochise County Sheriff Mark Dannels on the challenges of policing at the Southwest border
"It is incredible the amount of drugs being seized at the border."
---
Download this week's episode on Apple Podcasts, Amazon Music, Stitcher, Spotify or via RSS feed, and watch the video version on Police1's YouTube channel.
We often talk about policing in urban areas on the show – from mid-sized cities to large metropolitan areas and all related issues confronting law officers. But in this episode of the Policing Matters podcast, sponsored by Staccato, host Jim Dudley speaks with the sheriff of a large department in Arizona, located at the southernmost tip of the U.S. at the intersection border with New Mexico on the Mexico border, where deputies patrol in extremely rural areas. 
Sheriff Mark Dannels, a 38-year veteran of law enforcement, has served as the 26th Cochise County Sheriff since November 2012. Discussion points in this episode include staffing, funding, border-related crime and drug interdiction.
Bonus segment
Policing Matters podcast host Jim Dudley and Sheriff Mark Dannels are joined by Paul Goldenberg, president of Cardinal Point Strategies, former member of the US Department of Homeland Security's Advisory Council and chief policy advisor to the Rutgers Miller Center on Policing, to discuss illegal immigration and drug interdiction crisis at the Mexican border.
About our sponsor
This episode of the Policing Matters Podcast is brought to you by Staccato. Choose the handgun trusted by over 900 law enforcement agencies across the country. With Staccato, you can feel confident knowing you aren't sacrificing incredible accuracy for reliability. Whether you're protecting your family at home or on duty, Staccato has your back. Military and law enforcement receive discount pricing through the Staccato Heroes Program. Visit www.Staccato2011/heroes-program.com to learn more.
Top quotes from this episode
We are fully staffed when it comes to sworn staff. In fact we have people waiting to be hired. I am a cop's cop leader. I believe in supporting the men and women of law enforcement who put their lives on the line every day. And I am a working sheriff out on the road with them. The challenge I have is in our detention, hiring in our jail."
In the last 11 years I have been sheriff, we have secured over $100 million in outside funding to initiative innovative and creative programs to keep our community safe."
The challenges we deal with, you name it we do what a full law enforcement service agency does, but our biggest challenge since I have been sheriff and prior to that is the border. We have always had border crime. But I will say this, I have seen the good, the bad and the ugly of this border and right now we are seeing the ugliest."
About our guest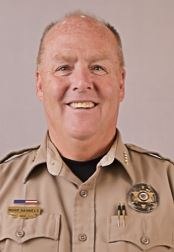 Since November 2012, Sheriff Mark J. Dannels has served as the 26th Cochise County Sheriff. He is a 38-year veteran of law enforcement, holds a master's degree in Criminal Justice Management from Aspen University and is a Certified Public Manager from Arizona State University. He has over 3000 hours of law enforcement training in his portfolio. He attended Disney's Leadership and Executive Training programs and is a graduate of the Rural Executive Management Institute. He began his law enforcement career in 1984 after serving a successful tour in the United States Army. He progressed through the ranks with the Cochise County Sheriff's Office to the position of Deputy Commander after working numerous specialty assignments and leadership roles including an appointment by the Arizona Governor for his dedicated efforts directed toward highway and community safety. Sheriff Dannels is a current member of the National Sheriffs Association where he serves as the Border Security Chair.
RATE AND REVIEW THE POLICING MATTERS PODCAST