Robot dogs may soon help patrol the U.S.-Mexico border
Robots just might be a border patrol agent's best friend
---
By Suzie Ziegler 
EL PASO, Texas — Four-legged robots have taken another step toward deployment at the U.S.-Mexico border, the U.S. Customs and Border Protection (CBP) announced earlier this month. 
According to CBP, the robots would relieve human personnel of unnecessary exposure to harsh temperatures and other threats along the border. A partnership with the Science and Technology Directorate (S&T) and Ghost Robotics would make the robotic assistance possible.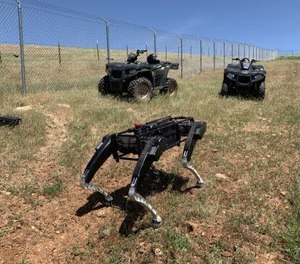 "The southern border can be an inhospitable place for man and beast, and that is exactly why a machine may excel there," said S&T program manager Brenda Long in a statement. "This S&T-led initiative focuses on Automated Ground Surveillance Vehicles, or what we call 'AGSVs.' Essentially, the AGSV program is all about … robot dogs." 
According to Ghost Robotics, their four-legged bot is exactly what CBP needs.  
"It is a rugged, quadruped robot," said Gavin Kenneally, the chief product officer at Ghost Robotics. "It traverses all types of natural terrain including sand, rocks and hills, as well as human-built environments, like stairs. That's why you want legs and not tracks." 
The 100-pound robot dogs are now undergoing testing near El Paso, Texas, to see if they have what it takes, according to CBP. The robots have been tested in tight spaces, high temperatures and rugged terrain. CBP didn't say when we can expect to see bots roaming the border, but the robots will continue training for that possible future.
MORE: State your case: Should the NYPD have returned its robot dog?