Lookout man for 'Texas 7' set for execution
The man is the sixth member to die in the group of inmates who fatally shot an officer 11 times during a robbery
---
Joseph Brown
The Huntsville Item, Texas
HUNTSVILLE, Texas — He's one of the last surviving members of the notorious 'Texas 7' prison escapees.
Pending final appeals, Patrick Murphy, who was convicted under the controversial law of parties after playing lookout during a deadly store robbery, is set to be executed on Thursday at the Huntsville "Walls" Unit. The law of parties states that a person can be held criminally responsible for the actions of another if in the attempt to commit one felony, another felony is committed by one of the conspirators.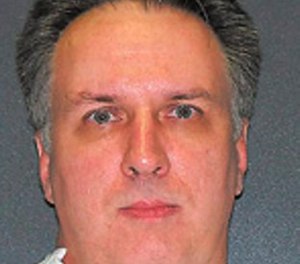 Murphy would be the sixth member of the 'Texas 7' group to die, and fifth to be put to death by the state of Texas. The final member, Randy Ethan Halprin, has yet to have his date with death scheduled.
Murphy and Halprin were both convicted after a December 2000 escape from the TDCJ John B. Connally Unit in Karnes County. Murphy was serving a 50-year sentence for aggravated assault at the time of the escape.
Court testimony shows that once the group of inmates escaped the South Texas prison they committed numerous robberies, including the one in which they shot Irving police officer Aubrey Hawkins 11 times, killing him. Testimony shows that Hawkins had just finished Christmas Eve dinner with his family when he responded to the call about the robbery at a sporting goods store and was ambushed.
The escaped inmates were eventually arrested in Colorado, ending a six-week manhunt with the help of the television show America's Most Wanted. One of the seven escapees killed himself as officers closed in and the other six were arrested and convicted of killing Hawkins and sentenced to death.
The "ringleader," George Rivas was executed on February 29, 2012. Michael Anthony Rodriguez was executed on August 14, 2008, Donald Newbury was executed on February 4, 2015 and Joseph Garcia was executed on December 4, 2018.
Murphy currently has a motion for a stay pending with the Texas Court of Criminal Appeals, which was filed last week after the court refused to reconsider a motion for relief. No appeals are pending with the United States Supreme Court with the last motion denied in November 2018.
"At Murphy's 2003 trial, there was no testimony at any point that he was suspected of having fired a weapon during the robbery," Murphy's attorney David R. Dow said in an appeal earlier this month. "Rather, the government's theory was that Murphy served as the lookout during the robbery."
———
©2019 The Huntsville Item (Huntsville, Texas)
McClatchy-Tribune News Service