Broward County sheriff to face no-confidence vote
"There is a complete failure at the sheriff's office and he doesn't recognize it," union president Jeff Bell said
---
By Police1 Staff
BROWARD COUNTY, Fla. — Broward County Sheriff Scott Israel will face a no-confidence vote from the union representing his deputies.
Jeff Bell, the president of the Broward Sheriff's Office Deputies Association, said Friday that union members moved forward with the vote, which begins electronically Friday and closes on April 26, CNN reports. Bell said he informed Israel ahead of the announcement.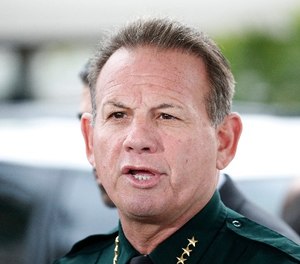 "There is a complete failure at the sheriff's office and he doesn't recognize it," Bell said.
While the move is due to dysfunction in the agency that has been going on for years, the sheriff's response to the Feb. 14 Parkland school shooting has pushed the union over the edge, Bell said. Israel's criticism of former SRO Scot Peterson was also a factor.
Bell said that while he agrees Peterson should've entered the building where the shooting occurred, Israel should have taken some responsibility as well.
Morale among sergeants and deputies is non-existent, according to the union president, and members say they are tired of mixed messages from leadership. Bell cited the active shooter policy as an example, which states that a deputy "may" go into a building and engage the shooter.
Lawmakers have also criticized Israel for his response to the shooting. Eleven days after the incident, a number of lawmakers asked Gov. Rick Scott to suspend the sheriff for "incompetence and neglect of duty."
Israel later went on CNN and defended himself from criticism from lawmakers, touting his "amazing leadership." 
All deputies and sergeants in the union, which represents more than half of the county's 2,560 certified deputies, will have the power to vote.