IACP Digest: Update on 700MHz
---
This month marks the 20-year anniversary of the Loma Prieta earthquake that rocked Northern California. Most of us witnessed it on television as it interrupted the pregame events in the "Bay Bridge Series" between the Oakland Athletics and the San Francisco Giants. In the two decades that have transpired since then, we've had several major natural disasters, myriad "little" ones, and the terrorist attacks of 9/11. Still, despite multiple efforts by many great minds, there remain significant impediments to the types of truly interoperable voice and data communications that will be required in the event of another catastrophe.
One of those great minds is Deputy Chief Eddie Reyes of the Alexandria, Virginia Police Department (Chief Reyes is also a friend and a Police1 Columnist). Much to our mutual disappointment, Chief Reyes and I were not able to connect at the IACP conference in Denver this week. Instead, we had a transcontinental conversation (as we've done many times in the past) so we could provide Police1 members and readers with an update on what's happening in 700MHz and the slow march toward interoperable public safety communications.
"It is well established that public safety personnel need a wireless broadband network with priority access that has a nationwide footprint, is interoperable and shared, and incorporates the latest technologies utilized by the private sector," Reyes told me. "The fact is, today the general public has better wireless communication capabilities than most first responders. These robust broadband wireless networks available to the public have created the expectation that public safety personnel can communicate with one another, regardless of discipline or geography. In an effort to expedite the transition and deployment of this spectrum to the public safety community, the FCC, public safety organizations, and industry representatives developed a proposal to create a network that would be based upon a public-private sector partnership model."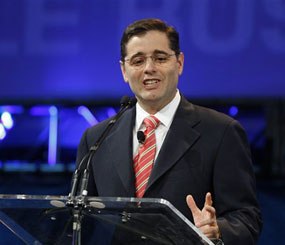 Reyes and I spoke about the fact that earlier this year, the Major Cities Police Chiefs (MCC) 700 MHz Working Group hosted a meeting at which a consensus began to emerge. In attendance at that meeting were representatives of the IACP, National Sheriffs' Association, International Association of Fire Chiefs, Association of Public-Safety Communications Officials-International (APCO), and the Metro Fire Chiefs.
"During a follow-up meeting hosted by APCO a month later," Reyes told me, "it was decided that the MCC will take the lead in pursuing congressional action to remove the D-Block from auction and to allocate it directly to public safety as part of the nationwide public safety broadband license now held by the PSST."
The MCC, alongside other public safety organizations, is presently working on steps to build a nationwide public safety wireless broadband network with the goal of providing public safety agencies:
• Broadband data services (text messages, images, and video) not currently available in most existing public safety land mobile systems
• A hardened public safety network with infrastructure built to withstand natural hazards such as tornadoes, hurricanes, earthquakes, and floods that would include strengthened towers and backup power with fuel supplies to withstand long-term outages of public power sources
• Nationwide roaming and interoperability for public safety agencies and other emergency services such as transportation, health care, and utilities
• Access to the public switched telephone network similar to current commercial cellular services.
• Push-to-talk, one-to-one and one-to-many radio capability that would provide a backup to (but not replace) traditional public safety LMR systems
• Access to satellite services to provide reliable nationwide communications where terrestrial services either do not exist or are temporarily out of service
In June 2009, Julius Genachowski was sworn in as the new FCC chairman, and Reyes tells me that he has already begun working with Chairman Genachowski in furtherance of gaining a nationwide public safety broadband network. Genachowski has already begun reshaping the FCC, Reyes says, and by the tone in his voice I have to believe that the changes will be for the better.
As we've previously reported, a dozen public safety entities (and one private sector concern) have filed waiver requests with the FCC seeking permission to build their own regional wireless broadband networks in 700 MHz. The FCC has issued a call for public comment on thirteen petitions for waiver but that window is — the FCC is accepting comments up to and including October 16, 2009. The opportunity to reply to the submitted comments is open until November 16, 2009. Any entity with a concern or observation on the matter is encouraged to send their remarks to the FCC. Find out how to submit your comments in this Police1 Communications Tip. If you haven't yet done so, now is your time to weigh in on this important matter.
"The good news is that the spectrum remains reserved for public safety," says Reyes. However, it is elusive how to best deploy a wireless broadband network with priority access that has a nationwide footprint, is interoperable and shared, and incorporates the latest technologies and the best methodology for all public safety agencies. One of the greatest downfalls of not deploying a national network is the real potential for disparity among public safety entities. Agencies with the fiscal resources will likely deploy stand-alone networks while agencies with fewer resources would likely never see this technology. In the end, the goal should be to create a robust communications network for all public safety officials in preparation for the next emergency, because it is not a matter of if the emergency will occur but when."
Police officers — in fact all first responders — must have access to reliable communications capabilities in order to effectively communicate regardless of jurisdictional boundaries. They oftentimes need communications gear that will function regardless of whether they're on their "home turf" or they are responding to a major catastrophe somewhere else in their state or our great nation.
The biggest impediment on this matter is decidedly NOT the leadership in public safety or even in the underlying technology required. Not surprisingly, when you're looking for the source of a problem, many times all roads lead to Washington, D.C.
Send your comments to the FCC or add your comments below.