Keep your community informed with a transparency hub
Use this one-stop resource to detail your agency's processes, programs, policies and philosophies
---
Now more than ever, our local actions need to speak louder than national headlines. Verbally committing to transparency is not enough; law enforcement agencies must find ways to proactively share information with our communities.
No two agencies are the same, but during this time of social unrest, all 18,000 departments in the U.S. are being judged by headlines around the country. Instead of getting defensive, our most constructive course of action is to define and differentiate. People fill in information gaps with their own experiences and information supplied by mainstream and social media. Law enforcement agencies are in a unique position to share our story, correct inaccuracies and fill in the gaps of public understanding.
Questions community members may be asking of your department include: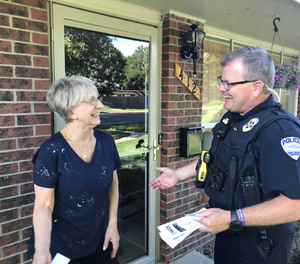 How does your agency hire and invest in training?
How do you address mental health issues in your community?
How does policy support your mission and values?
What programs and processes support accountability?
What data can you provide to paint a clearer picture of the work your cops do each day?
Reporters may also request this information, but resulting news stories may not have the time or space to include in-depth context. By creating a standalone resource, law enforcement agencies can provide comprehensive explanations about department operations that serve media partners and community members alike.
Transparency hub
Following the tragic death of George Floyd, communities around the country turned to their local law enforcement with hard questions that deserved thoughtful responses:
Why do we keep seeing these headlines?
How are you preventing a tragedy like this from happening here?
How do I know if I can trust my local police?
After receiving many of the same questions and concerns repeatedly, Fort Collins Police Services (FCPS) decided to proactively create a centralized information hub dedicated to transparency. Housed on the FCPS website, this one-stop resource contains a list of topics, each of which expands to provide detail about the agency's processes, programs, philosophy and links to related policy.
The list began with a few basic subject areas and expanded as new themes and local concerns emerged. Topics include:
Anti-bias training  and expectations
Arrest data by race
Body-worn cameras
Budget
CALEA accreditation
Conduct and complaints
Cultural competency
De-escalation
Ethics
Diversity
Hiring process and standards
Mental health
School resource officers
Training
Use of force
Many of these were already addressed in policy and online, but the average person is unlikely to go beyond a few cursory clicks to find information.
We owe it to our communities and our employees to make important information readily accessible and easily digestible. Creating a central hub gives community members the content they want with the context we want to provide. While they may only be looking for one answer, having all of the information in one place creates an opportunity for visitors to learn more about your agency.
This page has also become a natural home for other current event responses. When the 8 Can't Wait initiative gained popularity, people around the country started contacting police and city government officials. Fort Collins Police created a graphic designed to address these questions and added it to the Transparency page for quick reference. When city council members and the police chief hosted a Zoom community meeting about law enforcement, the volume of questions exceeded the response time available during the meeting. FCPS collected all chat questions and posted them as a Q&A on the Transparency page.
Having a central resource page can also serve your employees. Whether at work or at home, police employees are constantly subjected to questions about law enforcement. A resource page can serve as a tool for them to provide consistent and thorough responses about your agency's operations. The emotional toll of these constant inquiries can also wear on employees, so equipping them with a link to easily share can help mitigate this burden as well.
Best practices for setting up a transparency resource
Agencies considering creating a transparency resource should consider the following:
Make it accessible. If it's not easy to find, easy to read, or easy to navigate, it will become another unused page buried on a government website.
Communicate internally first. Before you roll out information to the public, make sure your employees know what it will contain, how it will benefit them, and how it will serve agency-community relations.
Promote it. Share it on your social media channels, send it to your media and community partners, reference it during interviews, share it with city leadership to help them address concerns that they receive.
Keep evolving. Stay relevant by updating the resource as new questions arise and new data becomes available.
At the end of the day, we are ultimately responsible for ensuring that people have an accurate picture of what we do and how we do it. With this shared understanding, we can collaborate with community members to make meaningful progress that benefits our profession and the people we serve.