Pittsburgh police chief says staffing 'not in crisis' despite officer shortage
According to the study, the Pittsburgh Bureau of Police has an "exceptional" response time of under 16 minutes and its staffing is "excessively high"
---
By Julia Felton
The Tribune-Review, Greensburg
PITTSBURGH — Pittsburgh Police Chief Larry Scirotto said the police bureau's staffing levels are "not in crisis," as officials on Wednesday released the bureau's first staffing study in more than a decade.
According to the study, conducted by California-based Matrix Consulting Group, the Pittsburgh Bureau of Police has an "exceptional" response time of under 16 minutes and its staffing is "excessively high."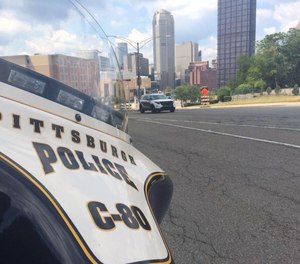 This comes after several officials have voiced concerns about the police bureau having fewer officers than budgeted.
Robert Swartzwelder, who heads Fraternal Order of Police #1, which represents the bureau's officers, has said staffing is at a "tipping point." He warned during a January public hearing that, without more officers, "you're going to see a crime-wave that's unprecedented."
He did not immediately respond to a request for comment on the newly released study.
Scirotto said he doesn't agree with the report's assessment that the bureau could take 188 officers off of patrols, but said the city's budgeted number of 900 officers seems to be appropriate for staffing the bureau.
"I stay committed to this number of 900," he said Wednesday.
"The 900 budgeted is a good amount to have," Public Safety Director Lee Schmidt agreed.
Currently, the bureau has closer to 800 officers, but Scirotto said the current staffing "keeps the city very safe on a daily basis."
The police chief said he plans to work to bolster the bureau's numbers to get the number of officers back up to 900. A new police recruit class of 30 candidates is set to start next week, and another that could have up to 40 people will start in the fall.
Scirotto acknowledged there have been concerns about officers working mandatory overtime and feeling overworked. He said those issues aren't so much because of staffing issues, but more because of how the bureau has allocated its officers.
He said he'll support a plan that would see more civilians hired to do work that doesn't require an officer. That will free up more officers to work on patrols or take on other roles that necessitate a sworn officer.
Police officers, he said, should be focused on reducing violent crime, improving quality of life and building police-community relationships.
The civilian employees Scirotto proposed to hire to complete other tasks would not be counted among the 900 officers officials believe the bureau should have.
After reviewing the report and other data, Scirotto said he's also exploring other opportunities to better allocate resources. For example, he said, about 8% of the bureau's call volume occurs between the hours of 4 a.m. and 8 a.m., but about 33% of the bureau's staff are working then.
The goal, he said, is to ensure they have the right number of officers working at the right times and in the right places.
He said there also should be more officers in zones with higher rates of violent crimes that require an "intense police response," even if other zones have overall higher call volumes.
The study, Scirotto said, will give him "the ability to use data to inform decisions."
------
Related:
—Pittsburgh police staffing shortage at 'tipping point,' officials say
—$180K study to analyze Pittsburgh police staffing, how officers are used
—Police academy classes could help address Pittsburgh police staffing concerns
------
The police chief said the study will be used as "guidance," but it's not a "policy." He'll take from the study the data and suggestions that are useful, he said, but other suggestions that don't seem beneficial won't be implemented.
The report's suggestion that some officers could be taken off patrols, he said, will be dismissed.
"I don't want to reallocate any patrol," he said.
Scirotto also rejected the report's suggestion that more than 40 officers should be dedicated exclusively to a team focused on building police-community relations. Improving those relationships, he said, should be a priority for all of the city's officers.
Pittsburgh Mayor Ed Gainey said the city waited to release the report, which was conducted starting in September, until Scirotto was hired as a permanent police chief.
Pittsburgh City Council last summer authorized a $180,000 contract with Matrix Consulting Group to analyze the police force's staffing levels and how officers are used.
This was the first such study conducted for the Pittsburgh Bureau of Police since 2005.
The mayor said he felt his administration already had addressed concerns people have heard from police by giving them a pay raise in their latest contract and changing a requirement around college credits to get into the city's police academy.
Bringing on new police recruit classes, he said, should help alleviate concerns about the bureau being 100 officers short of its budgeted staffing.
"The things they asked for, we were able to (address) a lot of them," Gainey said.
___
(c)2023 The Tribune-Review (Greensburg, Pa.)
Visit The Tribune-Review (Greensburg, Pa.) at www.triblive.com
Distributed by Tribune Content Agency, LLC.
McClatchy-Tribune News Service