Portland PD names Bob Day as interim chief until 2025
Robert "Bob" Day joined the Police Bureau as a patrol officer in April 1990 and climbed the ranks until being appointed former Chief Outlaw's deputy chief
---
By Catalina Gaitán
oregonlive.com
PORTLAND, Ore. — When Portland Police Chief Chuck Lovell officially steps down from the bureau's top post Oct. 11, he will have served a little over three years – a not unusually short tenure for an agency that sees a new chief about every two years.
"It's the nature of the beast," said former Portland Commissioner Dan Saltzman, who served on City Council from 1999 to 2018 and oversaw the Police Bureau for a year and a half.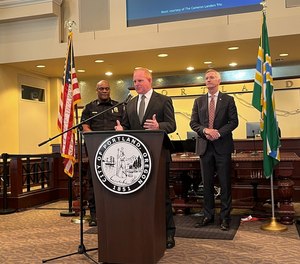 "You have a tremendous amount of public scrutiny of every action undertaken by the bureau, both good and bad," Saltzman said Wednesday, hours after Lovell announced at a City Hall press conference he would resign. "And unlike any other bureau director, you never know what issues face you when you come into work."
Lovell leaves at a time of transition for the police agency — and the city.
While no longer drawing intense daily scrutiny for its policing of social justice protests, the bureau is facing several major changes: a new civilian-led police oversight board with the power to investigate and fire officers; continued police reforms required under the city's 2014 U.S. Department of Justice settlement agreement; and a dramatic overhaul of the city's form of government, which will make a city manager overseen by the mayor responsible for the Police Bureau. Under Portland's current form of government, the mayor determines who manages the Police Bureau and has historically assigned that job to their office.
Portland attorney Ashlee Albies, who represents the Albina Ministerial Alliance's Coalition for Justice and Police Reform, said Lovell was unexpectedly thrust into a position he may not have anticipated for himself.
"It's a fairly political position," said Albies. "I don't think the police chief job should be a political position – it should be somebody who is very effective – but the reality is that it's a political position, and I'm sure it's highly stressful and challenging."
During a news conference Wednesday, Lovell said he had considered leaving the post for months, and saw Mayor Ted Wheeler's announcement last week that he wasn't seeking reelection as a sign. Lovell, who started with the bureau as a school resource officer in 2007 and rose to the rank of captain just two days before becoming chief, said he never aspired to lead the agency.
He will continue working for the bureau as its head of community engagement, where Lovell said his "heart has always been."
"I always knew in the back of my mind I wasn't going to do it for seven years," Lovell said. "I'll have a little less stress in my life."
Saltzman said he was "pleasantly surprised" that Lovell stayed in the position as long as he did, and called Wheeler's appointment of 29-year bureau veteran Bob Day as interim chief a "wise move."
"Should something bad happen, he'll know how to respond to it and what to do," Saltzman said.
LEADERSHIP SHUFFLE
Lovell announced Wednesday he was stepping aside and Wheeler was handing the reins to Day, who will earn $258,086.50 as interim chief, said police spokesperson Sgt. Kevin Allen.
Day, who retired in 2019, will rejoin the bureau until 2025, when the city's next mayor will be in office after Wheeler's second term ends.
Wheeler said he decided to appoint an interim chief so the city's next mayor can recruit and appoint their own top cop. Day said he doesn't want the job for himself.
Lovell's departure is the latest leadership shuffle for the agency, which has seen 17 chiefs since 1985. Charles Moose, Portland's first African American police chief, was appointed in 1993 and served for six years, making him the city's longest-serving chief since 1985.
Lovell was abruptly appointed in June 2020 after then-Chief Jami Resch suddenly quit and tapped him for the position, just six months after she took over from her predecessor, Danielle Outlaw. Lovell leaves the job as Wheeler's longest-serving chief.
Wheeler thanked Lovell Wednesday for leading the bureau during "one of the most difficult times in our city's history," which overlapped with the COVID-19 pandemic, mass social justice protests and an election to overhaul the city's form of government.
"Chuck and his family have more than earned a respite from one of the toughest jobs in the city," Wheeler said.
WHO IS BOB DAY?
Robert "Bob" Day joined the Police Bureau as a patrol officer in April 1990 and climbed the ranks until being appointed Outlaw's deputy chief in May 2018. He retired one year later, saying it was "time for someone else to lead."
Day faced scrutiny twice during his last decade in the bureau.
While serving as the bureau's North Precinct captain, Day responded on Jan. 29, 2010, to a Northeast Portland apartment where officers had surrounded 25-year-old Aaron Campbell. Day arrived at the scene without a ballistic vest and called away Sgt. Liani Reyna, the incident commander, to brief him on what was happening. That's when officers at the scene fatally shot Campbell, who had emerged from his apartment unarmed. Day did not face discipline but Reyna and others did.
Day was also demoted from assistant chief to captain in July 2016 after the city's Independent Police Review office determined he and two other assistant chiefs ignored protocol by not investigating former Chief Larry O'Dae's off-duty shooting of a friend during a camping trip, marking "an organizational failure of the highest order."
Outlaw then elevated him again, making Day her deputy chief and the bureau's second-in-command May 3, 2018.
After retiring, Day did consulting work for the city and for corporate and public sector leaders.
Day said he shares a 20-year friendship with Lovell, who he said helped him better understand the relationship between Portland police and the city's African American community. In the 2000s, while working as a school resource officer at Jefferson High School, Day said Lovell gave him a copy of the book "Courageous Conversations About Race," with a hand-written note encouraging him to read it.
Improving the public's trust in police was "the bedrock" of his priorities as interim chief, Day said.
"When those overhead lights come on and you pull over, you should have trust and believe that this is going to be legitimate, that this conversation is going to be safe, it's going to be reasonable," Day said. "If I deserve a ticket, I get a ticket, and if I don't, I don't – the whole premise of public safety is based upon that."
—
©2023 Advance Local Media LLC. Visit oregonlive.com.
Distributed by Tribune Content Agency, LLC.
McClatchy-Tribune News Service