Why we need to humanize law enforcement (and how to do it)
The success or failure of community policing hinges on our ability to humanize both the law enforcement profession and the people we serve
---
I joined the Dallas Police Department in 1987 long before the term "community policing" was invented.
As rookie luck would have it, I was assigned to the West Dallas projects, one of the most violent, crime-ridden areas in the city at the time. It was so dangerous that a two-man response was mandatory on every call for service; no officer was allowed to go into the projects alone.
During a routine neighborhood patrol with my field training officer, we turned onto a street and our jaws dropped in surprise. A fellow Dallas officer, Carl Breidenich, was flat on his back on a bench press in someone's garage, in full uniform, doing reps with a 225-pound barbell.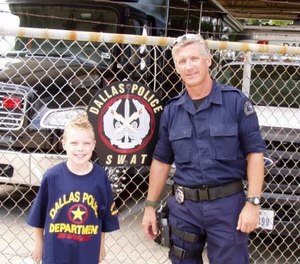 A group of African-American kids, ranging from 5-15 years old, laughed and cheered him on. My rookie mind – fresh from an academy curriculum steeped in laws, weapons and arrest techniques – absorbed that powerful image and immediately encoded it as the "people side" of policing. I immediately knew Carl was on to something. He wasn't showing off; he was showing up.
Three decades later, community policing has become one of law enforcement's preferred strategies for combating both crime and intense anti-police sentiment. In its various incarnations throughout the country, community policing has been a political buzzword, a Hail Mary, a halfhearted endeavor and a verifiable success. Is it truly the magic solution that can reduce crime and consequently, increase officer safety?
What is successful community policing?
According to the Bureau of Justice Statistics website, community policing is defined as, "A philosophy that promotes organizational strategies which support the systematic use of partnerships and problem-solving techniques between the police and the community; these strategies proactively address the immediate conditions that give rise to public safety issues such as crime, social disorder and fear of crime."
While comprehensive in scope, this definition fails to capture a piece of the puzzle. The success or failure of community policing hinges on our ability to humanize both the law enforcement profession and the people we serve.
Anti-police extremists have effectively dumped all officers into a wastebasket labeled "blue." They have the opposite strategy: the dehumanization of the men and women in uniform, regardless of their race, color, age, ethnicity, religion or personal values. It's much easier to attack, criticize and condemn badge-wearing automatons who don't have hopes, dreams or families they expect to go home to at night.
It now falls on our shoulders to combat this narrative by declaring the humanity of our profession every single day. When photos and videos are posted of officers fixing an air conditioner for a senior citizen, playing hopscotch with kids at the park, buying a coat for a homeless person and, most recently, wading through waist-deep water carrying Hurricane Harvey victims, the American public connects with us on a human level. It allows people to recognize that beyond our primary job of fighting crime, police officers are an indispensable part of their communities in many other ways.
When my FTO was off duty, Carl Breidenich often filled in as my trainer. We would go to the track at Pinkston High School in our uniforms and footrace the neighborhood kids. Ten of us just lined up and took off running. If we showed up at one of their houses the next week to arrest their dads or uncles, at least the kids would have had some experience with us as good, regular guys. We were winning hearts and minds with every lap around that track, and I didn't even know it.
What does it mean to humanize law enforcement?
Humanization is a two-way street. Any officer who's been on the beat long enough knows there's no strict line of demarcation with police on one side and criminals on the other; if only our jobs were that black and white.
Ninety-nine percent of the time, police officers show up because people are in crisis, which is defined as an emotionally significant event, radical change of status in a person's life, or unstable state of affairs. It's no surprise that people who behave abnormally are usually in crisis; something is going on in their lives to make them act a certain way. We just happen to show up after every other resolution has failed and the only option is to dial 9-1-1.
A crisis is a crisis, even if it's not yours. A willingness to accept this fact made me an infinitely better police officer. Without excusing whatever behavior I found when I arrived, I was still dealing with mothers, fathers, husbands and wives; sometimes it was just a couple of kids trying to get by in a tough neighborhood. When we do respond to a crisis situation, a little bit of empathy and compassion can go a long way. The best police officers have the ability to put themselves in other people's shoes.
Community policing and the humanization of police officers can forge connections that have a lasting impact. In my experience, the Dallas Police Department has always done a great job with this, and it began with a chief who, like Carl many years before, truly got it.
Leadership is key for successful community policing
Dallas Police Chief David Brown was one of the first law enforcement leaders who believed strongly in community policing and put the necessary resources behind it. It wasn't just lip service; he was fully invested.
Our department had a variety of programs, such as Chief on the Beat, Kids and Cops, Coffee with Cops and Neighborhood Police Officers (NPOs).
Chief on the Beat was a grand production. We brought the entire cavalry to visit local high schools – from police helicopters, patrol cars, horses, K-9s and dive teams to booths stocked with information on police resources available to the community. Officers chatted up students and parents, and you'd often find Chief Brown line dancing with the crowd.
Kids and Cops was another unique program. In the 1980s, our officers carried football cards. As a rookie, I asked my trainer why kids were always charging up to our cruiser. He said the cards were so popular that kids wanted to collect them all. A local company also donated large supplies of teddy bears; we kept them in our patrol cars and handed them out during calls where we found upset children.
When staffing community policing outreach efforts, it's important to identify the right people. Not all officers are cut out for community policing. Some are stoic door-kickers; others are a little more warm and fuzzy. You have to know if someone is the right person for the job. Keep rotating your staff until you find out who is good at it, and create a coalition of qualified spokespeople with the appropriate skill sets.
We all have a responsibility to be our own best PR reps. The Public Information Officer (or equivalent) position in any department is critically important, especially in the digital age. Social media and transparency play disproportionately large roles in modern policing and will continue to do so for the foreseeable future. Police departments have an opportunity to share the good deeds of officers in real time and also let the community know they're looking into alleged wrongdoing by officers.
Fighting crime is our first priority, but we must also think in terms of public relations, marketing and communications, just like any other business. Staffing and budget limitations do pose challenges in implementing these programs, but they can't be ignored. Law enforcement's ability to succeed in fulfilling its two primary missions – public safety and officer safety – depends largely on the perceptions, cooperation and trust of our constituents. Fair or not, the onus is on us to lead the charge in humanizing our profession and remembering the humanity of those we serve.