6 ways beat officers can make a difference through community policing
A beat officer committed to protecting and serving the community is what community policing is about
---
Since community policing programs began popping up all over the nation in the late 1980s and early 1990s it has been simultaneously loved by some and hated by others within the ranks of law enforcement. 
There is now an effort to re-deploy it, to reduce rising tensions between police and their communities. As a career-long-practitioner of community policing, I would like to share with you six aspects of a style of community policing, that I came to believe in and train.
1. It is not a line item program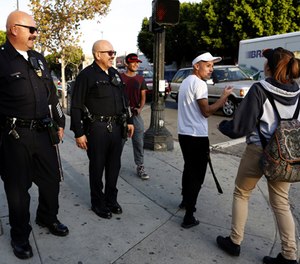 When at its best, community policing is not a program. It is a philosophy, which when embraced, pays dividends to officers who apply it on the street. It needs no funding, because it doesn't cost a penny to implement it.
Community policing is what happens when an officer casts off the "us against them" mindset and comes to realize he or she is a part of, not apart from, the community they serve. Police work, after all, is more effectively done when the community is standing behind you, rather than standing against you.
In spite of what is depicted on the nightly news, recent polls show the majority, in the communities around the country, believe in their local police.
2. It is not "Officer Friendly" 
Some people believe community policing is a glorified "Officer Friendly Program" and is soft on crime. This is the fault of agencies in the 1990s, assigning community policing officers to perform non-law enforcement duties. Some agencies stipulated that these community policing officers were not allowed to answer calls for service. Fortunately, that mindset has changed. 
Community policing is most effective when embraced as a philosophy of active beat officers rather than as specialized duty assignment. It occurs naturally when a beat cop gets to empathetically know the people on the beat. This officer protects them as if they were an extended family. These officers watch over the people, their homes and businesses on the beat like they were their very own. A beat officer committed to protecting and serving the community is what community policing is about. 
3. It is being available for a call
This career can make an officer quite negative and cynical if he or she lets it. Cynicism can make a caring officer appear uncaring during contacts. But, when practicing the community policing philosophy, officers are no longer just a call taker and report writer. A call for service will be answered with as much empathy as the officer can muster. 
The simple act of outwardly caring about a victim affects how the victim perceives the officer. It takes no additional time, nor expense to care. 
Now if that act of caring leads the beat officer to do a bit of follow-up and actually bring the case to a successful conclusion as often as possible, there is great satisfaction in this not only for the victim, but the officer as well.
4. It is about protecting and serving
It says "protect and serve" on every squad car in most jurisdictions around the country and every officer must be fully prepared to protect themselves and others. 
The unfortunate truth is that after many officers complete their entry level fitness testing and training, they often stop physically training and only rarely sharpen their protective skills. 
It is critical for officers to become experts at every level of force from communication skills to empty hand control, all the way up to deadly force. Possessing a tool box filled with effective, yet defensible, tactics will help officers win on the street and in the court of public opinion.
Officers need to be trained to prevail on the street, while demonstrating they are model citizens.
5. It is a two-way street
Police can't be truly effective unless the vast majority of the members of the community do their part. When a partnership exists between police and the community, criminals will find it necessary to retreat into the shadows.
Sir Robert Peel, the father of modern policing, identified this aspect of policing, when he said police must strive: 
"To maintain at all times a relationship with the public that gives reality to the historic tradition that the police are the public and the public are police, the police being only members of the public who are paid to give full-time attention to duties, which are incumbent on every citizen in the interest of community welfare an existence."
6. It must be observable at street level
The community hearing about community policing from the chief or sheriff will not have the impact of seeing it in practice on a daily basis by beat officers. 
Even if there is no departmental buy-in for the community policing philosophy it does not preclude one officer from employing it on their own beat. In doing so, that officer can have a tremendous impact on people one call at a time, one contact at a time.  
Community policing is really American policing. It is the protecting and serving of the people, by the people and for the people. It behooves police officers to recognize the need to both protect and serve, while always having the community welfare in mind.
Always remember that ultimately your community will judge by how officers protect and they will appreciate them for how they serve.