How two cops found love in a PoliceOne chat room
The support they got on online forum helps two officers find camaraderie – and each other
---
In early 2001, Texas police officer Cathy Watson got kicked in the knee during a physical altercation while on patrol in Copperas Cove. The resulting fractured patella and dislocated knee called for surgery, so Cathy found herself home on medical leave. On the job since 1993, the divorced mom of an 8-year-old girl and a 15-year-old boy kept busy enough, but often late at night she would check out the now-defunct Police1.com "Cops Only" chat room (Ed. note: The chat room was replaced when we relaunched the Police1 Discussion Forums, which have a law enforcement-only section). Cathy enjoyed not only the relevant law enforcement information but the camaraderie of the group. Her username was "Blue Angel," and she didn't really know many other people's real names other than the moderator, Bob Montgomery, who was a friendly sort who chatted about the news of the day as well as his own police career experiences.
"There were so many neat people in the chat room," Cathy told me. "We would talk about so many topics, not just work related things, but about our kids, where we lived and so much more." Cathy was so engaged in the chat room that Montgomery asked her to become a volunteer moderator, and she happily said yes.
A Relationship Blooms
In early May of 2001 Cathy was in the chat room at about 3:00 a.m. when another user signed on and typed "Howdy," a Texas-type greeting. Austin, Texas police officer Javier Bustos had just wrapped up his patrol shift at 2:00 a.m. and had decided to check out the Police1 live forum that he'd heard so much about. He and "Blue Angel" were the only two people in the chat room, so they started an easy, back and forth conversation. They discovered they lived only a few hours from each other and were both Texas law enforcement officers. They both began to visit the Police1 chat room regularly, and Javier was incorporated into the regular group of police-only users. Sometimes just the two of them would be in the chat room, and they'd share the news of the day in each of their lives. Eventually, Cathy and Javier began talking regularly on the phone, and the two eventually made plans to meet at Police Week in the state's capital city of Austin.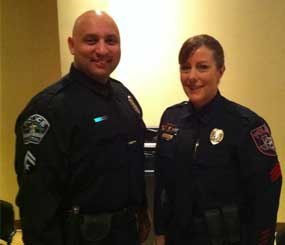 The two finally met in mid-May for the first time but they had their first "real" date on May 31, 2001. Their evening included Javier's baseball game and then dancing and dinner at a local deli. The relationship blossomed from there.
Cathy and Javier lived two hours apart and she was raising two kids, so they began somewhat of a "commuter" relationship. Their feelings for each other were strong, but Cathy was still nervous about bringing a guy into her kids' lives. However, he met her daughter and son later in the summer of 2001, and Javier began to forge new relationships with each of them. Then September 11, 2001 changed everything.
Marriage Surmounts Crises
On the morning of 9/11 Cathy Watson woke up expecting Javier to be at her house, but he was nowhere to be found. The Austin Police Department had kept most of their personnel at work on standby. A week later, while he was with Cathy, Javier got a phone call for "Staff Sergeant Bustos." An Air Force veteran, he always knew he could get called back up, but the chance seemed remote. However, he was advised that "by order of the President of the United States you are hereby recalled to active duty." She asked him, "Can they do that?!" Indeed they could, and did.
Javier eventually reported to Lackland Air Force base, where he stayed for a year as a security officer; they were back into to a commuter relationship and times were tough, but they stayed together. Cathy would still go into the Police1 chat room and touch base with others; it was incredibly comforting and familiar.
In the summer of 2002 Cathy got a job with the Cedar Park, Texas Police Department, a suburb of Austin, and when Javier returned from active duty they got engaged. They tried to "elope" in June 2002 but their families would have none of it, nor would Cathy's kids. A boisterous wedding at the Treasure Island resort in Las Vegas followed, and she returned to Texas as "Cathy Bustos." Javier thrived in his new role of parent, and everyone settled in for a long and happy law enforcement family life.
On August 18, 2010 Cathy's police department experienced a line of duty death, only the second in the department's history  Officer Leonard Reed was killed in a motorcycle crash. Cathy was a sergeant at the time, and Officer Reed was her daughter's school resource officer. She spoke at his funeral. A little more than a month later she was in her last two weeks in the Sam Houston University Bill Blackwood Law Enforcement Management Institute of Texas's command college, an 18-month leadership program.  She was studying "officer involved shootings" when Javier called her.
Officer-Involved Shooting
He was on patrol responding to a domestic dispute. The male suspect had fired shots in the house but had released his girlfriend before police arrived. Javier anticipated a barricaded subject so he called Cathy, a hostage negotiator, to discuss it with her. Suddenly he said "Oh s&#t, I have to go!" and hung up the phone. She found out later that the male suspect began walking toward citizens, gun in hand. Javier shot him, and the suspect also shot himself.
Javier called her back from the shooting scene and told her, "I had to take the shot. I think he's dead." He then handed the phone to one of his officers. Cathy was initially in "wife mode," very emotional, but soon "Sergeant Bustos" replaced "Mrs. Bustos" and she began asking all the right questions.
A friend came to the house and got her and within three hours she was allowed to see Javier and speak to him briefly at APD. So many members of their police family were there, and they both felt the "supportive camaraderie" that is vital to emotional heath. They navigated the post-shooting events together, including Javier coming with her to Sam Houston University to finish out her commitment at command college.
'Like Going Home'
After his shooting, Javier and Cathy founded HOIST: Helping Officer Involved Shooting Trauma. Their stated mission is simple but vital: "We want to help officers and their families deal with the stress from an officer involved shooting." And this law enforcement power couple does just that. But their most cherished role? They are a family, with a son and a daughter who have both chosen to serve their county and the public, just like their parents.
I recently asked Cathy, "What would you say to Police1 about how they changed your life?" She told me, "When I go to Police1 it's very nostalgic and comforting, it's like going home. I met not only my husband but so many friends, and it's also helped my career."
I can't say it any better than that. Thanks, Cathy and Javier — and the rest of our readers — for making Police1 feel like "home." Stay safe!