Patriots owner, players go on ride-along with Boston police
New England Patriots owner and three players went to the department to learn more about the challenges officers face
---
By Police1 Staff
BOSTON — On Halloween, some NFL players showed up to the doorstep of the Boston Police Department. 
New England Patriots owner Robert Kraft, and players Devin McCourty, LeGarrett Blout, and Matthew Slater paid a visit to the department to show their support and learn more about the challenges today's officers face, WBZ reported.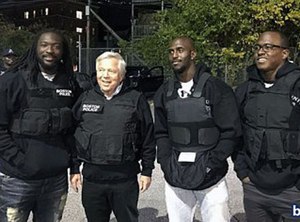 Along with conversations about community policing, the team went on a ride-along with Boston's Youth Violence Strike Force, which aims to suppress violence and help at-risk teens. 
"We appreciate them stopping by during their precious downtime, look forward to seeing them back in action next week and wish them luck in the second half of the regular season," the department wrote on their blog. "Go Patriots!"