Detroit police 911 dispatcher dies of COVID-19
The civilian employee worked for Detroit police for eight years
---
George Hunter and James David Dickson
The Detroit News
DETROIT — A Detroit police civilian dispatcher has died after contracting the COVID-19 virus, prompting police officials to redeploy everyone working on the fourth floor at Public Safety Headquarters, including the communications operations and Real Time Crime Center, until the area can be cleaned.
The 38-year-old civilian employee died Monday after suffering bronchitis-like symptoms, Detroit Police Chief James Craig said. The man's name was not released.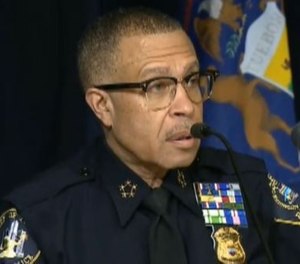 Crews from the affected units are expected to move back into their usual quarters after a few days of deep cleaning, Craig said.
Craig was joined Tuesday by Mayor Mike Duggan and the city's medical adviser Dr. Robert Dunne at a press conference in Public Safety Headquarters. Duggan said the dispatcher who died had returned from an out-of-state vacation the week of March 9.
"On Monday (March 16), he wasn't feeling well," Duggan said. "He came back to work Wednesday; Thursday he was off sick; by Saturday, his mom called and said he was in ICU in a suburban hospital with what was thought to be bronchitis."
A COVID-19 test was done, although the man died before the results came back positive Monday morning, Duggan said.
Because the test was administered in a suburban hospital, Duggan said, "the Detroit Health Department didn't get a notification. That's something we'll have to clean up."
Dunne said the man had "no significant underlying medical issues that we're aware of, but this and other viruses often have devastating  effects on younger people ... it can literally happen to anyone."
After the dispatcher was confirmed to have contracted the virus, Craig said he ordered employees in the department's communications operations to temporarily set up shop in a back-up dispatch center on Lyndon Street on Detroit's west side.
Craig said he and Assistant Chief James White were able to coordinate the move "in 3, three-and-a-half hours," Craig said. 
The dispatcher was an 11-year city employee who worked for Detroit police for eight years, Craig said. "For three years before that, he worked for (the Detroit Department of Transportation)," Craig said. "He was beloved and respected by his co-workers," the chief said. "He will be missed."
Duggan said Craig approached him two years ago about the importance of having a backup communications hub.
"In May 2018, we built an $8 million communications center, but the chief said, 'we need a backup communications center in case of a terrorist attack or other emergency,' so we spent the money," Duggan said. "As soon as we learned of our employee being positive (for the COVID-19 virus), the department literally packed up and moved to the other center."
Members of the Real Time Crime Center, where officers and civilians watch dozens of video feeds from Project Green Light locations throughout the city, will work in other areas. They're able to monitor the videos from remote computers as long as they have the proper software, police officials said.
According to the latest Michigan health department statistics, updated Monday, there were 1,328 people in Michigan infected with the virus, with 15 deaths statewide.
Gov. Gretchen Whitmer issued a "stay at home" order Monday that took effect at midnight and will last through mid-April, in the hopes of slowing the spread of the virus that has killed more than 15,000 people globally and 500 in the United States. 
Law enforcement is thought to be particularly exposed to the virus due to a high level of contact with the public. 
As of late last week, six Detroit police staffers or contractors had the virus, while more than 200 were being self-quarantined after possible exposure. The staffing situation became so dire that Michigan State Police offered to help the department fill the gaps left by quarantined officers.
McClatchy-Tribune News Service