Tenn. to stop releasing COVID-19 infection locations to first responders
State officials said PPE supply chains have stabilized enough that disclosing the addresses and names of those testing positive for COVID-19 isn't needed
---
The Tennessean 
NASHVILLE, Tenn. — Governor Bill Lee's office confirmed Wednesday that at the end of the month, the state will no longer provide law enforcement and first responders with a list of Tennesseans who have tested positive for COVID-19.
Dozens of police departments and sheriff's offices across the state agreed to a memorandum of understanding with the Department of Health that would give them access to COVID-19 patient information, which included names and home addresses.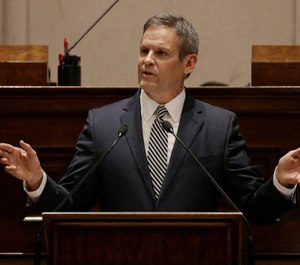 According to state officials, information sharing is no longer necessary.
"As the supply chain for PPE has stabilized, and our understanding of COVID-19 has increased, Health has determined the continued disclosure of [protected health information] regarding COVID-19 cases is no longer warranted," said Todd B. Skelton, Legal Counsel for the state's COVID-19 Unified Command & Economic Recovery Group, in an email to state law enforcement officials. "Therefore, effective Sunday, May 31, 2020, Health will cease disclosing to your agency the list of names and addresses of individuals documented as having tested positive, or received treatment, for COVID-19 during the prior 30 days. 
Several lawmakers criticized the MOU when it was first made public. State Rep. G.A. Hardaway, Chairman of the Tennessee Black Caucus, said it came down to "constitutional rights." State Rep. Vincent Dixie, meanwhile, said the practice would discourage the black and immigrant community from getting tested.
"Wouldn't it be more prudent to have the first responders respond in a way to assume that everyone is already positive?" Dixie said.
Now, it turns out, that's exactly what law enforcement and first responders are encouraged to do. Skelton said asymptomatic COVID-19 carriers "may be creating a false sense of security."
"Individuals who have COVID-19 but who have not sought testing because they do not have symptoms may unintentionally transmit the virus to your personnel because the need to wear appropriate PPE was not apparent," Skelton wrote. "Therefore, first responders and law enforcement are encouraged to treat all close interactions with individuals with appropriate precautions."
The Metro Nashville Police Department did not sign the MOU, but it has a similar policy in place with the Metro Public Health Department. MPHD provides police with names and addresses of people who have tested positive for COVID-19 and people who are under quarantine.
"Such information can only be shared with MNPD employees who have a business need and similarly situated first responders (Fire, EMS, Sheriff's Office) who may be actively involved in any call response or otherwise interacting with these persons in their official capacities," MNPD spokesperson Don Aaron said in a statement.
McClatchy-Tribune News Service