Officials: Fugitives who escaped Alcatraz 60 years ago could still be out there
The men would be in their 90s if they're still alive
---
By Vandana Ravikumar
Fort Worth Star-Telegram
SAN FRANCISCO — Three men who escaped Alcatraz 60 years ago after spending over a year planning their escape could still be out there, according to the U.S. Marshals Service.
The agency released age-progressed photos of the three men, who were all convicted of bank robbery. Brothers John Anglin and Clarence Anglin met Frank Morris from prison time the three men served before arriving at the San Francisco prison, and they spent more than a year planning their 1962 escape, KRON 4 reported.
The story dominated the front page of the San Francisco Chronicle for a week afterward, the outlet reported. The fugitives' plan was complicated and involved numerous steps, including using a makeshift drill to remove the vents in each of their cells, establishing a secret workshop above the cell block, and making dummies with human hair to fool guards during bed checks, according to the Chronicle.
To escape the prison, the men squeezed into a utility corridor and then climbed onto the prison roof. They "made their way down a pipe, climbed two barbed wire fences and placed the boat into the waters," the Los Angeles Times reported.
From there, they used a makeshift inflatable raft made out of raincoats to continue their escape, the outlet reported. Prison guards only noticed that the men were not in their beds the following morning, and the prison went into lockdown, the outlet reported.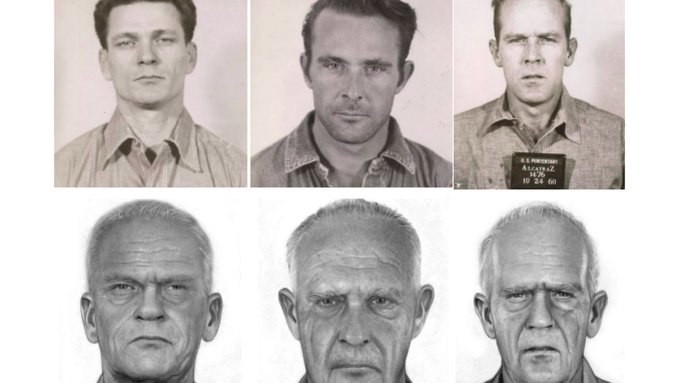 The search for the men began to drag on, and officials eventually said that the men must have drowned after making it off the island, the San Francisco Chronicle reported. However, Chronicle editors determined that it was possible to successfully swim from Alcatraz to nearby Angel Island in 53 minutes, the outlet reported.
The FBI ultimately closed the case in 1979, saying there was no credible evidence the men were still alive, the agency's website said. It turned the case over to the U.S. Marshals Service, which kept it open.
The men, who would be in their 90s if they're still alive, are still considered "wanted," the U.S. Marshals Service website says. The agency has not made any additional comments on the case since releasing the age-progressed images of the inmates, "Today" reported.
Their escape inspired the 1979 film "Escape from Alcatraz," starring Clint Eastwood.
The Alcatraz Federal Penitentiary first began housing military prisoners in the late 1850s, the Bureau of Prisons said on its website. It later became a maximum-security prison and closed on March 21, 1963, largely because of how expensive it was to keep the prison running, the agency said.
©2022 Fort Worth Star-Telegram. Visit star-telegram.com. Distributed by Tribune Content Agency, LLC.
McClatchy-Tribune News Service