After laughing at his crime, no bail for NY cop's shooter
Luis "Baby" Ortiz fired at the skull of 29-year-old Officer Kevin Brennan, who survived the shot
---
By William J. Gorta, Larry Celona and Bob Fredericks
The New York Post
NEW YORK — A sobering night in police custody wiped the smirk right off the face of the alleged would-be "assassin" who thought firing a bullet into the head of a hero police officer was a giant joke.
Luis "Baby" Ortiz stood stone-faced and silent in court yesterday as a Brooklyn judge ordered him held without bail.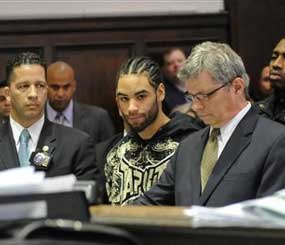 "This was an assassination attempt by this defendant against Police Officer [Kevin] Brennan," prosecutor Lewis Lieberman told Criminal Court Judge Charles Troia, who ordered Ortiz held without bail.
The creep's meek behavior was in stark contrast to his ugly performance Wednesday, when he laughingly told photographers, "Take a picture of me!" and blew kisses to relatives.
But his family — including the sister who shouted, "F- -k the police," as she banged on the police car that took him away — were no-shows in court yesterday.
Instead, the 21-year-old felon found nothing but a sea of blue when he scanned the gallery for supporters.
Brennan — a 29-year-old dad of a 6-week-old daughter — was still recovering yesterday at Bellevue Hospital, where he could remain for several weeks.
He and his two partners were responding to a call of shots fired at about 9 p.m. on Tuesday at the Bushwick Houses when one of them recognized Ortiz from a prior bust.
Brennan yelled, "Stop, police!" Lieberman said, but Ortiz fled and kept "turning back and taunting them as he ran."
Brennan cornered Ortiz in the hallway at 370 Bushwick Ave., Lieberman said, noting there is video showing the cop struggling with the suspect. It does not show the actual shooting.
"The next thing you see is Police Officer Brennan going limp, and the defendant crawling away," Lieberman said.
A witness "saw the defendant running from the location where he left Police Officer Brennan to die on the ground," he said.
Brennan's partners, Officers Michael Burbridge and Christopher Mastoros, found him lying unconscious in a pool of blood.
The prosecutor said that Ortiz's gun was recovered with three spent casings and three live rounds and that tests showed the bullet taken from Brennan's head had been fired by Ortiz's gun.
The bullet did not pierce the officer's skull but lodged just under his skin. He's expected to make a full recovery.
Ortiz was picked out of three lineups, Lieberman said, and after catching Ortiz, cops found one white sneaker in the room.
"You see on the video that the defendant lost one white sneaker. The sneakers match," the prosecutor said.
Police Commissioner Ray Kelly has said the video shows Brennan in a headlock and then lying wounded and motionless as Ortiz fled. Kelly called it "a miracle" Brennan survived.
Court-appointed defense lawyer Eric Poulos said there is no proof his client fired the shot and claimed Ortiz was the victim of police brutality.
The reputed Latin Kings member, who has 14 priors, had bruises to his face and a chipped tooth.
"He was struck by police officers' fists, both at the scene and at the station house hours after," Poulos said.
If convicted at trial, Ortiz faces a maximum of 40 years in the slammer.
And his troubles could get worse, as sources told The Post that the .38-caliber revolver was the same gun used in the New Year's Day murder of drug dealer Shannon Mckenzie.
Copyright 2012 N.Y.P. Holdings, Inc.