Las Vegas police foil mass shooting threat hours before Stanley Cup final
The suspect asked LVMPD if they'd seen his Facebook postings; one of those messages referred to the 2017 Las Vegas slaughter as "just a preview."
---
By Brian Niemietz
New York Daily News
LAS VEGAS — A possible mass shooting at Tuesday's Stanley Cup finale may have been thwarted by Las Vegas police, who arrested 33-year-old Matthew DeSavio after he made online threats to commit a massacre.
"I'm coming for you guys tonight and I hope you get every [expletive] police officer in Vegas Golden Knights there to defend you!" said one message, according to local station KLAS. "Hope Sin City is ready for the Mandalay Bay massacre part duex [sic]."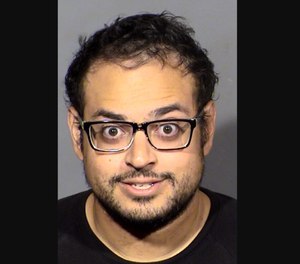 In October 2017, a gunman staying on the 32nd floor of the Mandalay Bay hotel in Las Vegas killed 61 people and injured hundreds more when he opened fire on the Route 91 Harvest music festival taking place below. It remains the largest mass shooting in U.S. history.
Las Vegas Metro police were reportedly dispatched to a business where DeSavio was making the threats around noon Tuesday and apprehended the suspect. Someone at that business is said to have had a long history of being harassed by the suspect.
[PODCAST: Sheriff Don Barnes on how a School Mobile Assessment and Resource Team is averting violence]
Officers had also been contacted by someone concerned with postings DeSavio made to Facebook about "conducting a mass shooting at T-Mobile Arena" where the Vegas Golden Knights won their first NHL championship Tuesday night.
The suspect reportedly asked police if they'd seen his Facebook postings when he was taken into custody. One of those messages referred to the 2017 Las Vegas slaughter as "just a preview."
The suspect made a similar Facebook threat in October about duplicating the music festival massacre, according to law enforcement. A Nevada court reportedly ordered DeSavio to undergo a psychological evaluation in November, but the case against him was dismissed because the state was unable to provide that service in a timely fashion.
DeSavio now faces charges including making a false threat regarding an act of terrorism and aggravated stalking.
[NEXT: Digital Edition: Prevention, disruption & response: The strategies communities must deploy to stop school shootings]
—
©2023 New York Daily News.
Visit nydailynews.com.
Distributed by Tribune Content Agency, LLC.
McClatchy-Tribune News Service