Ala. town evacuates after mistaking marijuana for bomb
A bomb squad and HazMat were called in to inspect a package atop a rail car that turned out to be 2 kilos of marijuana
---
By Lora Scripps and Kim West
The News Courier
DECATUR, Ala. — A "suspicious device" that was found in a dome atop an 80-ton rail car at a Decatur plant Thursday turned out not to be an explosive. It was instead approximately 2 kilos of marijuana, according to Morgan County investigators.
On Thursday morning, a bomb squad and HazMat were called in to inspect a package found around 7:40 a.m. on a rail car at the Daikin America plant on State Docks Road in Decatur. The rail car was carrying hydrofluoric acid or hydrogen fluoride.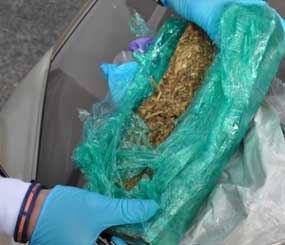 During an afternoon press conference, emergency officials indicated that the hydrogen fluoride "was volatile" but not immediately a threat to the surrounding area.
Previously, authorities issued an immediate alert within a 5-mile radius of the plant. People within a 25-mile radius of the Daikin plant were also cautioned to be ready to evacuate if necessary.
Investigators said the rail car traveled through Mexico and Texas prior to arriving at the Daikin facility. An employee noticed a breach in one of the two seals of the rail car's dome, discovered the package — about the size of a suitcase — taped inside and then followed protocol by contacting the HazMat team and bomb squad, according to Morgan County EMA Director Eddie Hicks.
"The bomb squad determined — because of the materials the rail car was carrying — they didn't want to bother the package until they could assure the schools within five miles were taken care of," Hicks said during a 1 p.m. press conference Thursday. "Once those schools were evacuated, they opened it up and that is when they found a couple of kilos of marijuana."
The incident prompted evacuations of area schools and businesses, closed roads and halted Tennessee River traffic.
Officials closed Alabama 20 between Alabama 67 to Lawrence County line and Woodall Road. The Coast Guard also closed river traffic from Mallard Fox Industrial Park to the U.S. 31 river bridge.
The incident alerted four Emergency Management agencies including Limestone, Morgan, Madison and Lawrence Counties.
Representatives from the Decatur Police, Decatur Fire and Rescue, Huntsville Bomb Squad and the FBI investigated.
Hicks said he understands that some might be concerned that the threat ended up not being an explosive. "We couldn't take that chance," he said. "We were erring on the side of caution."
School evacuations
Limestone County Schools Superintendent Dr. Tom Sisk confirmed students from three schools were evacuated to school sites in the northern portion of the county.
Bus drivers transported students from Blue Springs Elementary School to Cedar Hill Elementary School, and students from Tanner and Clements high schools to Ardmore High School.
Blue Springs, Tanner and Clements will be dismissed for the day since only about 1 1/2 hours of school remained when school officials received the all-clear notification from authorities, Sisk said.
Limestone Sheriff Mike Blakely contacted Sisk to relay warning information received by the EMA, and the superintendent said he chose "to err on the side of caution" in making the decision to immediately evacuate the three schools.
"At the time and not knowing what was in the package, we mobilized our buses and evacuated students from those three schools as far north as possible," Sisk said. "I can't tell you how proud I was of our bus drivers, teachers and administrators. We uprooted three complete schools, moved them to the other end of the county and got them fed without (issues)."
Officials at the TVA-Browns Ferry Nuclear Plant, which is about seven miles from the Daikin facility, did not evacuate personnel, but the plant was on stand-by, according to a statement released by TVA.
Copyright 2013 The News Courier
McClatchy-Tribune News Service