Baltimore: 911 diversion program is reducing police response to mental crises
The new program aims to connect people to mental health professionals instead of police
---
By Phil Davis
Baltimore Sun
BALTIMORE — More than 400 calls to 911 in Baltimore since June were sent to a new diversion program meant to connect people threatening suicide or undergoing crisis with mental health professionals instead of police officers, city officials said.
The police and fire departments did not need to respond to 93 of the 438 emergency calls, and officials said the program designed to prevent potentially deadly encounters between at-risk residents and officers showed promise.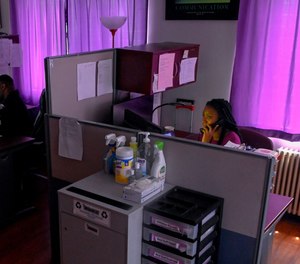 However, during an online public forum Tuesday to discuss the city's long-term plan to address behavioral health crisis, residents remained concerned that Baltimore doesn't have the capacity to provide the proper health services and hasn't done enough to promote existing programs.
Sunny Schnitzer, deputy mayor of public safety for the city, said the city is taking feedback about the diversion program and preparing to expand its scope.
"We fully intend, taking the lessons learned from the pilot that we're doing right now and from the expansion work we'll be doing later, to broaden that work out to a much bigger portfolio of calls that will extend beyond behavioral health," Schnitzer said.
The meeting between city officials and residents focused on the Public Behavioral Health System Gap Analysis Implementation Plan, developed in compliance with a consent decree agreement the city reached in 2017 with the U.S. Department of Justice. The agreement required the city and police to develop plans and policies that prioritized community-based responses to behavioral health crises.
While city officials said Baltimore is moving in the right direction, some residents voiced concerns that the draft plan does not do enough to address the intellectually disabled, lacks measurable goals and ignores residents who oppose the new programs.
Brian Sweeney, who lives in Highlandtown in East Baltimore, said he'd previously been at a meeting with Democratic State's Attorney Marilyn Mosby regarding her policy to not prosecute some lower-level crimes. He was concerned that the city might not be effectively bolstering services meant to be alternatives to a law enforcement-centric response.
Police say they now require officers to participate in Crisis Intervention Training sessions and have instituted internal policies to address best practices.
[RELATED: Persons in mental health crisis: A primer for police response]
However, Mosby has said that she wants those residents who'd normally be arrested and jailed for lower-level crimes to instead be connected to community resources, such as addiction treatment centers and shelters for sex trafficking victims.
"My question has always been regarding capacity. Do the agencies who can help with this have the capacity to really kind of pick up the slack for the things that she's decided her office is not going to be pursuing?" Sweeney said. "The general consensus is that the capacity is not there."
Schnitzer said the city needs "to do a ton of focusing on capacity building" and added that the city is still in the exploratory phase on many of its long-term goals. The plan is open for public comment until Saturday, and officials are still reviewing what other types of emergency calls can be handled by the 911 call diversion system.
"The challenge that we run into, however, is especially with a crisis response mechanism that is as busy as ours is, when time isn't being spent on certain calls, whether it's behavioral health or ... calls relating to sex work, that time is then rediverted," she said. "So I would argue we're in a really pretty unique time and an exciting time to be able to start to look at how that movement happens."
Denisha Gingles, the clinical director for the Baltimore County-based Signature Behavioral Health, said the plan does not address how the city would respond to crises involving people with intellectual disabilities or developmental disorders.
"So this document really produces more questions," she said. "I really want to know about the training and the process and the methodologies you all are wanting to employ when you talk about training."
Quinita Garrett, a member of Baltimore Crisis Response Inc., which operates eight crisis response teams throughout the city, said its teams don't respond to incidents involving people with intellectual disabilities and that it would be something her team would need to be trained to do.
She added that the city crisis hotline, the 24/7 phone (410-433-5175) that residents can call instead of 911 for assistance, has been getting a rising number of calls regarding people who have intellectual disabilities.
Ben Lawner, the medical director for the Baltimore City Fire Department, stressed that the plan is "a first step" and that officials were there to take feedback before its implementation.
He later said he knows that staffing and resources will continue to be concerns as the city plans to expand its 911 call diversion system.
People who would like to comment on the plan before its implementation can do so at baltimorepolice.org/transparency/bpd-policies. Click on "City of Baltimore Public Behavioral Health System Gap Analysis Implementation Plan."
©2021 Baltimore Sun. Visit baltimoresun.com. Distributed by Tribune Content Agency, LLC.
McClatchy-Tribune News Service