Persons in mental health crisis: A primer for police response
Communities nationwide are changing their response to individuals experiencing a mental health crisis — here's what law enforcement needs to know
---
By Robert Tornabene
Events involving law enforcement interactions with people in crisis have led to the deaths of those individuals. Data suggests that when police encounter people in a mental health crisis people with untreated mental Illinois were 16 times more likely to be killed by law enforcement. This can erode trust between the community and the police.
Communities need to re-envision and transform the way they address mental health issues. The transformation will require an entire system change of how, who and when to respond to a person in a mental health crisis. This article looks at what some communities are working toward, the challenges faced and suggestions for a transformative approach to improving responses to people in a mental health crisis.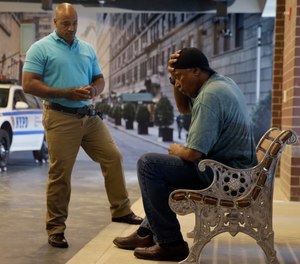 Introduction
A colleague posed a question over social media one night sparking a spirited back and forth over what was the type of call you believed had the potential to be the most dangerous. The back and forth with several police officers, retired, as well as some knowledgeable reporters who work in the communities so impacted by violence sparked the idea for this article.
Police officers are on the front-line response to almost every 911 call, but the majority of calls police respond to are not crime-related but are service-related. These incidents may include a person locked out from a vehicle, or to provide advice on a civil matter involving a dispute.
However, there are those calls officers are dispatched to in which a person is acting "weird" or the caller says a family member is off their medication. These calls can result in a tragic outcome if not assessed and handled properly.
A survey in Illinois estimated that 7% to 10% of police-citizen interactions involve a citizen with a mental health disorder and that officers are 1.4 to 4.5 times more likely to use force during these interactions, increasing the risk of harm for both the officer and the individual in crisis.
Changing Response to the Mental Health Crisis
Communities nationwide are changing their response to individuals experiencing a mental health crisis.
Rochester
Following the release of information in September 2020 about the March 2020 death of Daniel Prude, a majority of the executive leadership of the Rochester Police Department announced their plans to retire including the police chief. However, after an internal investigation by the City of Rochester, the Mayor fired Police Chief Le'Ron Singletary over the department's handling of the death of Daniel Prude. The City of Rochester announced a new initiative to address mental illness in their community.
The new initiative will partner the Monroe County's Forensic Intervention Team (FIT) and Pathways to Peace program to provide intervention services. The goal of the new crisis intervention services unit is to create non-law enforcement, comprehensive community response to all homicides, as well as to all calls involving mental health, domestic violence and other related crises. When someone calls for help, the 911 center will use criteria to determine whether to send a crisis intervention team before sending the police. If officers are needed, they will respond, too. The program will provide a 24-hour crisis intervention response. The unit will be split into two separate teams, one acting as a comprehensive homicide response team and the second responding to domestic violence and mental health calls. The teams will be staffed 24 hours a day, seven days a week.
Buffalo
Not all community mental health professionals are receptive to changes being proposed by community leaders. A group of social workers and mental health professionals gathered on the steps of City Hall Thursday to oppose the decision to put social workers on the Buffalo Police Department's Behavioral Health Team. In Buffalo, New York, more than 150 mental health workers signed a letter to Mayor Byron Brown opposing the decision and said the ethics of social work and police work do not align. Mayor Brown disagrees and believes that social workers and the police can work together. A statement from Mayor Brown's office said police officers and social workers work to get people in distress the help they need, and in many situations, both units are required.
Eugene, Oregon
Eugene, Oregon, has had a mobile crisis intervention program in place for over 31 years. The program, which is called CAHOOTS (Crisis Assistance Helping Out On The Streets), provides a 24/7 team of counselors ready to respond to emergency calls for everything from crisis counseling and conflict resolution to substance abuse, among other problems. A concern of many activists is that police are the ones who determine when to call out mental health counselors. Eugene Police Chief Chris Skinner said the city is working on a plan to improve that triage system by placing mental health counselors at the dispatch center. Chief Skinner said the CAHOOTS team diverts between 5% and 8% of the calls that his officers would otherwise respond to, which gives police more time and resources to solve crimes. Of the 18,583 calls that CAHOOTS handled in 2019, only 300 of them required police backup.
Boston
In 2019, 911 took more than 10,000 calls that were mental-health related. The Boston Police Department (BPD) also regularly responds to calls for domestic violence and overdoses. Following numerous inquiries from multiple organizations, activist groups and elected officials, a formal request was filed in June 2020 by city councilors Michelle Wu, Lydia Edwards and Julia Mejia for the city to create a crisis-response plan for non-violent 911 calls since Boston police often respond to nonviolent calls for service such as homelessness and substance abuse that are beyond the scope of their function. However, the head of the Civic Youth Summit said he does not believe incremental changes, like adding mental health councilors to the BPD, will do much, and said he would like to see an overhaul of the system.
New York City
In New York City, Mayor Bill de Blasio's administration proposed or undertook measures to incorporate trained mental health professionals in responding to mental health calls. Despite the creation of NYC Well as a 24/7 resource, calls to 9 11 reporting people in emotional distress have continued to rise in recent years. New York City committed to training its police officers in Crisis Intervention Training (CIT). From 2016 to 2019, roughly 16,000 officers of the 35,000 uniformed police officers had been trained in CIT. New York also created "co-response teams" for two areas for the city. The new "co-response teams" were set up in Harlem and the Bronx, teams comprised of two police officers with a mental health clinician to respond to emergency 911 mental health calls.
However, the Correct Crisis Intervention Today NYC coalition is advocating for the creation of mental health teams that can respond to emergency calls. The proposal would pilot dispatching teams entirely composed of nonpolice professionals – a peer trained as a crisis counselor and one emergency medical technician – to respond to emergency mental health crisis calls. The pilot would be in two police precincts in Manhattan and Brooklyn with high numbers of "emotional health crisis" calls and would create a new non-911 emergency number for mental health crisis calls in particular. For these kinds of alternative models to work, however, mental health advocates said that New York City needs not just a change in who responds to mental health calls, but an expansion of resources made available to those experiencing mental health issues. Simply increasing hospitalizations is not only costly but unduly traumatic, leading to the wrong treatment options. Experts are calling for the city to fund more short-term care centers, mental health urgent care centers, and drop-in centers and safe havens for those with mental health concerns.
Chicago
Chicago is no different than any other city when it comes to dealing with individuals who deal with mental illness or are in crisis. Most police contacts with persons with mental illnesses (or the public in general) do not involve major crimes or violence that would necessitate arrest or use of force nor do they often meet the legal criteria of "emergency apprehension" for psychiatric evaluation and treatment. Rather, they comprise an array of lower intensity and less formal interactions in which officers serve a peacekeeping or problem-solving role-playing or what has been described previously as "provisional solutions to chronic vulnerability."
These "provisional solutions" or "deflections" have the potential to reduce the likelihood of future police contact, arrest and transport situations. They also may provide opportunities to establish trust and build a positive rapport that may pay forward in the event of subsequent police interactions.  Even call resolution data reveals that officers make significant use of hospital transportations to address the mental health needs of call subjects.
However, three in every four members of the Chicago police force, or about 10,000 officers, lack training in CIT protocols, according to CPD. Despite the low numbers of officers who have completed CIT training, there does appear to be an impact from those who have been trained. Data suggest that the CIT vision of diverting individuals from criminal justice involvement is being advanced. Furthermore, the use of transportation is not limited to CIT officers, given that only just over a quarter of the call resolution data came from officers with CIT training. At the same time, there is a re-emerging understanding of the "gray zone" nature of mental health-related encounters, where neither arrest nor transport to an emergency department for emergency psychiatric evaluation is indicated or considered as options.On September 9, 33rd Ward Alderwoman Rossana Rodriguez Sanchez introduced an order calling for the creation of a 24-hour crisis hotline that would divert calls about suicide, homelessness, substance use and conflict resolution away from the police and toward a team of social workers, nurses and emergency medical technicians. Backed by eight aldermen, the proposed Chicago Crisis Response and Care System also calls for reopening the six city-funded mental health clinics that were closed by former Mayor Rahm Emanuel in 2012.
Currently, there are five public clinics in the city, with the Roseland clinic having undergone privatization in 2016. Mayor Lori Lightfoot increased funding for mental health clinics (both public and private) in last year's budget but has been slow to take concrete steps toward her campaign promise of reopening the closed city clinics. "It's very hard to get mental care, so people are getting sicker and sicker and officers respond when these people are at their worst and are experiencing a crisis," said Sierra Peterson, NAMI Chicago training manager. "The officers are having a lot asked of them and they're not trained to do this. It's not fair to them."
What is obvious is that the public calling the police to deal with persons in crisis is not showing any signs of slowing down. The Chicago Police will continue to serve as the front line of mental health service delivery for as long as the social determinants of mental health remain unaddressed and community mental health services are under-resourced.
Types of response
The lack of mental health crisis services across the U.S. has resulted in law enforcement officers serving as first responders to most crises. Responses to a behavioral health crisis can be classified into three types:
Event-based
Person-based
Place-based.
Event-based response
Crisis Intervention Team (CIT) training is one prominent "event-based" approach to improve emergency responses to behavioral health crises. In over 2,700 communities nationwide, CIT programs create connections between law enforcement, mental health providers, hospital emergency services and individuals with mental illness and their families. Through collaborative community partnerships and intensive training, CIT improves communication, identifies mental health resources for those in crisis, and ensures officer and community safety.
Chicago still struggles in training staff in CIT. More than 60% of the mental health calls received in 2019 were answered by officers who had not gone through the 40 hours of specialized training. However, Dr. Amy Watson, a professor at the University of Illinois at Chicago, who has been studying CIT for the past 20 years does not favor giving the training to all officers. She said departments in Albuquerque and Portland tried training everyone. It did not work well.
"When you train everyone, there's this assumption that all officers are going to be equally prepared and equally good," said Watson, who's also on the board of directors for CIT International, a nonprofit that facilitates understanding and implementation of CIT programs throughout the United States. "But that's not true. Just like all officers wouldn't be good SWAT officers. You can train them but that doesn't necessarily mean they bring what is needed for that job."
What Dr. Watson advocates would work for Chicago is the capability of a crisis line and a mobile crisis unit that can go anywhere in the city, regardless of insurance status. If a person calls 911 and the call taker recognizes that it is a mental health call, they should be capable to shift that call to a crisis line where clinicians can decide who should be the first responder for each specific call.
Person-based response
The second method of responding to a behavioral health crisis is person-based. This method seeks to identify high-risk individuals. A few cities have piloted "person-based" preventive programs that seek to identify high-risk individuals. Exact definitions of high users and identification strategies vary because of differences in population and data availability. Some approaches combine police administrative data with qualitative observations from officers to identify individuals who encounter police while in a behavioral health crisis. These time-consuming strategies provide rich insights but render the identification process challenging to generalize or replicate.
Place-based response
The last response initiative is place-based. Traditional hotspot mapping identifies locations with high concentrations of crime or 911 calls and facilitates focused interventions at high-use locations. Cities might deploy outreach workers to these hotspots. A Baltimore demonstration project sent teams of officers and mental health care providers door to door in areas with high violent crime and self-reported mental health needs. Analysis of high-use locations underscores the need for improved infrastructure and service planning, transportation hubs, group homes, and shelters have a staff equipped to work proactively with mental health providers. Staff can be trained to identify behavioral crises and to follow protocols such as requesting that 911 dispatchers assign CIT-trained officers or ambulance-only responses.
While both person-based and place-based approaches have been implemented to identify and assist individuals at risk of behavioral health-involved police encounters, these approaches have rarely been considered together. Since there has not been data to support the impact of combining the two approaches, nor how the overlap may hamper interventions is unknown.
Recommendations
The recommendations provided are just that, ideas that may work for some organizations but may not for others. The size, budget and scope of the mental health issues that each law enforcement agency faces are unique. That individual agency along with mental health professionals who service that community will conduct the needs assessment and conduct a SWOT analysis to determine what will be the most effective.
Addressing mental health issues is an incredibly difficult task. Political, sociological, economic, ethnic and racial factors all will rise to the top of the debate as to what should or should not be done. There is no simple solution, no one size fits all for this issue that faces America's communities as it pertains to mental illness, when a person is in a crisis. Any program that is developed must take into consideration the situational issues that will arise at times.
What follows is a list of approaches communities can consider:
Mobile Crisis Response Teams
Mobile Crisis Response Teams (MCRT) are made up of mental health professionals, community health workers, and/or peers, these teams have the knowledge and skills to respond and refer individuals in crisis to the appropriate resources. They work closely with police, crisis services and communities to support individuals and their families in navigating systems and supports.
The MCRT can conduct "wellness checks" on individuals who may be at risk. These checks help prevent crises and avoid unnecessary hospitalization, police interactions, and arrests.
Crisis Intervention Team
While Crisis Intervention Teams, or CIT, focus on law enforcement training and procedures, the program is also designed to coordinate the efforts of law enforcement personnel, mental health providers and community stakeholders to increase the safety of encounters and, when possible, divert people suffering from mental illness away from the criminal justice system and into mental health treatment.
The fundamental element of the CIT model is 40 hours of specialized training provided by mental health clinicians, consumers and family advocates, and police trainers, however, Illinois has an 80-hour model. The curriculum includes training on recognizing the signs and symptoms of mental illnesses in addition to training on mental health treatment, co-occurring disorders, legal issues, and de-escalation techniques.
Training dispatchers
Professionally training 911 call takers and dispatchers in health crisis screening and triage is imperative. By teaching dispatchers how to triage calls and seek assistance from service providers. This training will also assist dispatching in recognizing when sending a uniformed officer might be unnecessary or even agitate a situation. The response protocol may be completely different allowing the dispatcher to immediately dispatch a Mobile Response Crisis Team instead of an officer, reducing police time down on mental health crisis calls and reducing the risk of injury or death.
Psychiatric urgent care clinics
Psychiatric urgent care clinics are the same as other urgent care clinics but are specially trained to attend to mental health and substance use needs. It offers a place for individuals to go and receive immediate attention, avoiding a potential crisis. By making pre-crisis services available like any other health care services it makes mental health crisis avoidance accessible and normative.
Co-responder model
In the co-responder model, trained police officers work together with behavioral health workers to respond to crisis calls and ensure that appropriate services and resources are provided. The goals of the co-responder model are de-escalating the crisis, prevent injuries, provide appropriate services, and reduce the number of arrests. The initial assessment is conducted with a trained behavioral health worker at the scene which can prevent unnecessary arrest or hospitalization.
Avoiding the use of handcuffs and restraints
Being taken away from one's home, a community treatment setting or other location in handcuffs is a particularly traumatizing and sometimes dangerous event. People in crisis may pose such a danger to themselves or others that restraints may seem necessary, but more often than not, restraints are overused by default. Children with mental health concerns should not be restrained mechanically and certainly not handcuffed when being transported in the community – especially out of school. Before restraints are utilized, respondents to a mental health crisis should use de-escalation techniques, work with support systems available to promote compliance and voluntary treatment, and if a person voluntarily agrees to be transported to another location, use no restraints at all. Compliance protects both the person and others and is less traumatizing and physically harmful to the person.
Attending to the mental health needs of law enforcement personnel
Law enforcement is a stressful profession, particularly in the high-crime neighborhoods in which too many persons with mental illness must live. Job stress often leads to Post-Traumatic Stress Disorder (PTSD) and other serious mental illnesses.
One of the common symptoms of untreated PTSD is hyper-vigilance, which causes an exaggerated perception of danger and makes it difficult to respond with care and restraint to an encounter with a person in a mental health crisis. The high rate of mental health conditions among police is demonstrated by the high rate of suicide, divorce and substance use problems.
Unless the police are healthy, it is unrealistic to expect them to demonstrate consistent and appropriate responses to difficult and sometimes life-threatening situations. Ensuring that police officers are appropriately screened, diagnosed, and treated is made more difficult by a police culture which often views mental illness as a weakness that cannot be acknowledged to peers or supervisors. Police departments must recognize the mental health needs of officers, must carefully screen officers, and must develop strategies to engage them in treatment.
Conclusion
I am not a mental health professional, nor do I have advanced degrees in sociology or psychology. But I am human and we as a society should be looking to improve things around us, not only to enhance our lives but the lives of others. How a simple discussion on a social media account turned into a full-blown paper on a public policy change involving mental health crisis intervention techniques and law enforcement is beyond me. But it happened. If I can gather these facts from these sources in a matter of 24 hours, perhaps the experts, policymakers, politicians and law enforcement executives could come together to craft a plan that can address a crisis before we have another repeat and loss of life.
Additional resources
WE WANT TO HEAR FROM YOU
If your agency has a mental health intervention team, what have been your successes and challenges? What advice would you have for other agencies? If you are considering starting a team, what questions do you have for our experts? Email editor@police1.com.
References
Adams B. As call for police reform grows here some look to Oregon for possible answers. WXXI News, September 15, 2020. 
Boston News Boston Police to add counselors under new budget proposal. CBS 4 Boston News, September 5, 2020. 
Fies A. Rochester, NY police chief fired by Mayor over death of Daniel Prude. New York Post, September 14, 2020. 
Gatens A. Law Enforcement Response to Mental Health Crisis Incidents: A Survey of Illinois Police and Sheriff's Departments, Illinois Criminal Justice Information Authority.
Hackett JP, Violanti JM. Police Suicide: Tactics for Prevention. Charles C. Thomas, Springfield, Il, 2003.
IACP National Symposium Report on Law Enforcement Suicide and Mental Health. Breaking the Silence on Law Enforcement Suicides.
Jubenville T. City establish new crisis intervention unit following Daniel Prude's death, ABC 13 WHAM News, September 16, 2020. 
Livingston JD. Contact between police and people with mental disorders: A review of rates. Psychiatric Services, 67(8), 850–857.
McDonough A. Should police respond to mental health calls? City & State of New York, September 10, 2020.
Melamed G. Mental health workers protest pairing Buffalo police with social workers: The team responds to 911 mental health calls. ABC7 WKBW News, September 18, 2020.
Moore T. A New Crisis Hotline Could Serve As an Alternative to Policing in Chicago. In These Times, September 17, 2020.
National Alliance on Mental Illness. Crisis Intervention Training Program.
Neilson S, Chittle A, Zaheer J. Handcuffed: Rethinking physical restraints for mental health transfers in university settings. Canadian family physician Medecin de famille canadien, 2019, 65(7), 460–462.
Proia O. Cheektowaga Police see success in mental health expert, police partnership. ABC7 WKBW News, September 16, 2020. 
Stokes III, P. Handcuffs or Help? New Fort Worth Police Unit is Working To Reduce Mental Health Calls, January 28, 2018.
Swatt ML, Gibson CL, Piquero NL. (2007, September 05). Exploring the utility of general strain theory in explaining problematic alcohol consumption by police officers. https://doi.org/10.1016/j.jcrimjus.2007.09.005
Tentner AR, et al. Identifying Chicago's High Users of Police-Involved Emergency Services, American Journal Public Health Association, 109(4), 607-614.
Treatment Advocacy Center. People with Untreated Mental Illness 16 Times More Likely to Be Killed By Law Enforcement.
Treatment Advocacy Center. Overlooked in the Undercounted.
Watson AC, Wood JD. Everyday police work during mental health encounters: A study of call resolutions in Chicago and their implications for diversion. Behavioral Sciences & the Law, 35(5-6), 442–455.
Wood JD, Watson AC, Fulambarker AJ. The "Gray zone" of police work during mental health encounters: Findings from an observational study in chicago. Police Quarterly, 20(1), 81–105. 
Violanti JM, et al. Mortality of a Police Cohort: 1950-1990. Am. J. of Industrial Medicine 33:366 (1998).
Youcel E. CPD's Ongoing Battle with Mental Health Calls, March 4, 2020.
---
About the author
Robert Tornabene retired as Bureau Chief with over 27 years of law enforcement experience. He has worked for the Niles (Illinois) Police Department and Forest Park (Illinois) Police Department. His law enforcement experience includes public information, community policing, school resource officer and training.
Robert holds a bachelor's in science degree in criminal justice and is a graduate of Northwestern University's School of Police Staff and Command. He oversaw and coordinated all department training, including active shooter training for local government buildings, businesses and the public. He supervised the Support Services Bureau at the Niles Police Department, which included records, community service officer, crime prevention bureau and traffic unit. Robert is CIT trained and was instrumental in bringing in the "We Are Not Alone" program to his department for officer mental health.
He retired in May 2020 and is currently working on his master's degree.