The top 5 donut chains, according to cops
It's National Donut Day, we had to.
---
By Rebecca Volent
Just a courtesy reminder to cops: Today is National Donut Day and Dunkin' Donuts, Krispy Kreme and Tim Hortons are offering free donuts! To celebrate this wonderful occasion, we decided to head to some donut experts to decide which donut chain reigns supreme. That's right, we went straight to the police.
Stereotypical as it may be, behind closed doors, cops may confess they appreciate a good donut. Legend has it, their fondness for the pastry dates to as far back to the 1950's, when donut shops were the only establishments open during odd hours. When cops working the graveyard shift needed a caffeine pick-me-up and snack, donut shops were their only alternatives.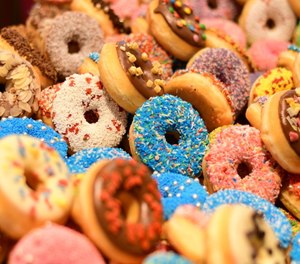 Even today, despite other fast food chains offering their services late into the night, donut shops still have a special place in the heart of cops. Picking up a donut is fast, easy to eat on the road, and oh so delicious. Donut shops also offer the beat cop a place to sit down and do paperwork, rather than staying in their cars.
So, although society has changed, donut shops have still secured their place as the #1 cop hangout. But which donut chain is the best of the best?
Without further ado, we countdown to the top 5 donut chains according to cops:
5. Winchell's Donuts
Founded in Temple City, California in 1948, Winchell's has claimed territory in many western states. In 1998, in celebration of their 50th anniversary, the Winchell's Donut House in Pasadena, California decided to make the world's biggest donut. The monster weighed in at 5,000 pounds and was 95 feet wide!
Donut to try: Buttermilk bar
Although it doesn't look like a donut in the traditional sense, the flavor is unreal. Crispy on the outside, soft on the inside, this buttermilk bar is sure to satisfy any sugar craving. 
4. Shipley Do-nuts
Originating in Houston, Texas in 1936, Shipley Do-nuts can be found in many southern states. It started out as a wholesale company, selling the donuts 5 cents a dozen. The donuts were so popular, that by the mid-40s, they entered the retail market. To this day, they are still cut by hand and served hot. Along with their donuts, they are also known for their kolaches, which is a pastry stuffed with things such as Italian sausage, cheese or eggs.   
Donut to try: Shipley Classic Glazed
It may not be the most innovative flavor, but this classic donut it Shipley's most popular donut. People describe it as being light, fluffy, and of course, served warm. 
3. Tim Hortons
For all the Canadian cops out there, Tim Hortons has made the list at #3. It first opened its doors in 1964 in Hamilton, Ontario and has fast grown to not only win the hearts of the mounties, but all of Canada. It beat McDonald's hold on the country as the largest fast food chain. Why do Canadians love this donut chain so much? Well, for starters it was founded by a former hockey player by the name of Miles "Tim" Horton. Therefore, it easily integrated with Canada's culture. Hockey, coffee, and donuts, what's not to love?
Donut to try: Timbits
Equivalent to Dunkin' Donuts Munchkins, these bite-sized morsels come in a variety of flavors such as sour cream glazed, honey dip, and apple fritter.   
2. Dunkin' Donuts
We all knew it would end with a showdown between Krispy Kreme and Dunkin' Donuts, didn't we? Dunkin' Donuts is the largest donut chain, with 11,000 stores in 33 countries. Originally named Kettle Donuts, it opened in 1948 and by 1950 adopted the name Dunkin' Donuts as it was sold as franchises. Although not all of "America Runs on Dunkin'", Massachusetts certainly does. During the lockdown after the marathon bombings, Dunkin' Donuts stayed open to serve the police officers during their manhunt for the marathon bombers. 
Donuts to try: Oreo Cheesecake
This newly introduced square donut is topped with Oreo crumbs and filled with a cheesecake filling.  
1. Krispy Kreme
Although many cops had great compliments for Dunkin Donuts' coffee, most agreed that Krispy Kreme's donuts had a better taste overall. The founder supposedly started the donut shop in 1937 in Winston-Salem, North Carolina, after buying a secret yeast-raised recipe from a New Orleans chef. Krispy Kreme is most famous for its glazed donuts, which are the same as it was back then.
In 1992, they introduced the Hot Doughnuts Now Light, where customers can tell how fresh the donuts are based on whether or not the light is on. Now, you can even download an app that tells you where the donuts are being served hot!
Donut to try: Chocolate Iced with Kreme Filling
True, the glazed donut is their most famous flavor, but this chocolate iced with kreme filling donut is also widely acclaimed among fans. It is filled with their special cream and topped with chocolate icing.  
Does Krispy Kreme make the top of your list? Which donut shop is your favorite? Let us know!
This article, originally published on June 3, 2016, has been updated with new information.