Fisher Space Pen debuts thin line series to honor first responders
Sales of the thin line Fisher Space Pens, which were created for astronauts to use on missions, will benefit first responder charities
---
By Laura French
BOULDER CITY, N.V. — Fisher Space Pen, a company that creates pens for NASA astronauts to use on missions, has introduced a new thin line series to honor first responders. 
The new First Responders Series features matte black pens emblazoned with different colored lines for five different professions: blue for law enforcement officers, white for EMS providers, red for firefighters, orange for search and rescue personnel and green for forest and conservation personnel, according to a press release.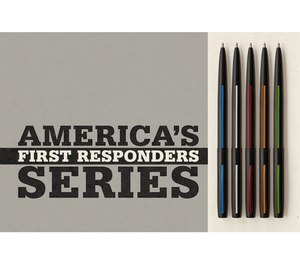 A portion of the sales from the First Responders Series will go toward five first responder charities corresponding to each colored pen: the blue pen benefits Concerns of Police Survivors (COPS), the white pen benefits The American Red Cross, the red pen benefits Hope for Heroes, the orange pen benefits The National Disaster Search Dog Foundation and the green pen benefits The National Park Foundation. 
"We owe a debt of gratitude to the men and women on the front lines through this difficult time," said Fisher Space Pen Vice President Matt Fisher. "Our First Responder Series represents our efforts to contribute to our nation's brave first responders who sacrifice so much." 
The Space Pens, which have been flown on every NASA crewed space mission since Apollo 7, can write in zero gravity, upside down, underwater, in extreme temperatures from -30 degrees to 250 degrees Fahrenheit and on almost any surface, according to the release. 
One pen can be purchased for $25 with one line engraved for no extra cost.